The Mariners announced today that they've added to their catching depth by inking veteran backstop John Buck to a one-year contract. Buck's contract is a Major League deal that is reportedly worth $1MM and should make him the favorite to serve as Seattle's backup catcher. The 33-year-old is a client of the ACES agency.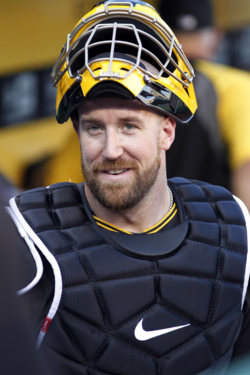 Buck, an All-Star back in 2010, got off to a hot start last season for the Mets. He ended April with a .844 OPS and 9 home runs, but faded over the course of the year. Buck ended up with a composite .219/.285/.362 line in 431 plate appearances for the year, though he did swat 15 home runs. His overall numbers line up with the figures he posted over the previous two seasons, falling well shy of his two best seasons: 2009 (.247/.299/.484) and 2010 (.281/.314/.489, 20 home runs).
Buck has appeared in at least 100 games in eight of the last nine seasons, making him a durable option. He has rated positively in terms of blocking pitches in the dirt, but has been ranked among the worst pitch framers in the game. Indeed, according to StatCorner (hat tip to Dave Cameron of Fangraphs), Buck came in dead last among all catchers in framing last year, costing the Mets over 20 runs.
Buck inked a three-year, $18MM contract with the Marlins after those big 2009-10 campaigns, but — depending upon how one values catchers, in particular — never quite lived up to the deal. Fangraphs figures his value at 4.1 WAR over the life of the deal, while Baseball Reference pegs it at just 1.1. And further downward adjustment could be warranted to account for Buck's poor framing metrics. He was ultimately dealt three times over the life of the contract: first to the Blue Jays, then to the Mets, and then to the Pirates. Hitting the open market for a third time, Buck ultimately settled for a relatively modest guarantee this time around.
Young catcher Mike Zunino figures to be the Seattle's primary catching option for 2014 (and beyond), but Buck will presumably leapfrog 25-year-old Jesus Sucre and veteran Humberto Quintero on the depth chart. As MLBTR's Aaron Steen has noted, the unseasoned Zunino could probably stand to spend more time in the minors or in a reduced role. With Buck's long history as a starter, however, he is a plausible candidate to see significant time behind the big league dish.
Jon Paul Morosi of FOX Sports first reported that the two sides were nearing a deal, and Jon Heyman of CBS Sports first reported (on Twitter) that the two sides had reached a $1MM agreement.
Steve Adams contributed to this post. Photo courtesy of USA Today Sports Images.