The Tigers made a couple of blockbuster trades and re-worked their bullpen but steered clear of the big free agent signings we've come to expect from GM Dave Dombrowski and owner Mike Ilitch.
Major League Signings
Notable Minor League Signings
Extensions
Trades and Claims
Notable Losses
Needs Addressed
The Tigers wrapped up their 2013 season with an ALCS loss to the Red Sox that served as a bittersweet farewell to longtime manager Jim Leyland. Their first order of business was to find a new skipper, and they did so in the form of former big league catcher Brad Ausmus.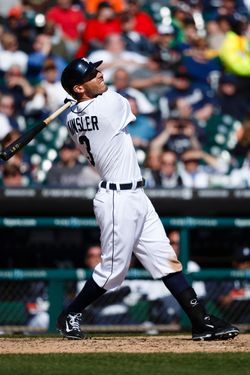 However, Detroit's biggest need this offseason could arguably have been to gain some long-term financial flexibility, and the club was able to accomplish that while finding a replacement for Infante all in the same move. In trading Fielder to the Rangers for Kinsler and $30MM, Dombrowski successfully shaved $76MM off the payroll over the next several years.
That savings, perhaps along with some of the money saved in the Fister trade, paved the way for the Tigers to sign Miguel Cabrera to a whopping eight-year, $248MM extension that serves as the second largest deal in history in terms of new money. When combined with the existing two years and $44MM he was already owed, Cabrera's 10-year, $292MM commitment is the largest ever made to a player in Major League history.
Last season, the Tigers experienced an early-season carousel in the ninth inning that led to a short-lived and unsightly reunion with Jose Valverde before Benoit finally solidified the closer's spot. However, Benoit departed via free agency, and the Tigers sought the biggest upgrade the market had to offer, inking active saves leader Nathan to a two-year deal. It's not without risk, given Nathan's age (39), but then again, what multi-year deal for a reliever is? Seeking a more affordable option than Veras for a setup role, Dombrowski brought in Chamberlain on a one-year deal. Chamberlain's struggles in New York were pronounced, but he fits the mold of the typical hard-throwing power arm that Detroit tends to target.
Those additions, along with the Fister trade, allowed the Tigers to move Drew Smyly into the rotation alongside Justin Verlander, Max Scherzer, Anibal Sanchez and Rick Porcello, with Krol sliding into the 'pen in Smyly's stead. That quintet looks to be one of the most talented groups in the Majors and should give the Tigers a good chance to once again post one of the five best collective rotation ERAs in the game.
In the outfield, Dombrowski sought to add more speed by adding Davis on a two-year deal, and he would have formed a solid platoon with Andy Dirks, had Dirks not suffered a back injury. Dirks is on the shelf for the first three months or so of the season, thrusting Davis, rookie Tyler Collins and utility man Don Kelly into more action than originally expected.
Questions Remaining
While the Cabrera extension clearly filled a need for the near future, it will almost certainly be perceived in a negative light by its completion. Cabrera could very well be the best power hitter on the face of the planet right now, so it makes sense that that Tigers would want to retain him and even lock him up for life, but history has shown that 10-year commitments such as this one (e.g. Alex Rodriguez, Albert Pujols) aren't likely to pan out. While he has astoundingly never been on the disabled list, Cabrera did battle a groin injury that required offseason surgery in 2013, and the odds of him maintaining his impressive durability through his age-40 season are slim to none.
The bigger question, for the Tigers, will be how many more years of elite slugging they receive from Cabrera before his inevitable decline. For all of Cabrera's accolades at the plate, the same "best hitter on the planet" tag could have been applied to Pujols or Rodriguez at the time of their signings, and they wilted quickly (though Pujols could still experience a turnaround, of course). And, it must be asked if the best way to utilize their newfound financial freedom after escaping Fielder's decline years was to immediately dedicate that money to the decline years of another slugger.
Injuries have ravaged the Tigers' roster, creating a good deal of uncertainty for the 2014 season. For the time being, they've elected to bridge the gap to Dirks' return with internal options, but a waiver claim or some type of minor move to improve that depth early in the season wouldn't be a surprise.
Of longer-term consequence is the fact that Jose Iglesias is likely to miss the season with stress fractures in each of his shins/ The Tigers have, to this point, deployed an unexciting combination of Gonzalez and Romine to fill the void. One has to wonder just how long they can go with that combination before looking for a real upgrade.
The logical connection to make there is that Stephen Drew remains unsigned, and at this point, there may not be a team with a greater need that represents a better fit. Drew is already in the clear in terms of dodging another qualifying offer — any team that signs him would be unable to make an offer, as he didn't spent the entire year on its roster — but the Tigers may prefer to wait until after the June draft to make a move. That strategy would preserve their 2015 first-round pick, but it would also mean about two months of replacement-level production at shortstop as well as the risk that another club swoops in and signs him at an earlier date.
In addition to Dirks and Iglesias, the Tigers also lost flamethrowing setup ace Bruce Rondon to Tommy John surgery. Rondon's departure for the season means that the Tigers will be relying on a patchwork bullpen to get to Nathan in the ninth inning, with Krol, Chamberlain and Al Alburquerque representing the best options for Ausmus.
A final, albeit lesser question mark is whether or not Nick Castellanos can hold down the fort as Ausmus' primary third base option. Castellanos is universally regarded as one of the game's top hitting prospects, but he's still just 22 years old and rocketed through the minor leagues without clearly dominating at any one level. That's not to say he isn't capable of being a plus third baseman in the Majors, but merely to ask if it's a reasonable expectation for the 2014 campaign.
Deal of Note
The Fister trade is still one of the most controversial moves of the offseason, simply due to the fact that most feel Dombrowski — who is generally perceived as an excellent GM in trades — didn't receive a large enough return for his right-hander.
From 2011-13, Fister ranked ninth among all Major League pitchers in fWAR (13.3) and rWAR (12.6). In 586 2/3 innings in that time, Fister posted a 3.30 ERA with 6.8 K/9, 1.8 BB/9, 3.75 K/BB and a 50.9 percent ground-ball rate that ranked 18th among 139 qualified starting pitchers. The Nationals will control him for two more seasons, with a $7.2MM salary on tap in 2014 before one more arbitration raise next offseason.
Essentially, Fister has pitched at a level that is comparable, if not superior to that of James Shields over the three-year term that preceded his to his trade to the Royals (albeit in a weaker division). Shields, who was also more expensive than Fister, posted a 3.76 ERA with 8.4 K/9, 2.3 BB/9 and a 46.6 percent ground-ball rate in that time. He did total an additional 100 innings, and the Rays included Wade Davis in the deal as well, but it seems disproportionate that Shields would net a package headlined by Wil Myers and Jake Odorizzi while Fister yielded Ray, Krol and Lombardozzi.
Ray is the jewel of the deal, but he didn't rank among the game's Top 100 prospects per Baseball America or Baseball Prospectus, and he came in at No. 97 on MLB.com's list. Dombrowski has said the trade was made due to the difficulty of acquiring young pitching, noting that Ray was one of 15 pitching prospects who interested the Tigers and the only one with which a rival club was willing to part. Perhaps Dombrowski sensed the impending injury to Fister that has sidelined him to open the season, but he was healthy enough at the time of the trade to pass Washington's physical, so it seems unlikely that any sort of major red flag was present.
With Lombardozzi already shipped off, the Tigers are left with Ray, Krol and one year of Gonzalez to show for Fister, making Ray's development critical to the trade's success. Should Ray fail to pan out, the Tigers would be left with a left-handed reliever and some extra cash that may have helped to facilitate a likely ill-fated contract extension for Cabrera — a tough pill to swallow for Detroit fans.
Overview
Despite question marks in the bullpen and at shortstop, the Tigers boast an elite rotation and a lineup that should score plenty of runs, making them the favorites to take home their fourth consecutive AL Central Division Championship. This team is in a clear win-now mode, although the subtraction of Fister does contradict that thinking to an extent. The Tigers could very well find themselves in the market for a one-year upgrade at shortstop or some short-term help in left field, but even if they stick with in-house options, they're likely to see October baseball once again.
The long-term outlook is more questionable, as after shedding the decline phase of Fielder's contract, the Tigers purchased a larger portion of that same phase of Cabrera's career. They already have a remarkable $83.8MM in contracts guaranteed in 2017, $68MM in 2018 (including buyouts for Kinsler and Anibal Sanchez) and $58MM in 2019. With some potentially restrictive commitments for declining players on the books in the future, the team could be facing a closing window for its first World Series title since 1984.
Photo courtesy of USA Today Sports Images.