The Mariners made the offseason's biggest free agent splash by issuing the third-biggest contract in Major League history, but they fell oddly silent in the months that followed.
Major League Signings
Robinson Cano, 2B: 10 years, $240MM.
Fernando Rodney, RHP: Two years, $14MM.
Corey Hart, 1B/OF: One year, $6MM (plus another $7MM worth of incentives).
Willie Bloomquist, INF/OF: Two years, $5.8MM.
Chris Young, RHP: One year, $1.25MM.
Total Spend: $267.05MM
Notable Minor League Signings
Trades and Claims
Extensions
Notable Losses
Needs Addressed
With Eric Wedge out of the picture, the Mariners began the offseason by looking for a new skipper. After many interviews — some with old-school managers and some with younger, less traditional candidates — Seattle decided on former Tigers hitting coach and Pirates manager Lloyd McClendon. He fits into the old-school category, but Seattle clearly preferred some experience as opposed to a rookie hiring such as the ones made by the Cubs (Rick Renteria) and Tigers (Brad Ausmus).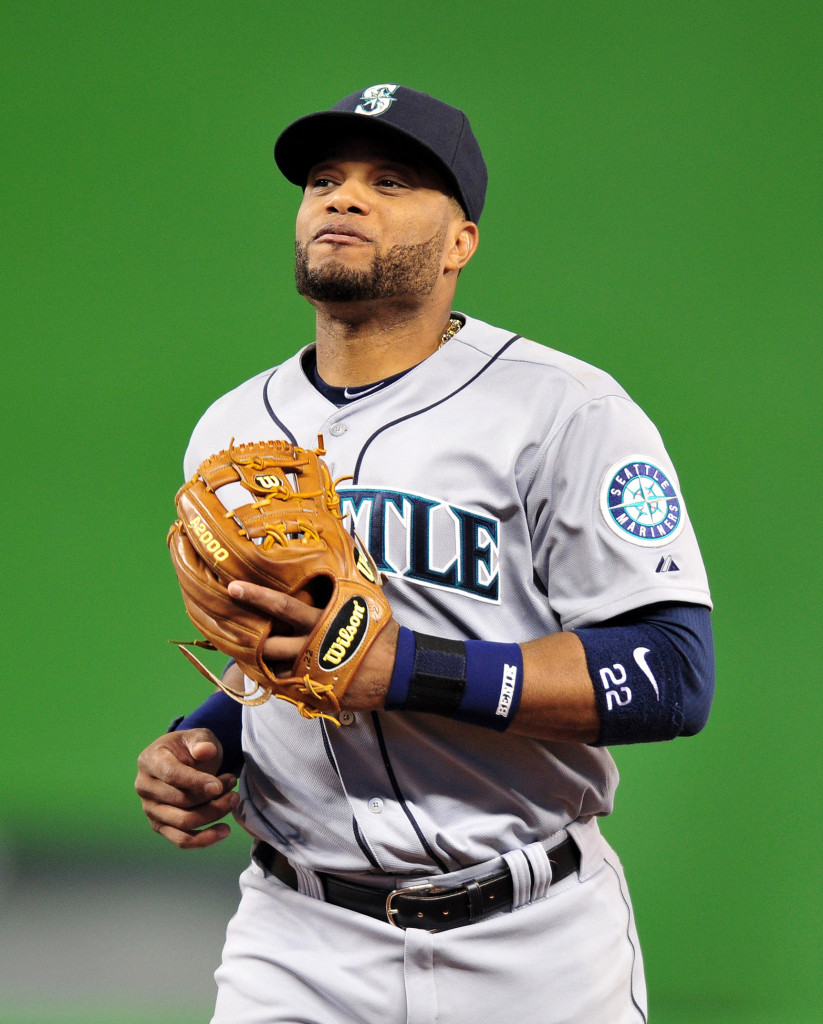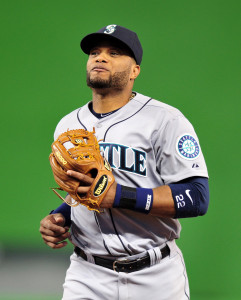 With that out of the way, the Mariners sought to address the club's collective .237/.306/.390 batting line of a year ago. Specifically, Mariners second basemen combined to bat .229/.299/.340 and play sub-par defense in 2013, resulting in a total of -0.1 wins above replacement (per Fangraphs). That glaring flaw set the stage for an ongoing pursuit of the offseason's premier free agent in Cano. The Yankees showed interest in retaining Cano, but in the end they never came close to matching Seattle's offer, and it doesn't seem like anyone else did either. The Mariners reportedly topped the Yankees' best offer by as much as $65-70MM, and they even went above and beyond their initial comfort levels. Reports on the day of the signing indicated that talks had disintegrated after the two sides were said to be in agreement on a nine-year, $225MM contract. Apparently, agents Brodie Van Wagenen and Jay-Z then upped the asking price to 10 years and $252MM, which caused a breakdown. The exact details of the negotiation will never be known, but the two sides overcame any obstacles and agreed to a $240MM middle ground that tied Albert Pujols for what was then the third-largest deal ever. (Cano's deal trailed Alex Rodriguez's two separate 10-year deals of $252MM and $275MM, and Miguel Cabrera has since surpassed his total commitment.)
Not long after the Cano signing, the Mariners added a pair of wild-card bats in the form of Hart and Morrison. Hart didn't play in 2013 after undergoing surgeries on both knees, while Morrison's own knee issues have dampened what looked to be a promising start to the former top prospect's career. Hart batted .279/.343/.514 and averaged 29 homers per season in a three-year stretch from 2010-12 — his most recent big league action. Morrison, still just 26 years old, batted .259/.351/.460 with 25 homers in his first 185 games in the Majors.  If either one were to return to his peak form, that bat would represent a significant upgrade for the Mariners.
Jack Zduriencik's second-largest signing of the offseason was made with an eye toward solidifying the ninth inning while allowing Danny Farquhar — who emerged as Seattle's best reliever last season — to continue to get important outs in high-leverage situations in the seventh and eighth inning. Rodney was written off by many before signing with the Rays and rejuvenating his career with a historic 2012 season. His command regressed in 2013, but he still shot off 37 celebratory (imaginary) arrows and posted a strong 3.38 ERA with 82 whiffs in 66 2/3 innings. He's been a part of a solid Mariners bullpen to this point.
Questions Remaining
For all of the money the Mariners spent, how much has their offense truly improved? Even if Hart hits reasonably well, he wouldn't be a significant upgrade over Morales, who left via free agency (and is still looking for a job). Cano will be a huge boost at the keystone, and they'll have a full season of Brad Miller after watching Brendan Ryan toil away for much of 2013. Still, the Mariners have been going with Abraham Almonte in center field along with familiar faces like Dustin Ackley and Justin Smoak in the lineup. Almonte has struggled all season, and while Ackley and Smoak started hot, each has come back down to Earth. Mike Zunino has shown some improvement and could be an above-average bat behind the dish, but the team's offensive output to this point has actually been worse than it was in 2013.
Injuries have run rampant through Seattle's rotation, as both Hisashi Iwakuma and Taijuan Walker opened the season on the disabled list. That duo was joined shortly thereafter by promising young lefty James Paxton, and Seattle has scrambled to cobble together a rotation with that trio on the shelf. Cuban rookie Roenis Elias has been an unexpected godsend for the club to this point, making five starts and posting a 3.54 ERA in the process.
Still, the Mariners knew full well that they'd open the season with 40 percent of their rotation on the disabled list, and they were already counting on an inexperienced group beyond Felix Hernandez and Iwakuma (with the possible exception of minor league signee Scott Baker, whom the team released in Spring Training).
All the while, Ervin Santana sat on the free agent market looking for a team, ultimately settling for a one-year, $14.1MM deal with the Braves. Santana seemed set on inking a one-year pact by the time he signed — the Twins had reportedly offered three years and about $33MM in Spring Training — and was said to prefer the National League, but could he have been persuaded by an offer in the $16-17MM range from Seattle? Cano was outspoken in his desire for his new team to sign Santana (and to re-sign Morales), but instead Santana is dominating early in Atlanta, while the M's have turned to Young and questionable arms such as Blake Beavan, Brandon Maurer and Erasmo Ramirez. Maybe Santana never would have signed in Seattle, but it was curious that the bidding was said to be down to the Orioles and Blue Jays at around $14MM before the Braves emerged as late suitors due to injuries to Kris Medlen and Brandon Beachy.
One alternative for the Mariners to bolster the offense or the starting rotation could have been to trade displaced top prospect Nick Franklin, who looks to be out of a job with Miller and Cano manning the middle infield. However, Seattle hung onto the 23-year-old and started him off in Triple-A. It's possible that the decision was made in hopes that Franklin would improve his trade value after a disappointing rookie campaign. Franklin has mashed at Triple-A to start the season, though he struggled in a brief call-up to the Mariners in which he didn't receive consistent playing time.
One trade that was oft-discussed in the early stages of the offseason was an acquisition of David Price, but the Rays never showed that much of an inclination to trade the former Cy Young winner, and Price's agent stated in December that his client wouldn't sign an extension in Seattle were they to make a trade for him. One would think that a package headlined by Franklin and Walker would have piqued Tampa's interest, but Zduriencik never wanted to part with Walker in a deal, which could be been the reason that talks never really got off the ground.
If money was truly too tight to pursue Santana or a significant bat like Nelson Cruz (to whom they were heavily linked as well), then the Mariners' modest deal for Bloomquist strikes me as a particularly questionable allocation of funds. Bloomquist has essentially been a replacement-level player throughout his career, yet the Mariners saw fit to guarantee him multiple years (two years, $5.8MM). His $2.8MM salary in 2014 isn't exactly crushing, but it does make up about three percent of Seattle's payroll. Meanwhile, the division-rival A's signed the defensively superior Nick Punto for half that guarantee, and the Pirates inked defensive specialist Clint Barmes for just a $2MM guarantee.
From a defensive standpoint, the Mariners will likely be giving plenty of time in the outfield to Hart and Morrison, which could prove to be a liability. The infield defense should be improved by the addition of Cano and with the definitive decision to place Brad Miller at shortstop over Franklin, who many scouts feel is better suited for second base.
Deal of Note
The news that Cano was signing in Seattle ignited and energized a fanbase that has been starved for quality hitters (while also enraging a great number of Yankee fans). The addition of Hart was a nice followup, as he figured to be a semi-risky but high-reward addition that could be an upgrade at first base or at least a replacement for Morales. Fans were disheartened in the months that followed to hear that the team may not have additional money to spend, though.
With that looking to be the case, it's now fair to wonder multiple things about the Cano deal. If Seattle was truly spending the overwhelming majority of its offseason budget on Cano, would the resources have been better off divided among multiple assets? That type of money could have, in theory, netted both Santana and Matt Garza while still leaving enough money to add Shin-Soo Choo. That type of second-guessing can always be applied to a significant offseason addition such as this one, but Cano-type deals are usually accompanied by additional, significant moves. That wasn't exactly the case in this instance, which has led many to ask why a team that needed so much work to contend would spend so wildly on one asset while improving the rest of the team very little.
Additionally, the question has been raised as to who else was a serious player for Cano. While many teams showed some interest, and there was speculation regarding the Rangers following the Prince Fielder/Ian Kinsler swap, no team was publicly linked to Cano at the same price level of the Mariners. As I said before, we'll never know exactly how negotiations panned out, but it seems hard to believe that Seattle had to top the runner-up bidder by $65-70MM. Was another team involved, or did they simply outbid themselves? It's been speculated that this was the work of a GM who knew his job was in danger and needed to make a splash, but the move required ownership approval as well, and it's hard to imagine Zduriencik fancied Cano as a cure-all for the team's many ailments.
Overview
While the club hasn't hit as well as expected in the early-going, the offense should still be improved over 2013's weak performance. The rotation, too, could be a solid group if Iwakuma, Walker and Paxton are able to return at full strength. However, it was surprising to see Seattle sit on its hands, even after division rivals such as the Rangers (Derek Holland) and A's (Jarrod Parker) suffered significant setbacks in their rotations.
The Mariners made one of the most significant moves in baseball history but then followed that up with the type of risk/reward moves one might expect from a rebuilding club (buying low on a former top prospect in Morrison, signing a tradeable veteran to a one-year deal in Hart). Perhaps the club placed too much of a belief in its ability to land Price and didn't much care for any of the fallback options. Perhaps they looked at the pitching-rich free agent class of 2014-15 and thought they were better served by waiting for a year and adding a James Shields or Justin Masterson over Santana. Or, perhaps Zduriencik and his staff still saw enough promise in the young core they thought they acquired when drafting Ackley and trading for Smoak.
In the end, the offseason sent a confusing message to fans and Seattle's own players alike. The Mariners don't look like a playoff team right now, and their fans aren't the only ones confused by what transpired this offseason.
Photo courtesy of USA Today Sports Images.