Andrew Miller was drafted sixth overall in 2006, one spot ahead of Clayton Kershaw.  He didn't find success as a starting pitcher, but developed into a shutdown reliever in recent years.  Miller's stock rose dramatically in 2014, to the point where he's the second-best free agent reliever this winter.  The 29-year-old 6'7″ lefty could score a surprisingly large multiyear deal.
Strengths/Pros
Armed with a 94-97 mile per hour four-seam fastball and one of the game's nastiest sliders, Miller strikes out batters in droves.  Among relievers with at least 50 innings pitched, Miller's 14.87 K/9 ranked second in baseball, behind only Aroldis Chapman.  Using linear weights, Miller had the most valuable slider in baseball in 2014.  And he's no lefty specialist, either, with righties also unable to touch him.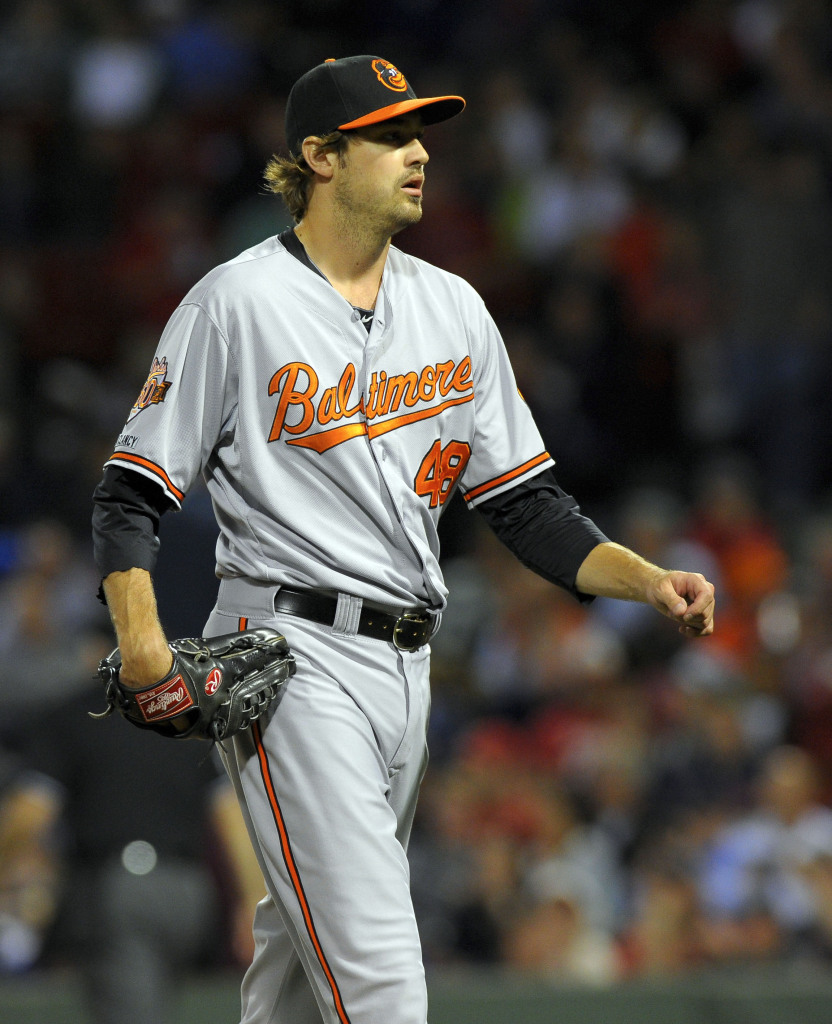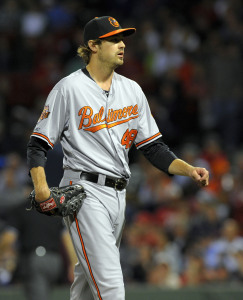 Miller posted a sparkling 2.02 ERA this year, which ranked 22nd among MLB relievers and second among free agent relievers.  Miller ranked sixth among MLB relievers with 2.3 wins above replacement, and second with a 1.21 SIERA.  In short, Miller's skills more than back up his performance.
Miller showed the best control of his career this year, walking only 2.5 batters per nine innings.  He was traded to the Orioles at the July deadline and was especially stingy with the free pass in the ensuing 20 innings, walking only 1.8 per nine.
Miller allowed less than one baserunner per inning this year, in part because he was extremely difficult to hit.  Only six MLB relievers allowed fewer than Miller's 4.76 hits per nine innings.  Since 2012, Miller has allowed 5.8 hits per nine.  We're building a near-perfect reliever at this point, but Miller also allowed only three home runs in his 62 1/3 innings this year.
Miller didn't have an ERA above 2.70 in any month, but he was particularly good in the season's final three months with a 1.48 mark.  For good measure, he tacked on another 7 1/3 scoreless frames in five postseason appearances, serving as a major weapon for Orioles manager Buck Showalter.
Not that a qualifying offer would have been likely, but Miller became ineligible for one upon his midseason trade.  That's an advantage Miller has over the top available free agent reliever, David Robertson.  He's also younger than most of his peers in the marketplace, as Miller does not turn 30 until May.
Weaknesses/Cons
Control was a weakness for Miller prior to 2014, as he walked 5.2 batters per nine innings in 136 innings from 2011-13.  70 innings of limiting free passes isn't enough of a sample to say he has completely eliminated the problem.  Miller posted a 5.0 BB/9 as recently as last year.
2013 was an odd year for Miller in general.  He posted a 2.64 ERA in 30 2/3 innings, but lefties hit .281 off him and he walked 16% of the right-handed batters he faced.  That season ended for Miller on July 6th, when he suffered a Lisfranc injury to his left foot.  It was a torn ligament between bones in the middle of the foot, according to Peter Abraham of the Boston Globe.
Miller previously hit the 15-day DL in 2007 (hamstring strain), '08 (knee inflammation), '09 (oblique strain), and '12 (hamstring strain).  One point in his favor is that none of these injuries involved his left arm.  Miller fell an out shy of 70 innings this year including the playoffs, but only tallied 53 1/3 frames in 2012 and 30 2/3 last year.  It may not be predictive, but in Miller's three full seasons as a reliever, this is the only year in which he didn't miss 26 games or more.
Personal
Miller was born in Gainesville, Florida and attended high school there.  He attended UNC for college and was drafted sixth overall in '06.  Miller currently resides in Newberry, Florida with his wife and son.  He's known as a cerebral person, and is one of the game's most active players union representatives.
Market
Miller has shown he can retire left and right-handed hitters, and has the skills to handle the ninth inning if his team prefers.  Any team would love to have him, and he could anchor a bullpen for the White Sox, Astros, Blue Jays, Mets, Rangers, and Cubs, to name a few.  The Tigers drafted Miller in '06 and traded him to the Marlins the following year as a major component of the Miguel Cabrera deal.  The Tigers almost brought him back via trade this July, so they should have interest in free agency.  The Brewers, Braves, Pirates, Nationals, and Dodgers were also among those in on him at the trade deadline.  A reunion with Boston also can't be ruled out, and the Yankees figure to check in.  And certainly the Orioles would like to have Miller back, if they can fit him into their budget while also trying to re-sign Nelson Cruz and others.
Expected Contract
The Red Sox acquired Miller from the Marlins in November 2010, but non-tendered him a few weeks later.  He received strong interest on the free agent market for a few weeks and ultimately turned down three different big league offers to sign a minor league deal to remain with Boston.
Four years later, Nick Cafardo of the Boston Globe says Miller is "a strong union man who believes in the right of a player to seek the best contract for himself when he reaches free agency," adding that Miller will go to the highest bidder this winter.  Interest in Miller will be widespread, as it was at the trade deadline.  That the Red Sox were able to extract highly-regarded pitching prospect Eduardo Rodriguez in a trade for several months of Miller's services speaks to the kind of bidding war that occurred.
Brandon League money would be a solid deal for Miller; League received $22.5MM over three years at the end of the 2012 season.  Given just one save on his resume, Miller would be the first non-closing reliever to reach the $20MM mark (though I've predicted just that for Luke Gregerson).  Still, with MLBTR's Steve Adams projecting $52MM over four years for Robertson with a qualifying offer, the League contract feels inadequate for a reliever as coveted as Miller.
We haven't seen a four-year deal for a non-closing reliever since Scott Linebrink signed with the White Sox seven years ago.  With Miller, I think it's time.  I'm predicting a four-year, $32MM deal.
Photo courtesy of USA Today Sports Images.