Luke Gregerson has been one of baseball's top setup men since his 2009 rookie season, and he posted a career-best 2.12 ERA this year.  Interest will be strong on the 30-year-old, who will be seeking the first multiyear deal of his career.
Strengths/Pros
Among American League relievers with at least 60 innings, Gregerson's 2.12 ERA this year ranked 12th.  Among free agents, only Pat Neshek and Andrew Miller did better.  In Gregerson's six big league seasons, his highest ERA was 3.24 in his rookie campaign.  He's posted an ERA of 2.75 or lower in each of the past four seasons.  From 2009-14 among relievers with at least 350 innings, Gregerson's 2.75 ERA ranks fourth in baseball.  He's been a model of consistent excellence in the late innings, using his slider often to stymie hitters even if they know it's coming.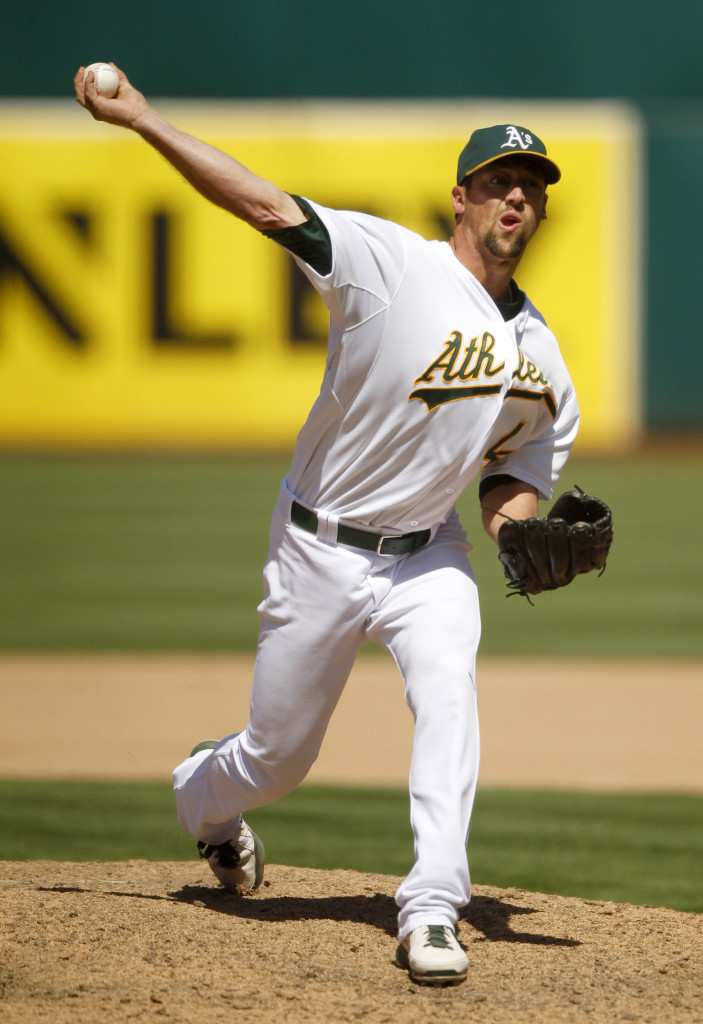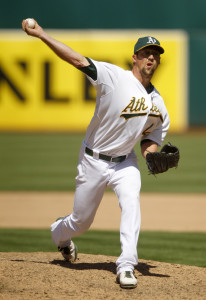 In San Diego, Gregerson paired up with closers Heath Bell and Huston Street for five years, and he's never received more than 13 save opportunities in a season.  Instead, he racks up holds like no other.  According to MLB.com, a hold is given if "a reliever comes into a game to protect a lead, gets at least one out and leaves without giving up that lead."  Gregerson led all of baseball from 2009-14 with 154 holds.
Gregerson walked only 5.3% of the batters he faced this year, a career best.  Only 13 relievers showed better control this year, and only Neshek and Koji Uehara are free agents.  Gregerson's 52.2% groundball rate was also a career-best, and the figure ranked 11th in the AL.  Gregerson has been consistently tough to hit throughout his career, allowing fewer than 7.5 hits per nine innings in every season except 2011.  His career batting average on balls in play of .267 is a big part of his success (more on that later).
Gregerson will not turn 31 until May next year.  Only a handful of Gregerson's fellow relievers on the free agent market are that young, and none of them have a track record close to his.  One benefit Gregerson should have over free agent reliever David Robertson: he's not going to receive a qualifying offer.
Gregerson comes with a remarkably clean bill of health, having only hit the DL twice in his career.  He missed 25 games in 2009 for shoulder inflammation and another 25 in 2011 for an oblique strain.  His 419 1/3 relief innings from 2009-14 rank second in baseball, behind only Tyler Clippard.
Weaknesses/Cons
Drafted in the 28th round in 2006 by the Cardinals, velocity has never been Gregerson's calling card.  He broke in throwing around 91 miles per hour, and now he's down to 88.4.  Only three relievers threw slower in 2014, and two of them are sidearmers.
Gregerson struck out 7.3 batters per nine innings in 2014, his worst mark aside from his 2011 season, which was marred by an oblique strain.  The average AL reliever this year whiffed 8.3 per nine.  It should also be noted that Gregerson's success has come in both leagues, but always in pitcher-friendly home parks.  For his career, he has a 2.02 ERA at home and a 3.60 mark on the road.  The key differences are a much higher home run per flyball rate and batting average on balls in play on the road.
Gregerson threw his famed slider about 46% of the time in 2014, a rate topped by only three relievers.  He was the game's most slider-dependent regular reliever in 2012-13, throwing it 63% of the time.  It's possible heavy slider usage leads to increased injury risk.  However, Gregerson has a strong track record of health, and noted to Susan Slusser of the San Francisco Chronicle in March that he turns his wrist less than most pitchers and his elbow has never bothered him.
Personal
Born in Park Ridge, Illinois, Gregerson resides in Chicago in the offseason.  He attended St. Xavier University in Chicago and grew up rooting for the Cubs and White Sox, according to a 2009 interview.  For a look at how the 28th round pick found his way to the Majors, check out Jeff Passan's article for Yahoo from 2010.
Gregerson is a board member of Struggling Youth Equals Successful Adults, which aids foster kids in transitioning to adulthood.  In September 2012, Gregerson was the Padres' nominee for the Roberto Clemente Award for all his volunteer efforts.
Market
As a Chicago guy, Gregerson might welcome a chance to pitch for the White Sox if they make a competitive offer.  Sox GM Rick Hahn made it clear in September that he aims to "acquire multiple options" for his pen this winter.  Other speculative suitors: the Tigers, Dodgers, Astros, Rockies, Rangers, Nationals, Yankees, and Red Sox.  It is certainly possible that Gregerson could be signed to take on a closer role.
Aside from Gregerson, the best names on the free agent relief market are David Robertson, Andrew Miller, Jason Grilli, Sergio Romo, Francisco Rodriguez, Koji Uehara, Casey Janssen, Rafael Soriano, and Pat Neshek.  That's a lot of competition, and you don't want to be the reliever left standing in January after the music has stopped.
Expected Contract
From last offseason, three contracts come to mind as comparables for Gregerson: Javier Lopez ($13MM), Joe Smith ($15.75MM), and Boone Logan ($16.5MM).  From the previous offseason, notable deals include Brandon League ($22.5MM), Jeremy Affeldt ($18MM), and Jonathan Broxton ($21MM).  All of those deals were for three years, and that is the expectation for Gregerson.  Five of the six were signed before December, so it would be wise for Gregerson's agent Tom O'Connell to act early.
You'll notice that the average annual values from last offseason were about 20% lower than the 2012-13 period, even if we exclude Lopez on account of being older and an extreme lefty specialist.  Some of that may be a function of Broxton and League having 111 and 60 career saves, respectively, but it could be a sign that teams backed off on reliever salaries.  Plus, League isn't the best example, as that deal was viewed as questionable for the Dodgers before the ink had dried.  On the other hand, Gregerson's consistent success led to him setting the arbitration market for his ilk, along with Robertson, so it's possible a team could like him enough to set a new setup man precedent by giving an $8MM AAV or a fourth year.  The four-year deal for setup men seems to have died out with Scott Linebrink and Justin Speier six to seven years ago.
Ultimately, I think Gregerson will sign a three-year, $20MM deal.