There's certainly still some work left to be done in the free agent market, so it's too soon for any grand pronouncements, but the vast majority of the money has probably already been spent. It's long been clear that this year would include a record overall spend, and that has indeed occurred. (2013-14 had the previous high of just over $2B.) And it seems we'll likely end up with another new high point in terms of average annual value, though awarding that crown will need to await a final tally.
For now, we'll focus primarily on spending by team. With Ian Desmond, Dexter Fowler, Yovani Gallardo, David Freese, Austin Jackson, Tyler Clippard, Mat Latos, and Justin Morneau still yet to be taken off of MLBTR's top fifty free agent board — to say nothing of the many other viable as-yet-unsigned players — there's definitely more cash to be distributed.
So, the list could well change quite a bit, and that may be something to revisit. But it's still interesting to take a peak. We did this last year, and the year prior, and some spending patterns have changed. There are obvious reasons for that, of course, which in many cases reflect roster realities and opportunities more than overarching strategies. But the cases of some teams — the Yankees and Mariners, for example — are rather dramatic.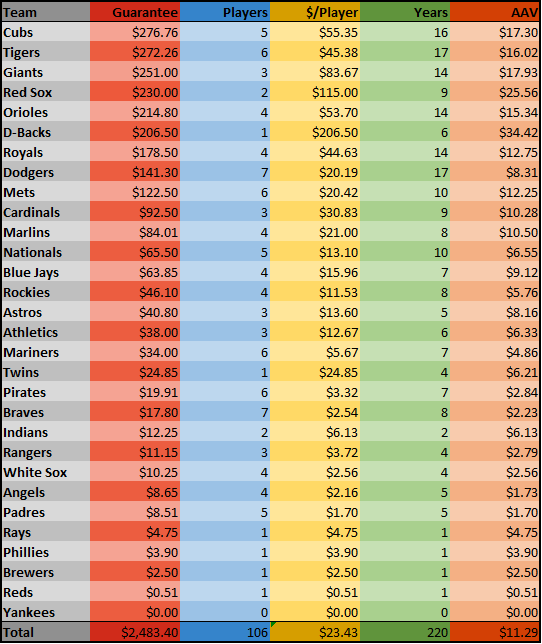 There are several observations apparent from these figures, and others which are buried in the underlying data. The Dodgers, of course, have spread a good bit of money over many players and years. Organizations like the Cubs (Jason Heyward, Ben Zobrist, and John Lackey), Tigers (Justin Upton & Jordan Zimmermann), Giants (Johnny Cueto, Jeff Samardzija, and Denard Span) racked up significant tallies with multiple large contracts. Other clubs' major splashes are hidden somewhat by multiple, less significant signings, as with the Orioles (Chris Davis), Marlins (Wei-Yin Chen), and Cardinals (Mike Leake). The Rangers and Angels are traditional big spenders, and current contenders, who have been quiet in free agency. And the Diamondbacks' one big open-market splash — Zack Greinke — remains a sight to behold.
Note that the above figures include the signings and posting fees for Kenta Maeda (Dodgers) and Byung-ho Park (Twins), neither of whom was technically a free agent. The contract between Cuban free agent Yaisel Sierra and the Dodgers is not included, as its precise value remains unreported, though it is said to be in the range of $30MM over six years. (That would, of course, only further drive home that organization's wide spread of free agent spending.) MLB deals with unreported guarantees are presumptively treated as league-minimum.
Here it is in chart form for visualization: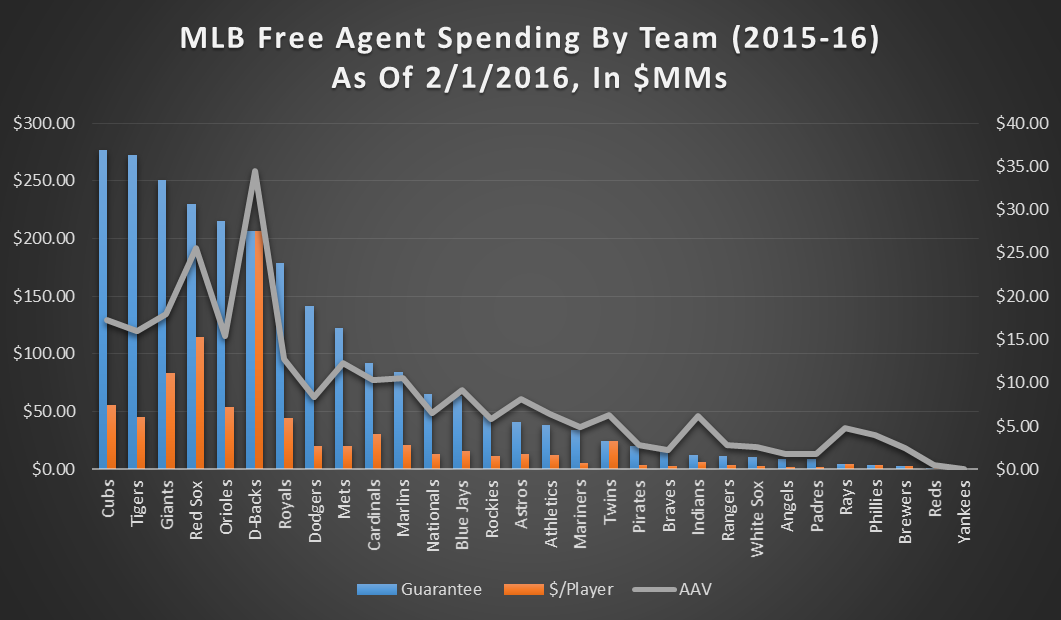 To view the table and graph from the app, use these links.