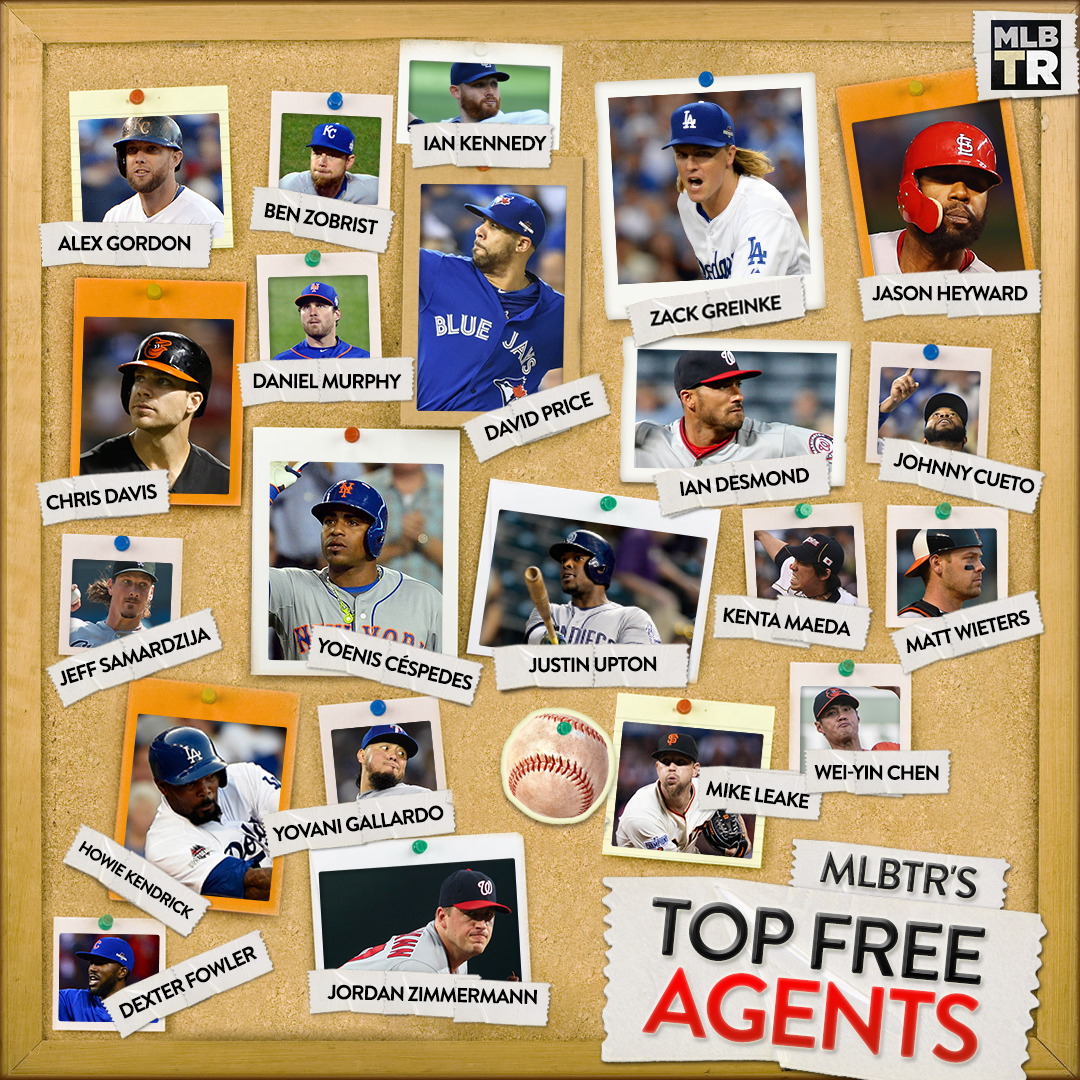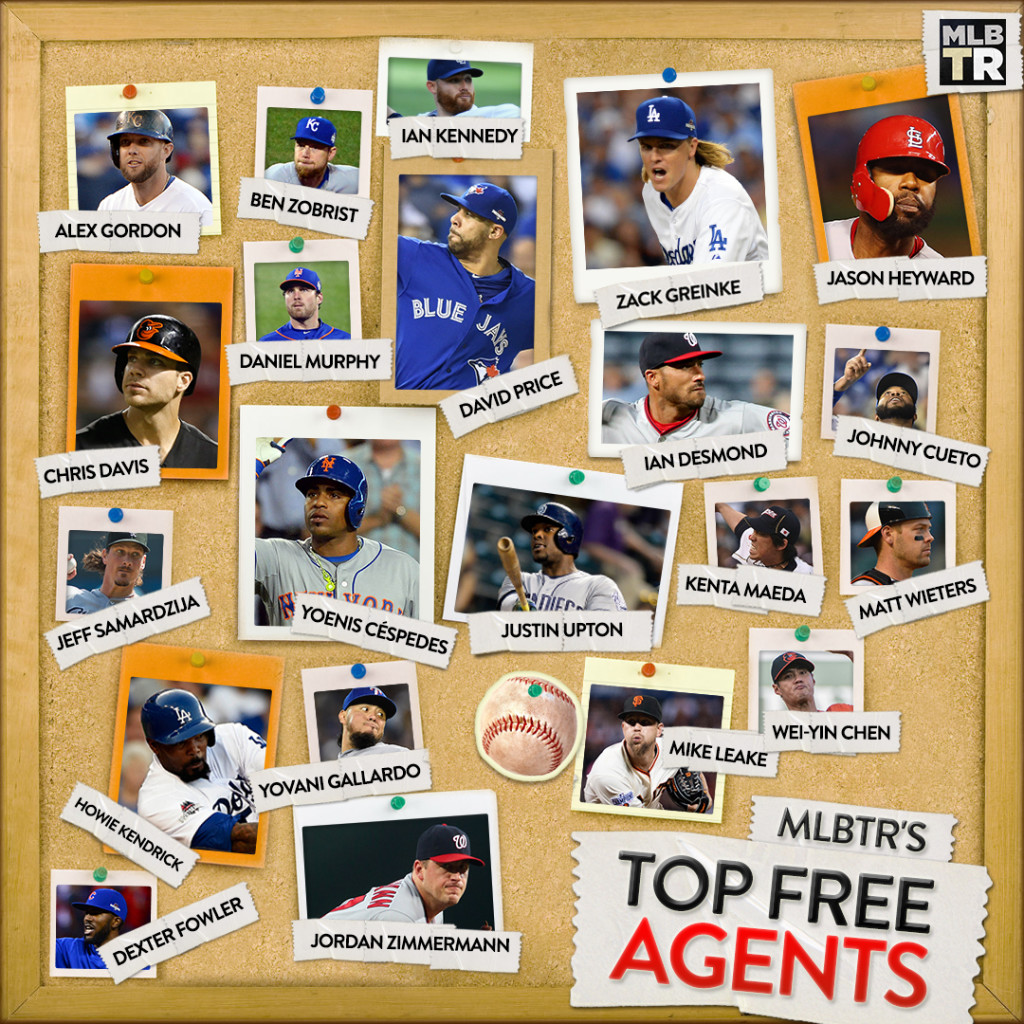 Just in time for the tenth anniversary of MLB Trade Rumors, our Top 50 Free Agents list has arrived!  The entire list of available free agents can be found here, and you can filter by position, signing team, and qualifying offer status with our free agent tracker here.
New to MLBTR?  You can follow us on Twitter, download our free app for iOS and Android, listen to our podcast, and sign up for our free weekly newsletter.
This is the fifth year for our free agent prediction contest, which allows you to test your prognostication abilities against those of the MLBTR writing team as well as other readers.  Last year 3,469 people entered, with Carson Pennington taking home the batting title with 15 correct picks out of 49, a .306 average.  Mark Polishuk topped MLBTR writers with 14 correct.  The contest is back for 2016 and is open now!  You can enter your picks anytime between now and November 13th at 11:59pm central time, and you're free to make changes up until that point.  A Facebook account is required to participate in the contest.  Once all top 50 players have signed, the winners will receive cash prizes.
This year, I asked MLBTR writers Steve Adams, Jeff Todd, Mark Polishuk, Charlie Wilmoth, Zach Links, and Brad Johnson to send me their picks so I could compare to my own.  Discussions with the MLBTR writing team, especially Steve and Jeff, helped inform the predictions found below.  Each player's team was picked in a vacuum, so we're not predicting the Nationals will sign both Justin Upton and Gerardo Parra.  Additionally, we've added our contract predictions to the mix.  We vetted these as much as possible, but with 50 predictions and a volatile free agent marketplace, we know we'll be off on some.  Still, the contract predictions give a more clear criteria, as players are ranked by earning power.  Without further ado, we're proud to present MLBTR's Top 50 Free Agents!
 1.  David Price – Cubs.  Seven years, $217MM.  Price is a true number one starter in his prime.  The 30-year-old southpaw posted a 2.45 ERA in 220 1/3 innings for the Tigers and Blue Jays, and is ineligible for a qualifying offer due to a July trade.  Price is a five-time All-Star and the 2012 Cy Young winner, and he's got a shot at the award again this year.  Even in a free agent market flush with unprecedented starting pitching, Price is the cream of the crop and should command a record deal.  Clayton Kershaw's seven-year, $215MM extension signed in January 2014 should be his target.  The Cubs are the early favorite, as they are known to be seeking an impact starting pitcher and Joe Maddon managed Price with the Rays.  The Blue Jays will attempt to bring Price back, while the Dodgers, Red Sox, and Giants figure to be among those in the mix.
2.  Jason Heyward – Yankees.  Ten years, $200MM.  Since his 2010 rookie season, Heyward has quietly been one of the game's best outfielders.  He's an excellent defender and baserunner with a solid on-base percentage and some pop.  Heyward hit a career-high 27 home runs in 2012, but only 38 in the three seasons since.  He doesn't have the typical power output of a $200MM player, but his all-around game makes him a sabermetric darling with six wins above replacement this year.  A very long term and an opt-out clause are on the table for Heyward because he broke into the Majors at age 20, and is now just 26.  The Cardinals will try to convince Heyward to stay, but teams like the Angels, Yankees, White Sox, and Astros could make a play.  For more on Heyward, click here.
3.  Zack Greinke – Dodgers.  Six years, $156MM.  Greinke is a contender for the NL Cy Young Award after leading all of baseball with a 1.66 ERA in 222 2/3 innings.  He's been an elite starting pitcher since winning the AL award with the 2009 Royals, and has already earned over $100MM in his career.  Greinke's 2012 free agent deal with the Dodgers included a clause allowing him to opt out of the $71MM remaining over the final three seasons, and he's done just that in search of a guarantee of more than twice that much.  Since Greinke recently turned 32, a six-year deal may be out of some teams' comfort zone.  It's possible he'll get into the $150MM range even on a five-year term, however.  His market should be similar to that of Price, but the 22 month age difference will keep Greinke from matching his contract.
4.  Justin Upton – Nationals.  Seven years, $147MM.  Drafted first overall by the Diamondbacks a decade ago, Upton hasn't quite reached the lofty expectations placed on him.  He's still a solid source of right-handed power, with 82 home runs over the last three seasons.  Upton turned 28 in August, so there's room to grow.  Even if he doesn't, he could still provide decent value at a contract similar to the one Jacoby Ellsbury signed two years ago with the Yankees.  Nationals GM Mike Rizzo was Arizona's scouting director when they drafted Upton, and there could be a fit if the team is willing to move Bryce Harper to center field.  The Yankees, Angels, Rangers, and Giants are other potential matches.  Click here for our full profile on Upton.
5.  Chris Davis – Cardinals.  Six years, $144MM.  Davis is baseball's most prolific home run hitter, leading the Majors in 2013 and 2015.  He's a middle of the order monster and he doesn't turn 30 until March.  Agent Scott Boras will attempt to downplay Davis' high strikeout rate and his 2014 suspension for use of Adderall.  Boras will push for seven years for Davis, a term he achieved with Ellsbury and Shin-Soo Choo previously.  First base is not an in-demand position this winter, so finding a match for Davis is difficult.  He would be a great addition to the Cardinals' lineup if they lose Heyward.  The Orioles will stay involved, while the Astros, Mariners, and Padres make some degree of sense.  Click here for more on Davis.
6.  Yoenis Cespedes – Angels.  Six years, $140MM.  Cespedes, 30, vaulted up the free agent ranks after bashing 25 home runs in the season's final three months.  Signed by the Athletics for $36MM as a free agent out of Cuba, Cespedes' choice to limit that contract to four years has paid off.  He's ineligible for a qualifying offer, and seems unlikely to return to the Mets.  The Angels are one possibility for Cespedes, though they would prefer a left-handed masher.  The Astros, Giants, Mariners, White Sox, Rangers, and Yankees could get in the mix, but this one's tough to predict.
7.  Jordan Zimmermann – Blue Jays.  Six years, $126MM.  Zimmermann could become the first Tommy John survivor to score a $100MM contract.  He has a 3.13 ERA over 810 1/3 innings over the last four seasons, but slipped a bit in 2015 and doesn't boast the strikeout rate of other top arms.  Since Zimmermann won't turn 30 until May, a six-year term is attainable.  The Blue Jays need arms, and executive Dana Brown was the Nationals' scouting director when Zimmermann was drafted in '07.  The Cubs, Giants, Diamondbacks, and Tigers are other good matches.  Click here for more on Zimmermann.
8.  Johnny Cueto – Red Sox.  Five years, $115MM.  Cueto served as the Reds' ace for many years until the Royals acquired him in July, removing his qualifying offer eligibility.  Prior to the trade, he went two weeks between starts due to an elbow issue, but avoided the DL.  Cueto was not the dominant force the Royals expected, as he posted a 4.76 ERA in 13 regular season starts and pitched poorly in two of his four postseason outings.  The righty capped his season with a complete game to take Game 2 of the World Series.  Cueto's performance since August may have knocked down his free agent value, leaving teams wary of guaranteeing a sixth year.  He could still be the ace the Red Sox are seeking, as predicted by five of seven MLBTR writers, or clubs such as the Cubs, Dodgers, Giants, Diamondbacks, Tigers, Astros, or Blue Jays could win the bidding.
9.  Alex Gordon – Royals.  Five years, $105MM.  Gordon was drafted second overall by the Royals in 2005, one pick after Upton.  He has become one of the game's best left fielders, combining elite defense with excellent on-base skills and decent pop.  Gordon's left-handed bat would look great in a lot of lineups, but most MLBTR writers expect him to remain in Kansas City.  How far will the World Champion Royals push the hometown discount?  We feel Gordon's earning power is around $100MM, so it's hard to picture him accepting something below $75MM.
10.  Ian Desmond – Mets.  Five years, $80MM.  Perhaps the game's best shortstop from 2012-14, Desmond slumped to a .233/.290/.384 batting line in 2015.  He still hit 19 home runs, and is easily the best available at his position.  Three MLBTR writers feel the Mets will sign their longtime Nationals adversary, while the Padres and White Sox also got mentions.  Desmond will come with a qualifying offer attached.
11.  Jeff Samardzija – Giants.  Five years, $80MM.  After posting a 2.99 ERA in 2014, Samardzija seemed like another potential member of the $100MM club.  Instead, he struggled with the White Sox in 2015, leading MLB in hits and earned runs allowed.  Executives to whom we've spoken still like him the most out of the second tier starters, and think he'll bounce back from this year's 4.96 ERA.  Shark had an unconventional path to the Majors, serving as a wide receiver at Notre Dame and pitching mostly as a reliever until 2012.  That has kept his mileage down relative to someone like Yovani Gallardo, who is a year younger but has thrown nearly 27% more career innings.  The Yankees are known to like Samardzija, but the Giants, Diamondbacks, Tigers, Blue Jays, and Astros are just a few others who could get involved.
12.  Mike Leake – Giants.  Five years, $80MM.  Leake is younger than his free agent peers, as he doesn't turn 28 until next week.  The Reds drafted him in the first round in 2009 and put him straight into the Majors in 2010.  Leake profiles as a sub-4.00 ERA, mid-rotation arm, and he's ineligible for a qualifying offer due to his trade to the Giants.  His age puts five years on the table.  The Giants generally retain their guys and are the prohibitive favorite, though the Diamondbacks are known to like him.  To read our full profile on Leake, click here.
13.  Wei-Yin Chen – Tigers.  Five years, $80MM.  Chen, a native of Taiwan, was signed by the Orioles out of Japan in 2012.  Though he's been prone to the longball, the lefty has posted a 3.44 ERA in 377 innings over the last two seasons.  Boras figures to position him as a cut above the typical mid-rotation arms, pushing for a fifth year despite a qualifying offer.  In need of multiple arms, the Boras-friendly Tigers could be a match.
14.  Kenta Maeda – Diamondbacks.  $20MM posting fee plus five year, $60MM contract.  Maeda, 28 in April, recently finished his eighth season with Japan's Hiroshima Carp.  After he put up a 2.09 ERA in 206 1/3 innings, the Carp may decide to post Maeda.  The posting system established in 2013 caps the posting fee at $20MM, allowing all teams that tie for the highest posting bid to negotiate with the player for 30 days.  Diamondbacks GM Dave Stewart admitted a year ago he loves Maeda, so Arizona is a strong contender.
15.  Matt Wieters – Nationals.  Four years, $64MM.  Another former first-round draft pick, the switch-hitting Wieters has an above average bat for a catcher and little competition on the market at his position.  As with Upton, there's a feeling Wieters hasn't lived up to expectations, but he's still a quality player.  His contract will be depressed by last year's Tommy John surgery, which delayed his 2015 debut until June and prevented him from catching on consecutive days regularly.  We expect him to turn down the Orioles' qualifying offer, and the Nationals could sign Wieters as an upgrade over Wilson Ramos.  The Braves make sense with Wieters' strong Georgia ties, while the Angels, Astros, and White Sox could be fits.  Click here for our full profile of Wieters.
16.  Dexter Fowler – Mets.  Four years, $60MM.  Fowler, 30 in March, joined the Cubs from the Astros in a January trade.  He did a fine job as the Cubs' center fielder, playing in a career-high 156 regular season games and quieting concerns about his 2014 defensive metrics.  The switch-hitter posted his standard solid OBP and a career-best 17 home runs, so he'll be turning down the Cubs' qualifying offer in search of a multiyear deal.  A return to the Cubs makes sense, but if they decide to move on, the Mets, Nationals, Angels, Marlins, and White Sox are some decent matches.  Teams like the Mariners and Rangers may seek help in center field, but may be reluctant to forfeit their first-round draft pick.
17.  Daniel Murphy – Angels.  Four years, $56MM.  Murphy, 31 in April, has long served as a solid second baseman for the Mets.  He had the best contact rate in baseball among qualified hitters this year and can also handle third base.  He's a below average defensive second baseman.  After hitting a career-high 14 home runs in the regular season, Murphy smashed seven more in the span of seven postseason games against the Dodgers and Cubs.  His bat quieted in the World Series, and he also committed a costly error in Game 4.  The idea that 14 postseason games had his free agent value swinging $20MM in either direction was always nonsense, as a qualifying offer and a contract in the range of Chase Headley's four-year, $52MM pact made sense for Murphy before the postseason narratives set in.  The Angels and Yankees are the favorites among MLBTR writers, with the White Sox also getting a mention.
18.  Scott Kazmir – Orioles.  Four years, $52MM.  Kazmir put up an excellent 3.10 ERA in 183 innings this year for the Athletics and Astros.  Though he was either struggling or out of the Majors from 2009-12, Kazmir has re-established himself over the last three seasons.  The southpaw, who is ineligible for a qualifying offer, has a case for a four-year deal.  I don't completely subscribe to the narrative, but Kazmir will have to contend with the impression that he fades down the stretch.  The Orioles, perhaps seeking a more affordable southpaw to replace Wei-Yin Chen, could pursue Kazmir.  The Tigers, Blue Jays, Giants, Dodgers, Padres, and Royals are other possibilities.
19.  Ian Kennedy – Angels.  Four years, $52MM.  Kennedy had a 4.28 ERA for the Padres but seemed deserving of better.  He will deal with the drag of a qualifying offer, but several teams will gravitate toward a pitcher with a 9.3 K/9 over the last two seasons.  Kennedy's biggest issue is home runs; no one posted a higher rate per nine innings this year.  The Angels, Giants, Astros, Tigers, Blue Jays, and Orioles are potential suitors.
20.  Yovani Gallardo – Tigers.  Four years, $52MM.  Gallardo, 30 in February, spent his career with the Brewers before a January trade to the Rangers.  Once one of the NL's better pitchers, Gallardo has settled in as a mid-rotation arm.  His peripheral stats this year suggest he was fortunate to manage a 3.42 ERA, and his qualifying offer could hamper his market.  The Tigers could work, as a team seeking multiple starters with a protected first-rounder.
21.  Ben Zobrist – Yankees.  Three years, $51MM.  Baseball's Swiss Army knife would fit with more than a dozen teams, as he can handle second base and the outfield corners and even back up at shortstop.  Offensively, Zobrist contributes a strong OBP and good pop, plus he's ineligible for a qualifying offer because he was traded to the Royals.  He'll be vying for a fourth year, and Victor Martinez did get that, but with Zobrist turning 35 in May it's still a tough sell.  He remains a good fit for the Royals, while the Yankees, Orioles, Padres, Astros, and White Sox could also make sense.
22.  Howie Kendrick – White Sox.  Four years, $50MM.  Kendrick presents an alternative to Murphy, from the right side of the plate.  He remains an above-average hitter and is considered a competent second baseman.  After nine seasons with the Angels, Kendrick was traded to the Dodgers last December.  The 32-year-old will likely seek a four-year deal, which may cause a few suitors to back away.  The White Sox have a protected first-round pick and could stabilize second base with Kendrick.  The Yankees, Royals, Angels, and Mets are other possibilities.
23.  Byung-ho Park – Rockies.  $10MM posting fee plus five-year, $40MM contract.  Park, a 29-year-old first baseman from the Korea Baseball Organization, was posted by the Nexen Heroes this week.  In the wake of the Pirates' success with Jung-ho Kang, Park's price tag should exceed that $16MM expenditure.  Park had big home run numbers but played in a very homer-friendly league.  We may learn next week which MLB team won the posting bidding and if the Heroes will accept it, making this an easier pick for our free agent prediction contest.  The Rockies, Orioles, Cardinals, Indians, Mariners, Marlins, Padres, Phillies, and Pirates are potential matches.
24.  John Lackey – Cubs.  Three years, $50MM.  Lackey had a fantastic year for the Cardinals, with a 2.77 ERA in 218 innings.  His base salary was the league minimum due to an injury-related clause he agreed to upon signing with Theo Epstein's Red Sox in 2009, but the Cards added $2MM in performance bonuses.  After that bargain, the Cardinals made the $15.8MM qualifying offer, and Lackey is expected to turn it down in search of a multiyear deal.  He recently turned 37, so some suitors could be wary of a three-year deal.  The Cubs, Dodgers, Diamondbacks, Astros, Royals, Giants, Tigers, Blue Jays, Orioles, Mariners, Marlins, Nationals, Rangers, Twins, and Yankees could all be part of his robust market.
25.  Hisashi Iwakuma – Mariners.  Three years, $45MM.  Iwakuma's run of success continued with the Mariners, as he posted a 3.54 ERA in 20 starts and pitched a no-hitter.  He missed more than two months with a lat strain, however, and turns 35 in April.  He'll contend with a qualifying offer if he reaches the open market, but interest in a new deal with Seattle is mutual.  Iwakuma's market would resemble that of Lackey.
26.  Colby Rasmus – Padres.  Three years, $39MM.  Rasmus, a 29-year-old former first-round draft pick, hit a career-high 25 home runs for the Astros this year.  He added four more in nine postseason games.  Rasmus can play all three outfield positions, too.  One of four 2005 first-round draft picks on this list, Rasmus had trouble meshing with the Cardinals and Blue Jays clubhouses but found comfort in Houston.   The Astros made him a qualifying offer, however, and the prospect of forfeiting a draft pick will give some teams pause.
27.  Denard Span – Cubs.  Three years, $39MM.  Span, 32 in February, hit .292/.345/.404 in his three seasons with the Nationals.  His center field defense rated as below average for the last two years, however.  Span had hip surgery on September 1st and will spend most of the offseason recovering, potentially depressing his price tag.  To the great benefit of his market, Span did not receive a qualifying offer from the Nationals.  The Cubs are a good fit for Span, though it's easier to picture a team like the Mariners coming into play since they have the first unprotected pick in the draft.
28.  Brett Anderson – Dodgers.  Three years, $39MM.  Anderson is another interesting southpaw, although his market will be hampered by a qualifying offer from the Dodgers.  Anderson is young for a free agent, as he doesn't turn 28 until February.  He doesn't miss a ton of bats, but he led all qualified starters with a 66.3% groundball rate this year.  He set a career high with 180 1/3 regular season innings with the Dodgers, after injuries limited him to 206 1/3 over the previous four seasons.  Anderson's injury history likely takes a four-year deal off the table unless the average annual value is greatly reduced.  The Dodgers may retain him, especially since his leverage is reduced by their qualifying offer.  Otherwise his market should resemble that of Kazmir.
29.  Marco Estrada – Athletics.  Three years, $30MM.  Estrada looked like a non-tender candidate for the Brewers a year ago, who traded him to the Blue Jays for Adam Lind.  He didn't even join Toronto's rotation until May 5th, but he went on to post a 3.28 ERA in 28 starts.  He also raised his profile with two excellent postseason starts in three tries.  The 32-year-old soft-tosser received a qualifying offer from the Blue Jays — an offer of a one-year, $15.8MM contract upon which he must decide in the next seven days.  Estrada has earned $10MM in his career, so accepting the offer has to be a serious consideration.  Still, Estrada would surely prefer the security of a multiyear deal, and has a good chance of finding a three-year contract even with the draft pick cost.  The qualifying offer gives the Blue Jays leverage over the next week, so it's possible he'll strike a multiyear deal with them to remain in Toronto.
30.  J.A. Happ – Royals.  Three years, $30MM.  Happ, a 33-year-old southpaw, posted a 4.64 ERA in 108 2/3 innings for the Mariners but a 1.85 mark in 63 1/3 for the Pirates.  Assuming teams feel some of that success can be replicated outside of Pittsburgh, Happ will be a popular mid-range free agent target, as he's ineligible for a qualifying offer and probably won't expect a four-year deal.  The Pirates will attempt to retain him, while the Royals, Orioles, Padres, Angels, Giants, Tigers, A's, Dodgers, and Marlins also make sense.
31.  David Freese – White Sox.  Three years, $30MM.  Freese is a decent third baseman in a market bereft of them.  33 in April, he hit .260/.328/.394 over the last three years and plays average defense.  The Halos chose not to risk the one-year, $15.8MM qualifying offer to Freese.  That's a big plus for his free agency and probably makes a third year possible.  He could return to the Angels, while the White Sox and Indians also make sense.
32.  Gerardo Parra – Nationals.  Three years, $27MM.  Parra was a hot commodity on the July trade market after hitting well beyond his norm for 100 games with the Brewers.  The Orioles acquired him, and he tanked in the remaining 55 games.  Still, Parra doesn't turn 29 until May, he plays all three outfield positions, and he's not eligible for a qualifying offer.  Parra's struggles against left-handed pitching prevent him from being a regular, but he'll be a popular free agent as something between a regular and a fourth outfielder.  There's a Mike Rizzo connection since Parra came up with the D'Backs, while the White Sox, Mets, and Padres could also work.
33.  Darren O'Day – Red Sox.  Three years, $22.5MM.  O'Day may be the best reliever on the free agent market.  The sidearmer compiled a 1.92 ERA in 263 innings over four seasons with the Orioles.  He has at times struggled with walks and home runs against left-handed hitters, but he doesn't have to be used as a righty specialist.  Though he recently turned 33, a three-year deal is in order.  If the Orioles elect not to pay the price, the Red Sox, Tigers, Braves, Diamondbacks, and Mets are just a few potential suitors.
34.  Joakim Soria – Tigers.  Three years, $18MM.  Soria, the former dominant Royals closer, is fully back to form after April 2012 Tommy John surgery.  He became the Tigers' closer after Joe Nathan went down with an elbow injury, and was traded to the Pirates in July.  A healthy three-year deal is in order for Soria, who turns 32 in May.  His market will be similar to that of O'Day, perhaps with a boost for some teams due to his closing experience.
35.  Austin Jackson – Rockies.  One year, $12MM.  Jackson looked like a potential star after a breakout 2012 season with the Tigers.  However, his offense declined and he was traded to the Mariners at the 2014 trade deadline.  Seattle sent him to the Cubs this year at the August deadline.  Jackson doesn't turn 29 until February, and he plays a capable center field.  There's a good chance he can still pass as a two-win center fielder.  A Boras client, Jackson could attempt to maximize his earnings now on multiyear deal, or rebuild value on a one-year pact.  A return to the Cubs makes sense, while the Rockies, Marlins, Nationals, Rangers, Braves, Reds, White Sox, and Indians could also be fits.
36.  Tyler Clippard – Braves.  Three years, $18MM.  Clippard's strikeout and walk rates moved in the wrong direction this year, but he still compiled a 2.92 ERA in 71 innings for the Athletics and Mets.  He's a two-time All-Star who has succeeded in a setup and occasional closer role since 2009.  His history of success should be enough for a three-year deal.
37.  Asdrubal Cabrera – White Sox.  Two years, $18MM.  The Rays signed Cabrera to a one-year, $7.5MM deal in January.  His longstanding record as a below-average defensive shortstop held true, but he showed some pop with 15 home runs and overall was a net positive.  Some teams might prefer him at second base, where he played for the Nationals last year.  The Padres or White Sox could plug him in as a stopgap at either position.
38.  Mat Latos – Pirates.  One year, $12MM.  A few years ago, Latos seemed in line for a monster free agent deal upon hitting the market at age 28.  Then bone spurs in his elbow late in 2013 led to surgery, followed by knee surgery prior to 2014 spring training, and then a flexor mass strain in his elbow.  His 2014 season debut was pushed to mid-June.   He had a stem cell elbow procedure in November 2014, and then the Reds traded him to the Marlins.  He battled minor injuries but showed promise in his 16 starts with the Marlins this year and then joined the Dodgers via trade.  Latos struggled in six outings for the Dodgers and earned his release, hooking on with the Angels in late September to make a few relief appearances.  Latos will probably go for a one-year deal to rebuild value, and the Pirates have a knack for getting pitchers back on track.  As one of only a couple of interesting one-year deal arms, Latos should be popular.
39.  Doug Fister – Astros.  One year, $10MM.  Fister is the other popular one-year deal target, as he served as a dependable starting pitcher until this year.  With his strikeout and groundball rates declining, and his fastball down to around 86 miles per hour, he doesn't have the upside of Latos.
40.  Mike Pelfrey – Royals.  Two years, $15MM.  Pelfrey isn't the most exciting free agent starter, but the righty did make 30 starts for the Twins this year with the game's eighth best home run prevention rate.  Teams like the Royals, Tigers, and Phillies could entertain him for the back end of the rotation.
41.  Antonio Bastardo – Mariners.  Three years, $15MM.  Bastardo profiles as the best lefty reliever on the free agent market after a 2.98 ERA in 57 1/3 innings for the Pirates.  The 30-year-old does have control problems, however.  The Mariners, Twins, and Cardinals are a few potential matches.
42.  Ryan Madson – Twins.  Three years, $15MM.  Madson, 35, signed a minor league deal with the Royals in January.  He hadn't pitched in the Majors since 2011.  With a 2.13 ERA and strong peripherals in 63 1/3 big league innings, Madson proved he's all the way back as a top setup option.  Suitors will prefer a two-year deal due to Madson's age and history, but a third year might win the bid.

43.  Steve Pearce – Rangers.  Two years, $14MM.  Pearce smashed 21 home runs in 383 plate appearances for the Orioles in 2014, but couldn't replicate his success in his contract year.  He could fill a lefty-mashing left field/first base role for the Rangers.
44.  Shawn Kelley – Diamondbacks.  Two years, $12MM.  Kelley has a shot at a three-year deal, after he posted a 2.45 ERA, 11.1 K/9, and 2.6 BB/9 in 51 1/3 innings for the Padres this year.  He'll be appealing to a long list of teams seeking to augment the bullpen.
45.  John Jaso – Orioles.  Two years, $12MM.  Jaso spent most of the season as the Rays' designated hitter, and figures to remain in the American League.  A wrist injury knocked him out for three months this year.  The 32-year-old hit .278/.368/.439 against right-handed pitching over the last three years, but generally shouldn't face lefties.
46.  Chris B. Young – Yankees.  Two years, $12MM.  Young is a lefty-masher who can play all three outfield positions.  If the Yankees don't bring him back, the Rangers could be a fit.
47.  Tony Sipp – Astros.  Three years, $12MM.  Sipp, one of the top lefty relievers on the market, revived his career by joining the Astros in 2014.  He seems inclined to stay in Houston, though he may be popular enough to net a three-year offer.
48.  Justin Morneau – Orioles.  One year, $8MM.  After winning a batting title with the Rockies last year, Morneau played in just 49 games in 2015 due to a strained neck and concussion symptoms.  A move back to the American League makes sense.
49.  Alexei Ramirez – Padres.  One year, $7.5MM.  Ramirez's $10MM option was a borderline call for the White Sox, but they ultimately chose the $1MM buyout.  The 34-year-old struggled mightily in the season's first three months, but hit a respectable .282/.329/.426 in the second half.  His defense might be a little below average at this point, but teams seeking a shortstop can't be too picky.
50.  Rich Hill – Phillies.  One year, $5MM.  Hill, 36 in March, rose from the ashes to twirl four brilliant starts for the Red Sox in September and October.  He's a southpaw with a huge curveball and career-long control issues.  His last run of success as a starter came in 2007, but I like using the last spot on this list for a wild card.
Honorable mentions: Mark Buehrle, Bartolo Colon, Nori Aoki, Rajai Davis, Alejandro De Aza, Jimmy Rollins, Mike Napoli, Marlon Byrd, Chase Utley, David Murphy, Tim Lincecum, Mark Lowe, Alex Rios, Chris Young
Cuban righty Yaisel Sierra has been left off the top 50 list since the timing of his free agency remains an unknown.