In stunning and tragic news, one of baseball's preeminent young stars, Marlins right-hander Jose Fernandez, died in a boating accident early Sunday morning, the team has confirmed. Fernandez was 24.
"The Miami Marlins organization is devastated by the tragic loss of Jose Fernandez. Our thoughts and prayers are with his family at a very difficult time," the club said in a statement.
As a result of Fernandez's death, the Marlins have canceled their game against the Braves on Sunday.
Fernandez was among three men who were found dead after a Coast Guard Patrol spotted an overturned boat off Miami Beach at 3:30 a.m. ET. The 32-foot boat the group was on had a "severe impact" with a jetty, Lorenzo Veloz of the Florida Fish and Wildlife Conservation Commission told the Associated Press. There's "no indication of alcohol or illegal drugs involved," though the high rate of speed at which the boat was traveling factored into the crash, the Coast Guard said (via ESPN.com and Adam Kuperstein of NBC 6).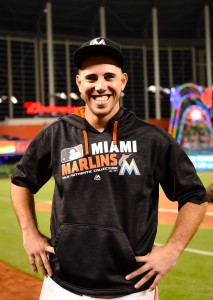 In Fernandez, baseball has lost one of its most charismatic and talented performers, which commissioner Rob Manfred acknowledged in a statement.
"All of Baseball is shocked and saddened by the sudden passing of Miami Marlins pitcher Jose Fernandez. He was one of our game's great young stars who made a dramatic impact on and off the field since his debut in 2013. Our thoughts and prayers are with his family, the Miami Marlins organization and all of the people he touched in his life," said Manfred.
Before his career began, Fernandez endured a harrowing experience during his 2008 emigration from Cuba as he sought to realize his dream of pitching in the majors. He and his party dodged bullets from Cuban Coast Guard boats as they journeyed to Mexico. Along the way, Fernandez's mother, Maritza, fell in the ocean, and he saved her from drowning.
"I dove to help a person not thinking who that person was," said Fernandez. "Imagine when I realized it was my own mother. If that does not leave a mark on you for the rest of your life, I don't know what will."
Fernandez's successful defection from Cuba came after three failed attempts, all of which occurred before he turned 15. Each of those three instances resulted in jail time for Fernandez, who became a United States citizen in 2015.
Three years after Fernandez departed his homeland, the Marlins selected him with the 14th pick of the 2011 draft. Two years later, he debuted with the Marlins and immediately emerged as one of the majors' most electrifying arms. In 172 2/3 innings in 2013, Fernandez registered a sterling 2.19 ERA to go with 9.75 K/9 against 3.02 BB/9 en route to National League Rookie of the Year honors.
Fernandez underwent Tommy John surgery in May 2014, which limited him to 51 2/3 innings that year and 64 2/3 frames last season. He returned in earnest this year and dominated the opposition, logging a 2.86 ERA, 12.49 K/9 and 2.71 BB/9 across a personal-best 182 1/3 innings. Overall, the ace amassed 471 1/3 career major league innings, recorded a 2.58 ERA, 11.25 K/9 and 2.67 BB/9, and earned two All-Star nods.
"He was the heartbeat of our team," a Marlins official told Clark Spencer of the Miami Herald (Twitter link).
Prior to his death, Fernandez was set to become a father. His girlfriend, Carla Mendoza, has a baby on the way. The MLBTR staff joins the rest of the sports world in offering our condolences to Fernandez's family and the Marlins organization.
Photo courtesy of USA Today Sports Images.