This post originally appeared on Pro Football Rumors.
When Tim Tebow was last in the New York market, he was under center for the New York Jets.  While the former University of Florida standout sold a whole bunch of No. 15 jerseys, he didn't make a lot of plays for Gang Green and 2012 wound up being the last time Tebow was on an NFL regular season roster.  After trying his luck with the Patriots and Eagles, Tebow turned his attention to broadcasting.  After years of putting his charm, looks, and athletic background to use on television, he is returning to professional sports in New York.  This time, he's trying to make it with the Mets organization as an outfielder.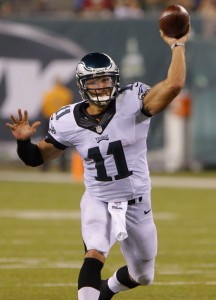 [RELATED: Follow Pro Football Rumors On Twitter]
Tebow, 29, has not played baseball full time in more than a decade.  In his recent audition for major league clubs, he reportedly struggled to hit off-speed pitches from former big-leaguers David Aardsma and Chad Smith.  One scout told ESPN.com's Jerry Crasnick that Tebow showed a below-average 40 grade arm on the 20-80 scouts scale – a reminder of why Tebow was never able to make it as a quarterback on the professional level.  Even though he showed "undeniable hitting ability" in the view of Crasnick, one has to wonder how far Tebow can get given his age, rust, and athletic limitations.
Count Mets GM Sandy Alderson among those with faith in the polarizing athlete.  Alderson told reporters on a conference call today that Tebow is not being brought in as a ploy to sell merchandise.  While he recognizes that Tebow faces an uphill battle in many respects, the GM says that the Mets could not pass on "a tremendous opportunity for us to associate with excellence."
"He has demonstrated through his personality a competitiveness that our players can see first hand," said Alderson, who pointed to pitcher Seth Lugo and minor league standout T.J. Rivera as players who have come from obscurity to find success in the Mets organization. "I think any player evaluation starts with tools and from that standpoint, without grading everything out, suffice it to say that Tim has been a great athlete.  He has demonstrated more than rudimentary baseball skills and we think with his commitment to success that this is an opportunity that we think is worthwhile.  In terms of power, arm, foot speed, all of those things….we think he can be a baseball player.  I think that is underscored by his competitiveness and his determination to succeed and improve."
Alderson indicated that the Mets will be patient with Tebow as he refused to put a timeline on when the former Heisman Trophy winner could potentially reach the majors.  The Mets will find out how ready Tebow is "over the next weeks, months, and possibly years," though Alderson explained that he will be absent from his Instructional League commitments for "a few days each week" so that he can fulfill his TV obligations with the SEC Network.
So, why baseball and why now?  Tebow explained that walking away from baseball was the "second hardest decision" he ever had to make and, in fact, he planned on making this switch more than a year ago.
"[Then Eagles coach] Chip Kelly called in the middle of baseball training and, to me, that wasn't just any opportunity. I figured Coach Kelly's offense might fit me really well.  But, we all know how that turned out," said Tebow with a self-deprecating laugh. "After that, I started doing a little [baseball] training.  Then, after the season, I really picked it up and now we're here."
Tebow explained that as he traveled the country doing speaking engagements over the last few years, the itch to play baseball would move him to call up a local team and take batting practice with them.  For UFC fans, this may be reminiscent of pro wrestler-turned-real fighter C.M. Punk telling the world that he has trained for MMA with the occasional jiu-jitsu class and a "background" in Kenpo karate.  But, in both cases, one can't help but be impressed by the athlete's positive attitude, competitive drive, and willingness to take a monumental risk in a brand new endeavor.   Punk does not speak of winning the welterweight title from Tyron Woodley and Tebow isn't telling the world that he is an All-Star in the making.  For Tebow, this is about pursuing a dream – perhaps a little late in his athletic life – and making sure that he does not wake up one day as a 50-year-old baseball fan with enormous regret.
"For me, I would consider success giving everything I have," Tebow said.  "That would be looking back on this journey and saying I did everything I could do to be the best I could be.  I don't necessarily view success as how many rings, championships, or promotions you get.  I view it as whether I did everything I possibly could do to succeed."
Zach Links is the editor and lead writer of Pro Football Rumors, MLBTR's sister site for the NFL.  You can follow Pro Football Rumors on Twitter – @pfrumors.
Photo courtesy of USA Today Sports Images.