MLBTR is publishing Offseason Outlooks for all 30 teams. Click here for the other entries in this series.
Their rebuild underway, the Brewers will spend the offseason entertaining offers for Ryan Braun and trying to find players capable of filling spots until reinforcements arrive from the minors.
Guaranteed Contracts
Ryan Braun, OF: $76MM through 2020 (includes $4MM buyout on $15MM mutual option for 2021)
Matt Garza, SP: $12.5MM through 2017 (plus club/vesting option for 2018)
Arbitration Eligible Players (service time in parentheses; projections via MLB Trade Rumors)
Free Agents
Brewers Depth Chart; Brewers Payroll Information
The Brewers spent 2016 taking advantage of the biggest asset rebuilding teams have that contending teams don't: the ability to use playing time to evaluate players on the fringes. That process got them good seasons from infielder Jonathan Villar, outfielder Keon Broxton and pitchers Junior Guerra and Zach Davies, as well as lesser but still productive years from infielders Hernan Perez and Chris Carter and pitchers Jacob Barnes and Jhan Marinez.
The Brewers therefore appear to have options that are at least reasonable at many key positions. Guerra and Davies look set for the Brewers' rotation, with the team also having Jimmy Nelson, Matt Garza, Chase Anderson and Wily Peralta in tow. (Peralta could be a non-tender candidate following an underwhelming season in which he posted a 4.86 ERA, 6.6 K/9 and 3.0 BB/9, but he performed well in the big leagues down the stretch after a stint in the minors, so it might be more likely the Brewers keep him.) In the bullpen, there's new closer Tyler Thornburg, along with Carlos Torres, Rob Scahill and Corey Knebel.
That isn't the core of a good team, but GM David Stearns and the Brewers likely don't expect to be good right now. Instead, they'll wait on new arrivals from their highly regarded farm system, and continue to try to sort out who among their current big-leaguers will be able to help their higher-upside young players.
At catcher, the Brewers will likely retain Martin Maldonado, who batted .202 and slugged .351 but with a respectable .332 OBP last season. Maldonado profiles as a backup, but the team still likely won't pursue an established starter at the position, instead likely preferring to get looks at Andrew Susac, who they acquired when they shipped Will Smith to the Giants. The 26-year-old Susac struggled to get his big-league career going, but he's generally hit well in the minors and still only has 1,660 career professional plate appearances since being drafted in 2011. He could benefit from more regular playing time.
In the infield, the Brewers will probably keep Carter at first, although it's not out of the question they'll trade or even non-tender him, since the arbitration process will value him more for his gaudy home run totals than his obvious weaknesses. Considering non-tendering a player coming off a 41-homer season may seem crazy, but Carter's 2016 was worth just 0.9 fWAR, and his career 31.9% strikeout rate, .218 batting average and -29 Defensive Runs Saved mean he has to hit home runs at a furious pace to be more valuable than the $8.1MM salary we project he'll receive. The Brewers have suggested Carter will return, although that isn't yet certain.
Assuming Carter is back, he'll presumably have the speedy Villar next to him at second base, since the team has said it prefers not to use Villar at third. That could leave Scooter Gennett without a job. Gennett's .263/.317/.412 line in 2016 placed him near replacement level for the second consecutive year, partially because of his defense, which advanced metrics rate as mediocre. Perhaps the team could retain him and shift him to third, but it's probably more likely he'll be traded to a team with a big hole at second base, or perhaps non-tendered. Villar spent much of 2016 at shortstop, but well-regarded youngster Orlando Arcia will likely man the position next season.
The Brewers' plans for third base are less clear. Perez played well while manning third part-time last year, batting .272/.302/.428 with 34 steals. His track record, though, suggests that a repeat of those numbers is unlikely, and he might profile better as a super-utility type anyway (which would still mean he'll wind up with plenty of playing time).
That could leave the Brewers hunting for someone to play the hot corner.  An up-market player like Justin Turner seems highly unlikely. Someone like Luis Valbuena (who was previously in the Astros organization with Stearns and several current Brewers players) would make sense, particularly given that he bats left-handed and would help balance the Brewers' very righty-heavy lineup. The team could also pursue a short-term veteran option like Kelly Johnson or old friend Aaron Hill. Johnson would make a certain amount of sense, since he and Perez could potentially form an effective platoon. Alternately, the Brewers could hunt for a trade option, or a non-tendered player, hoping to find a bit of upside, just as they did last season when they signed Will Middlebrooks to a minor league pact.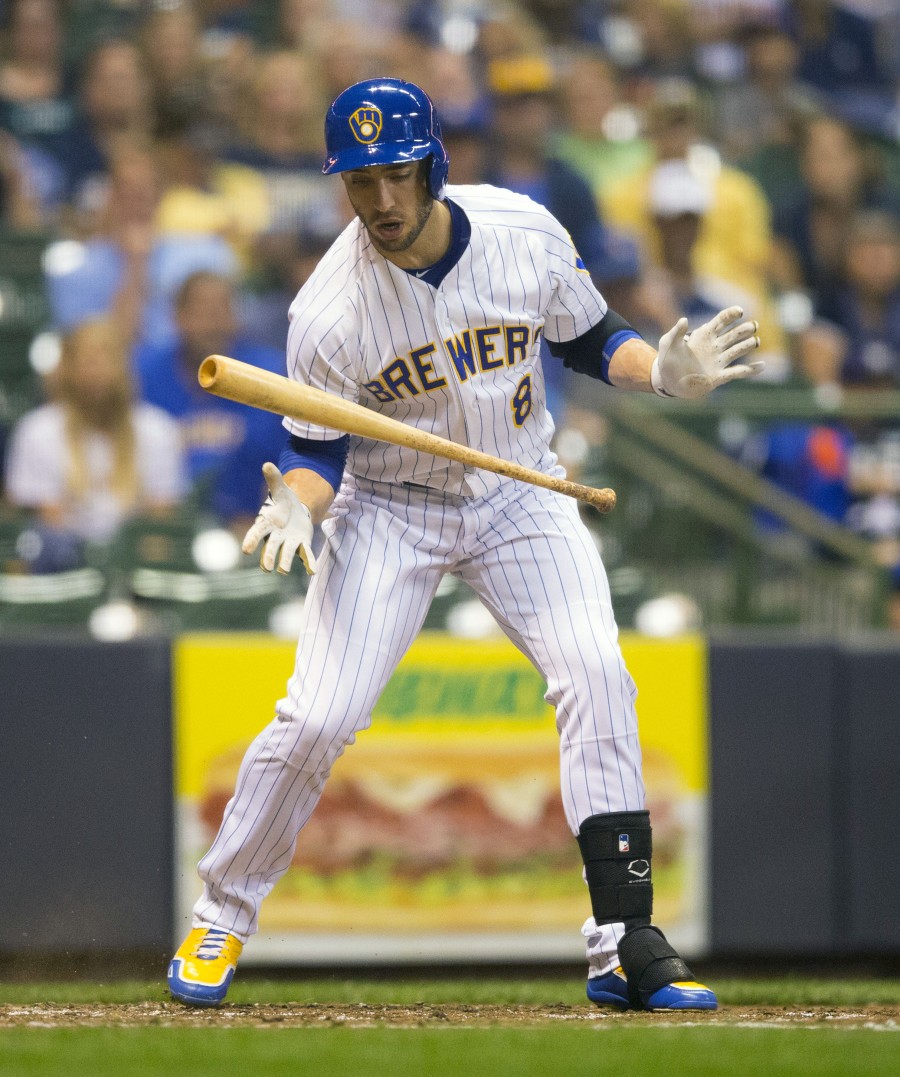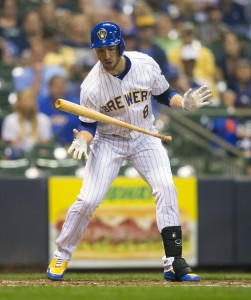 The complexion of the Brewers' 2017 outfield will depend in large part on the potential Braun deal — the move, or non-move, that will define their offseason. Following their trades of Yovani Gallardo, Aramis Ramirez, Carlos Gomez, Mike Fiers, Jonathan Broxton, Gerardo Parra, Francisco Rodriguez, Adam Lind, Jean Segura, Khris Davis, Aaron Hill, Jeremy Jeffress, Jonathan Lucroy and Smith in recent years, Braun is one of the few valuable veterans the Brewers have left. Their return if, or when, they do finally trade him could go a long way to determining how they fare in the near future.
Braun batted .305/.365/.538 last season in his best offensive performance since 2012, so this winter would seem like an ideal time for a deal. Last summer, the Brewers and Dodgers reportedly seriously discussed a swap involving Braun, with Yasiel Puig, Brandon McCarthy and prospects heading to Milwaukee. It's unclear how close that trade was to actually occurring, but it seems the two sides will revisit the deal this offseason, and it wouldn't be a shock to see Braun in Dodger blue in 2017.
The value of the Brewers' side of the deal would, of course, depend fairly heavily on the prospects involved, but the inclusion of Puig and McCarthy already makes the trade an interesting one from the Brewers' perspective. Part of the Dodgers' likely intention in including those players was to offset Braun's salary, since Puig and McCarthy are set to make a combined $39.5MM through 2018. But neither Puig nor McCarthy fits the usual profile of a salary dumpee. The Brewers would get to gamble on the 25-year-old Puig's upside, which remains considerable despite his trip to the minors last season. They would also get a solid veteran arm (albeit one who's only recently come back from Tommy John surgery) for their rotation. McCarthy is only two years removed from pitching 200 innings with a terrific 2.85 xFIP and 52.6% ground-ball rate.
Should the Brewers be unable to consummate a Braun deal with the Dodgers, they would have no shortage of other trade suitors (although Braun's limited no-trade clause could be a problem — as of earlier this year, he could block deals to all teams except the Dodgers, Angels, Padres, Giants, Diamondbacks and Marlins). The Giants and Braves have reportedly also had interest in Braun, and it's likely other teams would as well. While acquiring someone like Puig in return for Braun makes sense, the Brewers don't need to get an outfielder in a Braun deal, since they have a remarkable group of outfield prospects (including Lewis Brinson, Brett Phillips, Ryan Cordell and, lower in the minors, Corey Ray and Trent Clark).
Elsewhere in the Brewers outfield, Broxton had an outstanding second half, demonstrating plus speed and defense while batting a remarkable .294/.399/.538 before missing the last two weeks of the season due to a fractured wrist. At 26, Broxton was old for a rookie. His minor league record doesn't suggest he can maintain the level of productivity he demonstrated in 2016, and it's possible the wrist injury could affect him going forward. Nonetheless, his legs and glove give him a high floor, and he should be an easy choice to start in center field for the Brewers next season.
In right field, the Brewers will likely continue to give looks to Domingo Santana, with Perez potentially filling in the gaps if Santana struggles. Santana batted a respectable .256/.345/.447. Like Carter, he's a big man who strikes out excessively and has no defensive value. Nonetheless, he warrants continued playing time, since he's only 24 and has shown significant power potential.
It makes sense for the Brewers to keep Kirk Nieuwenhuis as a backup outfielder, given that he'll likely cost less than $2MM in his first year of arbitration eligibility. Like many Brewers, Nieuwenhuis piles up his share of whiffs and has low batting averages. He'll take a walk, though, and he plays all three outfield positions well and hits left-handed.
The Brewers could also aim to acquire a bit of rotation help this offseason. Of their current rotation options, only Guerra and Nelson look like much more than back-of-the-rotation types, and it's not clear what even Nelson will become following a disappointing 2016. Nelson led the NL in walks in 2016, and if his control problems continue, it's not hard to imagine he could wind up back at Triple-A at some point next season, since he's optionable.
While the Brewers do have some starting pitching prospects (topped by lefty Josh Hader) who could make an impact at some point in 2017, their current group possesses limited upside and considerable downside — it's easy to imagine the Brewers' rotation becoming a real mess if, say, the physically slight Davies got hurt and Garza had a season more like 2015 than 2016. With Sean Nolin out for 2017 following Tommy John surgery, their depth is somewhat limited, too. The organization almost certainly won't pursue a high-end starting pitcher, but an innings-eater might make sense. The team could also look for a high-risk, high-upside option (someone like Andrew Cashner, perhaps) in an attempt to emulate the Athletics' success flipping Rich Hill last season. The addition of McCarthy in a potential Braun trade would also obviously help.
The Brewers already have plenty of bullpen arms to sort through, including several, like Marinez, Barnes and Knebel, who possess considerable velocity. They do, however, look likely to pursue a left-hander or two, perhaps on a minor league deal. The only healthy southpaw currently on their 40-man roster is Brent Suter, who has just 21 2/3 career innings of big-league experience and who's mostly a starter anyway.
Whatever happens, the Brewers don't appear likely to contend in 2017. There is, however, plenty of evidence that their rebuild is going well. They won 73 games last season, not a bad total for an organization mostly trying to address long-term goals. Their farm system is now much stronger than it was just a year and a half ago, when Baseball America rated it 19th-best in the game — thanks to a couple years of high draft picks and trades for young talent, the organization now has enviable prospect depth, and Arcia is just the first of what should be a long series of high-upside Brewers rookies. 2017 won't be a pretty season for the Brewers, but there's talent in Milwaukee, and more on the way.
Photo courtesy of USA Today Sports Images.