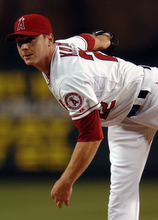 It's hard to believe that it's been almost seven years since the infamous Victor Zambrano-for-Scott Kazmir swap. The Mets received just 202 2/3 serviceable innings out of Zambrano (4.42 ERA) while Kazmir was busy establishing himself as one of the game's best young hurlers in Tampa. Before his 24th birthday, the hard-throwing southpaw had 97 big league starts to his credit, and he owned a 3.64 ERA with 9.7 K/9 in the AL East. At 23, he took home the AL strikeout crown with 239 whiffs.
The Rays rewarded Kazmir with a four-year contract extension after that season, but things have gone downhill since. He missed the first month of the 2008 season with an elbow issue, and then battled a quad strain in 2009. With his ERA sitting at 5.92 at the end of August '09, the Rays traded Kazmir and the two years left on his contract to the Angels for three young players.
Although he pitched well after the trade (1.73 ERA in six starts), things really fell apart in 2010. Kazmir hit the disabled list twice for shoulder soreness/fatigue last season, and when he was on the mound he was rarely effective. His velocity had declined considerably and the strikeouts were proving harder to come by. All told, Kazmir pitched to a 5.94 ERA with nearly as many walks (79) as strikeouts (93) in 150 innings last season, and only eight times in 28 starts did he complete six innings of work.
Kazmir's stock is at an all-time low, which is not where you want it to be with free agency coming up after the season. The Halos are unlikely to exercise his $13.5MM option for 2012, and unless he regains his pre-2009 form, Kazmir is in danger of falling into the Jeremy Bonderman category of reclamation free agent starters.
It's not all bad news though. Kazmir will turn just 27 years old tomorrow, and his 39.1% ground ball rate in 2010 was his best in three years. AL East and World Series experience works in his favor, and an offseason of rest could also do wonders for his achy wing. Next winter's crop of free agent pitchers is weak, so Kazmir could parlay a strong 2011 season in a nice contract. A lot has to change for that to happen, though.
Photo courtesy of Icon SMI.