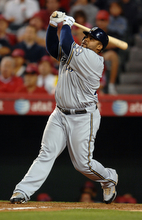 Earlier today we heard from Scott Boras, who is still trying to find a job for three of his highest profile clients this offseason. His biggest client next offseason, both literally and figuratively, will be Prince Fielder of the Brewers. The first baseman is due to earn upwards of $15MM in 2011, his final trip through the arbitration process, and he'll hit the open market after the season at just 27 years old.
Fielder's credentials are undeniable. He's hit .281/.395/.549 with 162 total home runs over the last four seasons, an average of just over 40 per season. Only Ryan Howard has gone deep more times since 2007, and only a handful of players boast better on-base percentages. Fielder's defense is generally below average and there are legitimate long-term concerns about his size and ability to play the field. His father Cecil Fielder had a similar build and had gone from being one of the game's best sluggers to merely above average by age 30. 
Boras will have his work cut out for him, because three of baseball's biggest spenders (Yankees, Tigers, Phillies) already have first basemen locked up to nine-figure contracts. The Cardinals and Red Sox figure to join that group once extensions for Albert Pujols and Adrian Gonzalez are in place, respectively. Other clubs like the Reds, White Sox, Twins, and Nationals don't have a desperate need for a first baseman. Here are some of the clubs that could have interest in Fielder next offseason…
Angels – Shut out of all the top free agents this winter, the Halos could be an aggressive player for Prince. They already have Kendry Morales at first however, meaning that they'd be locking one of the two into the DH spot for the foreseeable future. Their relationship with Boras isn't great either.
Blue Jays – If Edwin Encarnacion or Adam Lind can't handle first in 2010, Toronto could try to make a big play for Fielder. It would go against everything Alex Anthopoulos has done to date though. They might also be preoccupied with trying to re-signing Jose Bautista by then as well. 
Cubs – The Cubbies added Carlos Pena on a one-year deal, so the position will be open next winter. Kosuke Fukudome's $14.5MM salary will be off the books as well, so the money seems to be there. We know they've been looking for lefty power for quite some time.
Dodgers – Ned Colletti is somewhat limited by the team's ownership situation right now, but things could change in the next 12 months. Perhaps a new owner would like to make a big splash.
Giants – Aubrey Huff just re-signed for two years but he can play other positions if needed, though if he does, it might be in deference of top prospect Brandon Belt. San Francisco will have to start thinking about a long-term extension for Tim Lincecum soon enough, and that is likely to eclipse $100MM.
Mets – Sandy Alderson has limited his free agent spending this winter, but he'll have Carlos Beltran ($20.07MM), Oliver Perez ($12MM), and Luis Castillo ($6.25MM) coming off the payroll after next season. Some of that money might go to an extension for Jose Reyes, but signing Fielder could free them up to trade Ike Davis for help elsewhere.
Orioles – The O's made a run at Mark Teixeira two winters ago, so we know they have the ability to support a $20MM a year player. Derrek Lee is on a one-year deal, and Andy MacPhail could choose to add that big power bat just as his young players start to mature.
Rangers – Texas has still has some Cliff Lee money to spend, but this would still be a long shot. They have several players due sizable arbitration raises in the next two years (most notably Josh Hamilton and Nelson Cruz), and would probably need to unload Michael Young as well. 
We shouldn't rule the Brewers out either, no matter how unlikely it seems. They made a representative offer to CC Sabathia after the 2008 season, so we know they have that kind of money available. Of course that was before they added Zack Greinke and Shaun Marcum, and before signing both Corey Hart and Yovani Gallardo long-term. The market for Fielder still has another 11 months to develop, and plenty will change between now and then. At this moment though, there's no clear-cut suitor.
Photo courtesy of Icon SMI.