At the end of November, 16 American League free agents declined their teams' offers of arbitration. In doing so, they forfeited the chance to settle on one-year deals with their former clubs through the arbitration process and launched themselves into free agency.
If the players below had accepted arbitration like Frank Francisco and Jason Frasor did, they would have signed one-year deals with their former clubs. While the players wouldn't have been guaranteed raises, those who go through the arbitration process rarely take significant pay cuts.
The chart below will help examine the decisions that players and their agents made in November. It shows the players' 2010 salaries and, if applicable, the new deals they've agreed to.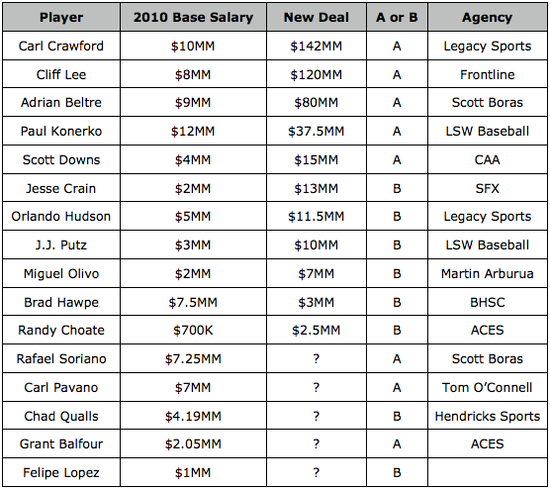 It's not unheard of for teams and players to reach gentlemen's agreements about arbitration offers. Type B players don't take a hit in value on the market if they turn down arbitration, so players can agree in advance to decline their clubs' offers. That benefits the team, which picks up a supplementary first round draft choice if the player signs a major league deal elsewhere.
But if no advance agreements were in place last November, Brad Hawpe cost himself money and Chad Qualls and Felipe Lopez may have done the same. Hawpe agreed to a $3MM deal after earning $7.5MM; even after a down season, it seems unlikely that Hawpe would have taken a $4.5MM pay cut had he accepted the Rays' offer of arbitration.
Qualls and Lopez haven't signed yet, but it wouldn't be surprising to see Qualls take a pay cut from the $4.19MM he earned in 2010, when he posted a 7.32 ERA. There's no guarantee that Lopez will even get a major league deal, so it could become apparent by the end of the offseason that he and Qualls would have been better off accepting their teams' arbitration offers. Keep in mind that the players may have agreed in advance to turn down arbitration, as Trevor Hoffman did.
Clearly, most other American League free agents obtained more guaranteed money by turning down arbitration. Carl Pavano and Rafael Soriano, who both accepted their teams' arbitration offers last offseason, will likely sign deals that guarantee them considerably more than $7MM before the current offseason ends.
It's worth noting that Orlando Hudson, who will earn $4MM in 2011, would have earned more this year by accepting arbitration. But in securing the first multiyear deal of his career, the second baseman obtained a larger guarantee than he would have by accepting the Twins' arb offer.
Like most of his American League counterparts, Hudson made the decision that enabled him to sign for more guaranteed money. I hesitate to assume that Lopez, Qualls and Hawpe really did have the chance to accept their clubs' offers, but it would probably have been financially wise for them to seize that opportunity if it did present itself.