As the 2011 Draft draws closer, MLBTR will be introducing you to a handful of the top eligible prospects with a series of Q&As. The series debuted last week with one of the top college pitchers in the nation and continues today with another.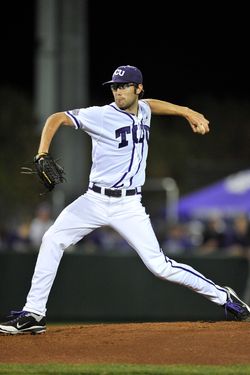 Matt Purke pitched well enough as a high schooler to go in the first round of the 2009 draft. He didn't sign with the Rangers, who selected him 14th overall, and instead joined the TCU Horned Frogs. He led the team to its first ever College World Series appearance last year with a shiny 16-0 record and 142 strikeouts in 116 innings. 
The 20-year-old sophomore is draft eligible once again and, according to Baseball America and ESPN.com's Keith Law, should go in the first round once again, possibly first overall. Baseball America called Purke "a bona fide ace with a lively 91-94 mph fastball and a wipeout slider" that can overmatch hitters. Purke calls his breaking ball a curve, but he isn't going to get into an argument about semantics with the publication that named him the 2010 Baseball America Freshman of the Year.
Purke talked to MLBTR this afternoon. Here's what we discussed:
Ben Nicholson-Smith – Can you describe yourself as a pitcher – what pitches you throw and what your approach is on the mound?
Matt Purke – I'd just say I'm a normal pitcher like any other. I just throw three pitches: fastball, curveball, change-up and my approach to pitching is to be very aggressive and get guys out as quick as possible. 
BNS – What about your off-speed pitches. Which one would you be more likely to throw in a go-to situation?
MP – I'd say I'm equally confident with both [the curve and the change] at any point in time. 
BNS – You say you're like any other pitcher, but do you think you resemble any current major leaguers or past major leaguers in the way that you go about pitching?
MP – I'd say I get compared to Clayton Kershaw of the Dodgers, a young kid, and Cole Hamels of the Phillies. I have kind of the same body build, the same arm action, things like that.
BNS – Two pretty good pitchers that you just named. When people compare you to those guys is that a comparison that you like to hear?
MP – Definitely, definitely. Any time that you get compared to someone playing professional baseball it's definitely a compliment that you take pride in.
BNS – Do you watch those guys during the season as fellow left-handers and see how they go out and attack hitters?
MP – I watch baseball when I'm not playing baseball, so I'll catch them every now and then. So I try to watch them and just use some of the stuff that they do to help me out.
BNS – You've been through the draft before as a first rounder before, so does that make it any easier having already experienced the rigors of being drafted?
MP – Yeah. The experience is nothing you can take away – it just helps. I know what to expect with the months coming and know what to expect the few days before. That's already transpired, so obviously I'm in a more comfortable state than I was when I was first drafted out of high school.
BNS – You have the whole rest of the season ahead of you here, but what is there to expect once that draft actually comes around?
MP – I don't have any control in it, I have no say in what happens. All I can do is sit there and watch … It's definitely an opportunity to be drafted and have the opportunity to play professional baseball, but really it's another process you've got to go through. So it's an exciting time and a stressful time, but it's nothing that you wouldn't want.
BNS – Can you compare Matt Purke the 2009 pitcher and Matt Purke the 2011 pitcher?
MP – I'd say now I'm definitely a lot more seasoned [now]. I learned a lot more, not only on the field but off of the field. After '09 I was a young high school kid that really just played baseball and I only knew what I had done in the summer with team USA and in high school. And now I'm in college, I've been able to travel and learn how travel and also have a social life and be able to take care of my academics as well. So I've definitely learned a lot more, have a lot more experience now and I'm a lot more prepared for the travel that's in the future.
Photo courtesy Michael Clements.