After spending three years in the Cardinals' bullpen, Kyle McClellan has become the favorite to win the fifth starter's job in their rotation. The 26-year-old entered the spring as a setup man, started auditioning for a rotation spot when Adam Wainwright injured his elbow and has pitched well enough to have a realistic chance of becoming a starter for the first time in his MLB career.
McClellan started 51 minor league games, then moved primarily to the bullpen after undergoing the same operation as Wainwright – Tommy John surgery – in 2005. The transition worked well for the right-hander, who thrived in the bullpen for three years, averaging 73 innings, a 3.23 ERA, 7.0 K/9 and 3.4 BB/9 from 2008-10.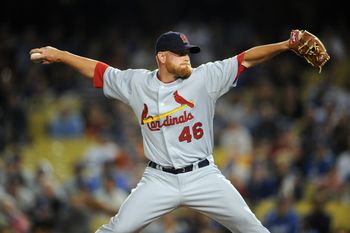 Though McClellan has never started a major league game, the Cardinals have stretched him out at times. He worked 19 outings of at least four outs last year and logged at least two innings ten times.
As a reliever, McClellan has used either his fastball or his curveball 77% of the time, but he does have a change-up and a slider to complete the traditional four-pitch mix. It's possible that hitters will adjust to McClellan's repertoire when they see him for the second or third time in a game and at this point it looks like the Cardinals are willing to take that risk.
Moving McClellan to the rotation would weaken the Cardinals' bullpen and could motivate a trade for bullpen help at some point this summer. The Yankees, Blue Jays, Athletics and Rockies come to mind as teams with deep bullpens, but St. Louis may not be interested in striking a deal and the market for relievers can shift quickly.
The Cardinals were never going to replace Wainwright, one of the top pitchers in the league, but McClellan and his 50% ground ball rate could make the loss more bearable by becoming a passable fifth starter. If not, the Cardinals can move him him back to the bullpen and use the trade chips or cash they otherwise might have saved to trade for or sign a starting pitcher such as Kevin Slowey or Kevin Millwood.