Esmil Rogers retired 18 consecutive batters at one point yesterday and allowed just one run in 7 1/3 innings of work. Not a bad season debut for someone who was supposed to be a shortstop.
When Rolando Fernandez, the Rockies' senior director of international scouting, signed Rogers out of the Dominican Republic eight years ago, he was intrigued by the teenage infielder's smooth swing and, especially, his live arm. 
Before long it became apparent that Rogers (pictured) wasn't a fit at short, so the Rockies decided it was time for a change. Fernandez didn't want to embarrass Rogers, so one night he waited until all the other players had left the field and told Rogers he wanted to see him throw a bullpen.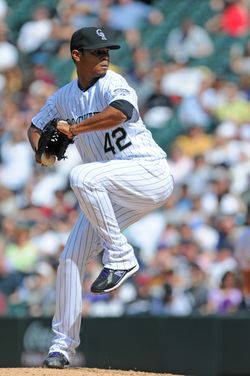 "He was very natural," Fernandez said. "Very easy. He was 90-91 [mph] at that point without ever pitching. He looked like he had done it before, like he had been pitching for a few years." 
Now that Rogers actually has been pitching for a few years, he's a member of the Rockies' rotation, a group that features two other international free agent signings, and Jason Hammel, who was obtained for a fourth internationally signed pitcher, Aneury Rodriguez.
No other rotation in baseball features as many internationally signed, homegrown pitchers. There's no prize for having lots of Latin American starters or a homegrown rotation, of course. The goal is to win games and, thanks to a decade of production from Fernandez and the Rockies' other scouts, Rogers, Jhoulys Chacin, and Ubaldo Jimenez should help Colorado do just that. 
Ten years ago this month, Fernandez was scouting tryouts in the Dominican Republic when he came across a skinny right-hander who stood about 6'1". Intrigued, Fernandez brought the prospect to the Rockies' complex to watch him pitch. Even as a teenager, Ubaldo Jimenez showed major league potential.
"The arm action, arm speed, delivery and projection was there," Fernandez said. "At that time he was just a kid and he was a competitor. He kept all the pitches in the strike zone and you could see the live arm."
Jimenez, now on the disabled list, has since developed into one of baseball's best pitchers. He threw a no-hitter last year and posted a 2.88 ERA in 221 2/3 innings, striking out 214 and finishing second in last year's NL Cy Young voting
Like most prospects, Jimenez grew into his body; he now stands three inches taller and about 40 pounds heavier than he did in 2001. But his physical development doesn't compare to what the Rockies have seen from Chacin since he signed out of Venezuela in 2004.
"Sometimes you see 16-year-olds who look like they're 18 or 19," Fernandez said. "Chacin was 16 and he looked like he was 14 years old." 
Despite his youthful appearance and 155 pound frame, Chacin was more polished than Rogers or Jimenez at the time of his signing and he showed good instincts on the mound. He had less pure stuff than the others back then, but he didn't have trouble retiring big league hitters last year. In his first extended stint in the Major Leagues, Chacin posted a 3.28 ERA in 137 1/3 innings, striking out a batter per frame. 
Now in his 19th season with the Rockies, Fernandez is currently in Venezuela preparing for this year's crop of July 2 prospects. He credits the Rockies' scouting and player development staff for the heavy international presence in the rotation, but he doesn't deny that it's personally rewarding to see the teenagers he signed long ago contribute in the Major Leagues.
"It's exciting because when we sign these kids at 16 or 17 years old, they are like my kids," he said over the phone. "I treat them like they are my kids and see them mature and develop."
Photo courtesy Icon SMI. I recently wrote about Jimenez and Hammel in more detail.