You can't obtain elite free agent pitching for $15MM. Recent history suggests you can sign a middle-of-the-rotation starter – think Carl Pavano, Jake Westbrook, Jason Marquis and Joel Pineiro – or a middle reliever – think Jesse Crain, Scott Downs, Joaquin Benoit or Brandon Lyon.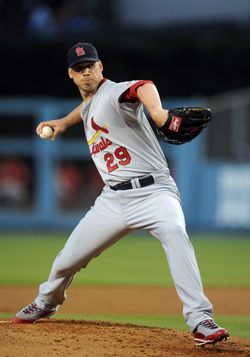 The Cardinals face a major decision this offseason, when they have to choose between their $15MM option for Chris Carpenter and a $1MM buyout. It won't be the most important decision they make this winter (the Albert Pujols contract talks deserve that honor) or even the most important decision they make with respect to their rotation (the Cards have to decide on two options for Adam Wainwright), but it will still shape the 2012 team. 
Carpenter turns 37 in April, so the former Cy Young winner is no longer in his prime. His ground ball rate dipped below 50% for the first time since 2002 this year and his 3.53 ERA is not that far off of the league average (3.85), even after an excellent Monday night outing.
But Carpenter's average fastball velocity has trended upward this year, rising from 91.4 mph to 92.5 mph, and his strikeout (7.2 K/9) and walk (2.2 BB/9) rates have improved as well. Defense independent pitching stats like xFIP (3.32) and SIERA (3.45) suggest Carpenter is far from finished (those figures don't include tonight's strong start).
He's comfortably within Type A range according to our current projections, so the Cardinals could obtain two top picks if they decline his option and offer arbitration only to see him decline and sign a Major League deal elsewhere. Draft pick compensation figures to be a consideration for St. Louis, but it won't necessarily be the driving factor in the Cardinals' decision, especially since other teams might balk at the idea of giving up a first round pick for a 36-year-old with a history of arm trouble. 
The Cardinals' 2012 rotation will presumably feature Wainwright and Jaime Garcia along with Westbrook, Kyle Lohse and one other starter. Edwin Jackson is a free agent, Wainwright will be returning from Tommy John surgery, Kyle McClellan has pitched better out of the bullpen and top prospects Carlos Martinez and the currently suspended Shelby Miller may not be ready for the show. In other words, the Cards could use rotation depth for 2012. 
Retaining Carpenter's services for an extra $14MM (they're paying $1MM no matter what) would be a luxury given the presence of McClellan, Martinez and Miller. But the Cardinals extended their payroll over $100MM this season and they appear poised to contend again in 2012. Carpenter may well be a luxury on whom GM John Mozeliak is prepared spend.
Photo courtesy Icon SMI.