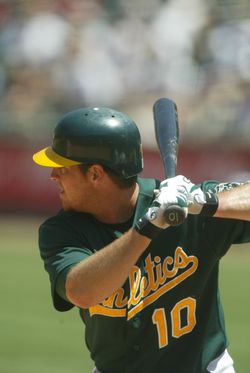 Bennett Miller's Moneyball doesn't present sabermetrics as a revelation.  That might be the key factor in making the film enjoyable for both of the movie's target audiences: hardcore baseball fans who know Michael Lewis' original book front-to-back and want to see if Hollywood gets the details right, and for more casual moviegoers who don't know the Oakland A's from the Oakland Raiders but are always interested in seeing Brad Pitt on the big screen.
The film streamlines Lewis' book into just the 2002 season, as the A's have just lost a heartbreaking ALDS to the Yankees and now face a winter of losing Jason Giambi, Jason Isringhausen and Johnny Damon to free agency.  GM Billy Beane (Pitt) is getting frustrated over the realities of small-market baseball but gets inspiration when he encounters Peter Brand (Jonah Hill, playing a composite version of Paul DePodesta), a young, Yale-educated economist working in the Cleveland front office.  Brand shows Beane the value — both financially and competitively — of signing unheralded players who take a lot of pitches, take walks and generally don't fit the mold that most teams look for in a Major Leaguer.
Along the way, Beane and Brand run into resistance from Oakland scouts, Oakland manager Art Howe (Philip Seymour Hoffman), the media and the fact that the A's struggle through the first few months of the season.  The team starts to gel, however, culminating in an incredible 20-game winning streak that tied an AL record.
The 20th win is more or less treated as the "Hollywood ending" so often seen in sports movies, since obviously Oakland's loss to Minnesota in the ALDS that year wasn't exactly an inspiring justification of Beane's strategies.  (Also, the Athletics' 20th win was a game worthy of a movie in itself.)  Yet the fact that Miller gives voice to the critics in the wake of Oakland's eventual defeat is a strong choice — it acknowledges the reality that there is no magic formula to putting together a team and that the sabermetric strategy was only a singular, and temporary, part of the Athletics' success.  Pitt plays Beane as a smart and competent man who believes in what he's doing, but also allows just a bit of doubt to keep his feet fully grounded.
For baseball fans, the obvious elephant in Moneyball's room isn't Stomper, but the fact that the 2002 A's weren't a surprise.  The Athletics are presented as an "island of misfit toys," to use Brand's description, but in real life, Oakland was coming off two consecutive playoff appearances.  Even with free agent losses, they still had the likes of Miguel Tejada, Eric Chavez, Tim Hudson, Barry Zito and Mark Mulder on board.  These players are barely mentioned in Moneyball, with Scott Hatteberg, David Justice and Chad Bradford instead featured as the key figures in the team's success.  That trio combined for a 5.5 WAR in 2002, while Hudson by himself had a 6.6 WAR (Zito was 5.5).  Obviously focusing on the players acquired due to sabermetric analysis fits the film's underdog theme, but treating the A's like the Roy Hobbs-less New York Knights is a bit disingenuous.
Those wondering how Moneyball would recreate, or dramatize, Lewis' portions of the book that deal with the 2002 draft….well, never mind, since the draft isn't even mentioned.  Other important "Moneyball" figures as Jeremy Brown, Kevin Youkilis and Bill James are only briefly cited, though in James' case, it's probably best that he was just noted as the father of sabermetrics and not used as an animated narrator, as was the plan when Steven Soderbergh was originally supposed to direct the film.
Still, factual liberties are to be expected, especially given that Lewis' book doesn't follow a clear narrative.  Oscar-winning screenwriters Steven Zaillian (Schindler's List) and Aaron Sorkin (The Social Network) are no stranger to adapting real-life stories to the screen and they approach Moneyball as Beane's story since that will make it the most easiest to digest for mainstream audiences.  Pitt is up to the part, turning in a fine performance and making Beane a character compelling enough that you're eager to watch him NOT watch a ballgame.
Beane is so centralized as Moneyball's main figure that Brand basically just seems like his sidekick, and it may have helped to get a bit more insight into Brand's feelings at seeing his theories actually being applied by a Major League team.  The film also seems to be missing a payoff scene between Beane and Howe where Howe begrudgingly admits that his boss had a point.  (Though, since Howe actually didn't return to manage the A's in 2003, perhaps such a scene would've been a total invention.)  Hoffman makes the most out of the role, but the Howe character is incomplete enough that it seems a waste of a gifted actor like Hoffman, who won an Oscar when he was last directed by Miller in 2005's Capote.
The film does well by its baseball scenes, in part because several of the actors portraying the A's are former major and minor leaguers, most notably Royce Clayton as Tejada.  Moneyball generates some amusing tension from a scene where Beane and Brand are trying to negotiate a trade for Ricardo Rincon, which baseball fans may find comical given the relatively low stakes of picking up a reliever at the trade deadline.  Nevertheless, the scene is a (very simplified) example of the mindgames that GMs often use on each other in negotiations. 
Those expecting a documentary about the 2002 Oakland A's will be disappointed by Moneyball, as will those who value the opinions of baseball scouts, given how harshly the old-timer scouts are depicted.  That said, Moneyball succeeds at its basic goal of delivering an entertaining story and making in-depth statistical analysis understandable and relatable to audiences that might barely understand balls and strikes.  And, to boot, this character study of an impassioned, small-market GM may gain some unintentional comedy points if the real Billy Beane ends up as the general manager of the Cubs. 
Image by Scott Wachter/Icon SMI