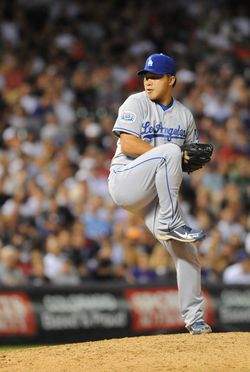 There is no position in baseball more volatile than relief pitcher, which is how Hong-Chih Kuo can go from being one of the most dominant bullpen arms in the game last September to taking about retirement this September. As a result of his 2011 struggles and off-the-field issues, the Dodgers' left-hander is a candidate to be non-tendered this offseason.
Kuo, 30, allowed just 29 hits and eight runs (1.20 ERA) in 60 innings in 2010, striking out 73 (11.0 K/9) and walking just 18 (2.7 BB/9). Left-handed batters had no chance against him that season, hitting just .095/.159/.111 with 28 strikeouts in 69 plate appearances. When Jonathan Broxton struggled in the second half, Kuo stepped in and went a perfect 9-for-9 in save chances in August and September. At $950K, he was a bargain.
That performance pushed Kuo's salary up to $2.725MM in 2011, his second time through arbitration. Unfortunately, his 2010 performance did not carry over. After walking four batters in his first 2 2/3 innings of the season (four appearances), the Dodgers placed Kuo on the DL with a lower back strain. He was activated on May 1st, struggled in his next five appearances (six runs in two innings), and was again placed on the DL on May 11th. This time he was dealing with social anxiety disorder.
One day later we heard that Kuo was not considering retirement, but it wasn't until June 19th that he was activated off the DL. He struggled the rest of the season, allowing 22 runs in 22 1/3 innings across 31 appearances. He did strike out 28 men, but he also walked 17. All told, Kuo pitched to a 9.00 ERA with 7.7 BB/9 in 40 appearances and 27 innings in 2011. 
After the season, Kuo told MLB.com's Ken Gurnick that he needed a break from baseball and was unsure if he'd ever play again. "If I want to still play and somebody wants to give me a try, I'll play," he said. "If not, fine with me. I'll miss it." He indicated that his alternative to baseball would be returning home to Taiwan and opening a restaurant.
Our projections have Kuo's salary going down to $2.5MM next season, what would be his third time through arbitration. It's worth noting that he's been battling the injury bug for his entire career, one that's featured a total of four elbow operations, including a pair of Tommy John surgeries. Hard-throwing lefty relievers (he's averaged 93.4 mph with the fastball in his career) are a valuable commodity, but Kuo's bout with social anxiety disorder and extreme control problems in 2011 could lead to a non-tender. It'll be interesting to see if any teams are willing to offer him a guaranteed Major League contract if he does in fact hit the market.
Photo courtesy of Icon SMI.