If Kendrys Morales returns from his left ankle injury by Spring Training, Angels manager Mike Scioscia will have seven players competing for five spots. Morales, Mark Trumbo, Peter Bourjos, Bobby Abreu, Torii Hunter, Vernon Wells and Mike Trout would have to share playing time in the outfield and at first and DH.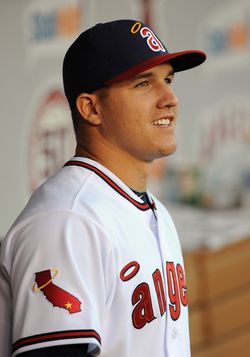 The issue could resolve itself or disappear completely in a number of ways. The Angels' new GM could make an unexpected trade. Trumbo could transition to third base. Someone could get hurt. Or, if all seven players are healthy, the Angels could consider demoting Trout.
The Angels called Trout up from Double-A before he turned 20, which suggests they aren't about to let service time considerations dominate their decision making. Still, it wouldn't be hard to argue that Trout could use more minor league seasoning. He was Baseball America's minor league player of the year, but he struggled to hit MLB pitching, posting a .220/.281/.390 line in 135 plate appearances with the Angels.  
Trout picked up 83 days of service time in 2011, which means he's 89 days short of the 172-days required for a full year. If the Angels allow Trout to pick up 89 days of service time next year, he'll have a full year of service and be on track for free agency after 2017.
If the Angels want to keep Trout under their control for an extra year, they could option him to the minor leagues for the season's first three months. In doing so, they'd ensure that Trout doesn't pick up more than 88 days of service in 2011. Combine 85 or so days next year with the 83 days he picked up in '11 and he'll still fall short of a full year of service next offseason and remain under the Angels' control through 2018.
It's probably academic, as the Angels showed they're willing to call on Trout if they believe he can make their team better, even if it means risking an earlier free agent departure. Trout's development and the team's roster composition will likely outweigh service time considerations for the Angels in 2012.
Photo courtesy Icon SMI.