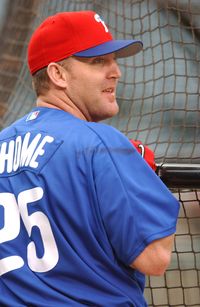 Jim Thome to going back to his old stomping grounds. The Phillies have agreed to a one-year contract with the slugger, reports MLB.com's Todd Zolecki. Jim Salisbury of CSNPhilly.com says the deal is worth $1.25MM (on Twitter). The contract is still pending a physical, which will take place on Saturday.
Thome, 41, let reporters know that he planned to play next season a few weeks ago. He hit .256/.361/.477 with 15 homers in 324 plate appearances for the Twins and Indians last season, though he did not play the field except for one nostalgic pitch spent at third base. The Phillies could be without Ryan Howard for an extended period of time in 2012 because of a ruptured Achillies, but Thome has not played first base regularly since 2005, his last stint with Philadelphia.
If unable to play the field, Thome would still give the team a powerful left-handed bat off the bench and DH option during interleague play. His leadership and clubhouse skills are highly regarded as well. Thome hit .260/.386/.543 with the Phillies from 2003-2006, swatting 96 of his 605 career home runs for the Fightin's.
The free agent market still offers plenty of big bat/DH types, as our Free Agent Tracker shows. If you're participating in our Free Agent Prediction Contest, unfortunately you will not get a freebie for Thome; he did not crack Tim Dierkes' list of the top 50 free agents. All submissions are due by Sunday night.
Photo courtesy of Icon SMI.