There's more finesse to Scott Boras' sales pitch than there is to Prince Fielder's swing, but neither man holds back. In Dallas this week Boras argued that the free agent first baseman can invigorate a fan base and strengthen a lineup, invoking Hall of Famers Jimmie Foxx and Lou Gehrig to put Fielder's career in context and show that comparable power hitters rarely becomes available in free agency. But Boras has compared Oliver Perez to Sandy Koufax, so it's prudent to take what he says in context. Here are some highlights from Boras' conversation with reporters. I've added a little context when necessary: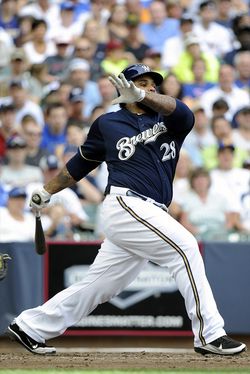 Boras on Fielder's power:
"All of a sudden, you see who has this many home runs by the age of 27 at first base and you see Jimmie Foxx and Lou Gehrig and the list is only four guys. Then you start looking at what accomplishments this man has had at such a young age. You go back and look and say 'how often do you get free agents who have got that kind of power production and that on-base percentage — a .400 on-base percentage and slugging near 40 home runs.' When you start to analyze, you realize we certainly have a decade player."
The context:
In fact, just three first basemen have had this many home runs (230) through their age-27 season: Fielder, Foxx and Albert Pujols. Fielder-level production is rare, even at a power position.
Foxx had 302 home runs and a career .339/.440/.640 line through his age-27 season (174 OPS+). Gehrig had 187 home runs and a career .342/.443/.639 line through his age-27 season (179 OPS+). Both had their names engraved on MVP trophies by that point. Fielder, who doesn't have an MVP to his name despite three top-five finishes, has 230 home runs with a .282/.390/.540 line in his career (143 OPS+). Foxx and Gehrig were more dominant relative to the competition, but Boras didn't say Fielder was better than the two Hall of Famers. He said his client compares well to them from a home run standpoint, which is true.
Boras on Fielder's body:
"Everyone talks to me about Prince's body, but when you have that 5'11" strike zone, that is a huge advantage and that's why that on-base percentage is sitting there. Those pitchers have to put the ball into a smaller window and I believe that it's more difficult to do."
The context: 
Though the small strike zone may help Fielder, it remains possible that his weight will prevent him from aging well. Fielder is now a passable first baseman, but his defense will decline over the life of his next contract. At some point he'll presumably become a DH, which may create hesitation on the part of National League suitors.
Boras on Fielder's age
"The great thing about young free agents is the probability of performance not dropping off is so high for the majority of the years of the contract. We're not talking about signing a 32-year-old free agent."
The context:
There's no question that Fielder's youth makes him attractive. Pujols, a 31-year-old, managed to obtain a ten-year deal, so Fielder figures to obtain multiple offers in the eight to ten-year range as well. 
Boras on the possibility of a short-term deal:
"To attract players to a franchise, you're going to want that [star] player there for a long time. You don't want people to know the time is coming for him to leave. People say 'why don't you do a three-year deal?' That doesn't fit anybody's purposes. The length of contract has a lot to do with an understanding from both sides of what franchise players are and what they mean. The branding part, the media rights part — all of those things go into that and while the initial concept is shorter is better, the reality is with these types of players it's usually not the best dynamic for the franchise."
The context:
Here's a rough translation: dream away, but a short-term deal is not happening.
Boras on the availability of other young power bats:
"Let's project: 'what under 28 players are coming?' Then all of a sudden you see [Joey] Votto will be 30 or 29 and you start paring it down. [Miguel] Cabrera was one of them, but he never made it to free agency. So you look inside the game at the younger core that's coming and you'd say 'there's no one.' You're going to have to hit 50 home runs in your second year or 44 home runs in your fourth year. You're going to have to average 37 home runs in this period of time. Who's going to do that?"
The context:
Mike Stanton and Boras client Bryce Harper are two powerful, young players who will likely hit free agency in their mid-twenties if they don't sign extensions first. Other teams have to develop power themselves or rely on older free agents. Boras has a point here.
Boras on Fielder's prime:
"When you're talking about premium years by management, you think 'well premium years are usually this 27-36.' But when you've got a guy who has performed from 22 to 26 over that five-year period, he has more home runs in that five years than Albert Pujols. He has Albert Pujols-type numbers and those aren't even his premium years yet. And Albert Pujols is the best hitter we've seen since [Barry] Bonds. So when you see that you realize people come in to the market — and you can't expect every team to be prepared to the level that we are — but we really want to point out that no matter what type of club you are, when you acquire this for your fan base, you're definitely going to have something that not only is a rarity in the game currently, because he's so young, you can project five years ahead and he'll be 32. Normally when someone's a free agent, you're not getting that level of prime years."
The context:
Will Fielder's prime extend into his mid-thirties? It's doubtful. Few players in the post-steroid era manage to produce as late into their careers as Bonds did. Boras suggests Fielder's prime will extend until he's 36, but that surely exceeds most teams' estimates by at least a few years.
Photo courtesy Icon SMI.