The Padres have acquired Carlos Quentin from the White Sox for pitching prospects Simon Castro and Pedro Hernandez, the teams announced.  It's the second time Padres GM Josh Byrnes and White Sox GM Kenny Williams have gotten together for a trade involving Quentin; Byrnes was the Diamondbacks GM when the outfielder was traded from Arizona to the ChiSox in 2007. 
Quentin, 29, grew up in San Diego and will instantly add some power to the offensively challenged Padres' lineup.  The right-hander hitter produced a .254/.340/.499 batting line with 24 homers in 2011, and he's hit .257/.352/.505 with at least 21 homers per year from '08-'11.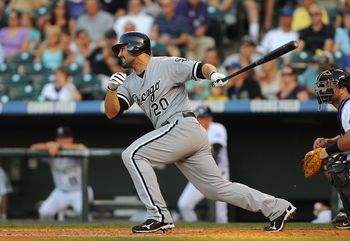 During his time in Chicago, the outfielder has battled shoulder, foot, hamstring, and wrist problems, requiring four separate stints on the disabled list.  We project him to earn $7.5MM his third time through arbitration in 2012 before becoming a free agent after the season.  On the surface, the deal appears to be a cost-cutting measure for the White Sox.
Castro, a 23-year-old right-hander, was ranked as the Padres third best prospect at this time last year by Baseball America but was left off of this year's top ten list.  In 2009, Castro was tabbed as the best pitcher in the Padres system after turning in a 3.33 ERA with 10.1 K/9 and 2.4 BB/9 for the club's Single-A affiliate.  The 6-foot-5 hurler started off 2011 with Double-A San Antonio before being promoted to Triple-A Tucson.  Combined, Castro posted a 5.63 ERA with 7.4 K/9 and 2.7 BB/9 in 2011. 
Hernandez, 22, was also left off of Baseball America's top ten list of Padres prospects in 2011.  The left-hander worked his way up from Class-A+ Lake Elsinore to San Antonio and finished the year in Tuscon.  In total, Hernandez turned in 116 innings of work with a 3.49 ERA, 7.3 K/9 and 1.7 BB/9.
Neither prospect was ranked among the top 25 in San Diego's system by John Sickels of Minor League Ball while Kevin Goldstein of Baseball Prospectus had Castro tabbed at No. 20.  Goldstein writes that Castro has "gone backwards from [his] big prospect days" and cites the fastball as his only dependable pitch.
The first time Josh Byrnes and Ken Williams hooked up in a trade involving Quentin, the outfielder was sent to the White Sox for first baseman Chris Carter.
Zach Links contributed to this post.