The Athletics have officially signed Coco Crisp to a two-year, $14MM deal that includes a club option for 2014, the team announced. News of the agreement ended 24 hours of rumors and speculation about Crisp's destination. He decided to return to Oakland despite interest from the Orioles, Cubs, Cardinals and many other teams.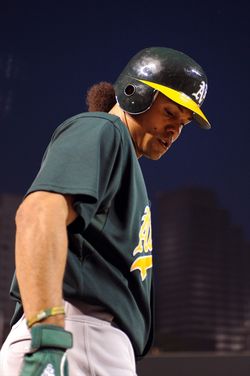 The deal will pay Crisp $6MM in 2012 and $7MM in 2013. The A's can exercise a $7.5MM option for 2014 or pay the center fielder a $1MM buyout. If the A's trade the Steve Comte client, he gets a one-time bonus of $250K.
MLBTR's Tim Dierkes ranked Crisp 21st among MLB free agents at the beginning of the offseason. The switch-hitter led the American League with 49 stolen bases in 2011, hitting .264/.314/.379 with 27 doubles as Oakland's center fielder. The California native seemed to prefer West Coast teams, but explained in September that he was also looking to play on a winner and find a good "financial situation" for himself.
Crisp joins Michael Taylor and Josh Reddick in the Athletics' new-look outfield. Josh Willingham signed with the Twins and David DeJesus signed with the Cubs, leaving Billy Beane, David Forst & Co. with the unenviable task of filling out an entire outfield. The A's sent Jai Miller to the Orioles today and may still be on the lookout for outfield depth.
ESPN's Buster Olney first reported the agreement. Jim Bowden of ESPN.com and MLB Network Radio heard from an unconfirmed source that Crisp was nearing a deal with the A's (Twitter link). Photo courtesy Icon SMI.