The Royals sat out the trade market for top starting pitchers, instead adding a pair of short-term lefties to their rotation, supplementing their bullpen, and extending a couple of up-the-middle position players.
Major League Signings
Notable Minor League Signings
Extensions
Trades and Claims
Notable Losses
The Royals aren't quite ready to pounce.  In an offseason that included trades of starting pitchers Trevor Cahill, Mat Latos, Gio Gonzalez, and Michael Pineda, Royals GM Dayton Moore settled for stopgaps Jonathan Sanchez and Bruce Chen.
Melky Cabrera wasn't part of Moore's long-term plan, despite an age 26 career year for the Royals in 2011.  Though Lorenzo Cain turns 26 himself in April, he'll be a defensive upgrade over Cabrera in center field and remains under team control for the full six years.  Allowing Cain to take over in center and taking a one-year look at Sanchez in the rotation is a better fit for Kansas City.  The 29-year-old Sanchez tantalizes with big strikeout rates, and is at least useful when he's healthy and keeps his walk rate below five per nine innings.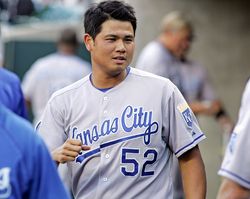 Chen, 34, received the first multiyear deal of his career to return to the Royals' rotation.  A back injury cost him over a month in 2011, limiting him to 25 starts.  Chen (pictured) posted a 3.77 ERA last year, but his peripheral stats suggest his ERA will come in a full run higher.  Rather than jump on Chen for two guaranteed years in November, the Royals would have been better served to go bargain hunting for starting pitchers on one-year deals in late December and January, around when Jason Marquis, Paul Maholm, and Bartolo Colon signed.  The departed Jeff Francis, who was no worse than Chen in the Royals' rotation, signed a minor league deal with the Reds in late January.   
A hunting trip with Ned Yost, Jeff Francoeur, and Jeff Foxworthy on the comedian's property helped secure Broxton on a reasonable one-year deal.  The huge righty is a year removed from relief dominance.  Along with Greg Holland, the Royals have the talent to survive the late innings without closer Joakim Soria if his spring elbow soreness proves serious.  Southpaw Mijares was signed on the cheap for lefty matchups.
The Royals' other minor moves were led by the signing of Betancourt, who started at shortstop for the club for a year and a half before being traded to Milwaukee in last offseason's Zack Greinke trade.  The Royals' press release made sure to stress Betancourt's utility role.  It remains to be seen how Betancourt's poor shortstop defense will carry over to second and third base.  Of the team's minor league signings, Gutierrez is a fairly interesting 2013 play once he recovers from Tommy John surgery.
The Royals extended catcher Salvador Perez with just 50 days of Major League service time, taking a page from the Rays' playbook.  Unlike Evan Longoria and Matt Moore, Perez profiles as more of a solid regular than a star.  With three club options and a guarantee of just $7MM, it'll still be hard for the Royals to lose money here unless Perez completely flames out.  Perez is off to a rough post-contract start, with knee surgery knocking him out for 12 to 14 weeks.  The injury necessitated the acquisition of Quintero.  We'll have to see the player to be named to properly judge that deal.
Escobar isn't similar to Perez, as the shortstop has over two years of Major League service.  Upon locking up Escobar, Moore noted the payroll is "going to get a little sticky for us, it's going to get a little hairy as we get into 2014-15-16."  That doesn't apply much to Escobar, whose fantastic defensive skills wouldn't have been highly-compensated in arbitration in '14 or '15.  Instead, this contract gives the team affordable club options on two free agent years.
The team and left fielder Alex Gordon have mutual interest in an extension, but they've been unable to find common ground.  Ken Rosenthal of FOX Sports says Gordon will "almost certainly will want more than $55 million," the current club record.  From the Royals' point of view, I'd be looking to do more of an improved Corey Hart-type deal: $9MM for his final arbitration year (2013) and $22MM for a pair of free agent years (2014-15).  For Gordon to set a team record, the Royals will have to buy out at least four free agent years.  That kind of commitment is a gamble until Gordon proves his 2011 levels of health and performance are sustainable.
The Royals are poised for another step forward at the big league level, especially if players like Eric Hosmer, Mike Moustakas, Salvador Perez, Luke Hochevar, and Felipe Paulino expand upon partial seasons of big league success.  The Royals have at least three potential front-rotation starters in the farm system in Mike Montgomery, Jake Odorizzi, and John Lamb, but only Montgomery has a 2012 estimated time of arrival.  GM Dayton Moore seems to have an eye on truly contending in 2014, telling MLB.com's Richard Justice, "We're not there yet.  We won 71 games last year. I do feel we're going to win more games in 2012 and 2013 — and a lot more in 2014."  Perhaps Moore will make a play for an ace starting pitcher prior to the '14 season, after which his own contract will be up. 
Photo courtesy of Icon SMI.