The Royals announced that they signed shortstop Alcides Escobar to a four-year extension through 2015. The deal with the Wasserman Media Group client includes club options for 2016 and 2017. The contract guarantees Escobar $10.5MM through 2015, Bob Dutton of the Kansas City Star tweets. The shortstop could earn a total of $21.75MM if the Royals exercise both of their options.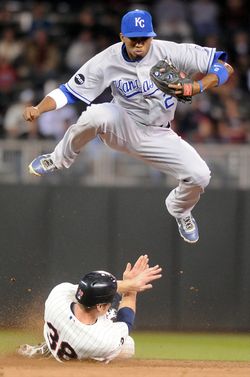 Escobar was on track for arbitration eligibility following the 2012 season, so the deal buys out his final pre-arbitration season and his three arbitration years. The club options cover Escobar's first two free agent seasons.
Escobar, 25, posted a .254/.290/.343 line in 2011, his debut season with the Royals. He posted similar offensive numbers in his first full season before being traded to Kansas City in the Zack Greinke deal. Considered an above-average defender, Escobar has a career UZR/150 of 5.9 at shortstop. 
As MLBTR's Extension Tracker shows, the Royals have extended pre-arbitration players aggressively under GM Dayton Moore. The club locked Joakim Soria up to a three-year, $8.75MM deal in 2008 and signed Salvador Perez to a five-year, $7MM deal earlier this spring.
Elvis Andrus, who has one more year of service time than Escobar, recently signed an extension valuing his three arbitration seasons at $14.4MM. Escobar's numbers are comparable to where Andrus' were a year ago, so it's fair to say the Royals could save as much as $4.5MM through 2015. There's always risk in locking young players up, since injuries can strike at any time. Perez, for example, will undergo knee surgery just weeks after signing his deal.
Shortstops Hanley Ramirez and Troy Tulowitzki signed extensions as pre-arbitration eligible players in 2008, but they wouldn't have been comparables for the light-hitting Escobar. 
Photo courtesy Icon SMII.