After going 79-83 and finishing 16 games behind the Tigers in the AL Central last season, the White Sox focused their offseason on acquiring younger, cost-controlled players through trades. Sergio Santos and Carlos Quentin were dealt away this winter, prompting GM Kenny Williams to use the word "rebuilding" in December. Assuming their 10-7 start to this season isn't a deterrent, another player who could be on the move this summer is Jake Peavy.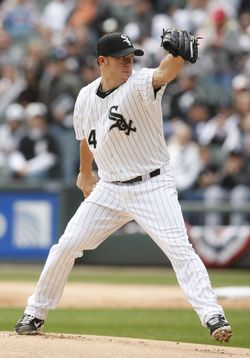 Peavy, 31 next month, has been one of the very best pitchers in all of baseball in the early going this season. He threw a complete game shutout against the Athletics two days ago, lowering his season ERA to 1.88 in four starts. Peavy has struck out 26 and walked just four in 28 2/3 innings, allowing just one home run. This level of performance isn't surprising when you're talking about a former Cy Young Award winner, but it is surprising given the last three seasons of Peavy's career.
Injuries have limited the right-hander to no more than 18 starts in each of the last three seasons, and in fact Peavy was on the disabled list with an ankle injury when the White Sox acquired him from the Padres at the 2009 trade deadline. Last season he was sidelined by rotator cuff tendinitis and then a groin strain, though the most significant injury was a detached lat muscle in 2010. The injury was very unique and required surgery, though he's obviously recovered well.
The White Sox owe Peavy $17MM this season and are likely to pay him a $4MM buyout rather than exercise his $22MM club option for 2013. A sub-2.00 ERA probably isn't sustainable, but if Peavy shows that he can remain effective over the next two months, Williams could be in possession of the best available starting pitcher on the trade market at the deadline. Starting pitching is always in demand, and Peavy's limited no-trade clause – he can block trades to eight teams this year – figures to be nothing more than a minor obstacle.
Peavy's recent injury history and the fact that his new team will be unable to collect free agent draft pick compensation after the season (thanks to the new collective bargaining agreement) could limit the asking price, but division races have a way of making the market unpredictable. The injury-prone Erik Bedard fetched a top ten prospect (Trayvon Robinson) and a secondary piece (Chih-Hsien Chiang) at last year's deadline, and that deal could serve as a comparison for a potential Peavy package. If Peavy continues to pitch well into June and July, Williams could decide to cash him in as a trade chip rather than risk another injury or the possibility of him leaving as a free agent after the season.
Photo courtesy of US Presswire.