The Red Sox are among baseball's most disappointing teams so far this season, due in part to injury. Closer Andrew Bailey, outfielders Carl Crawford and Jacoby Ellsbury, and starters John Lackey and Daisuke Matsuzaka are among the players the team has lost for a significant length of time already in 2012. Boston also lost Kevin Youkilis, an important right-handed bat in their lefty heavy lineup.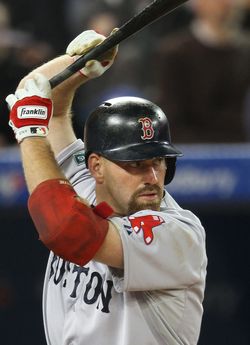 Youkilis, 33, is currently on the disabled list with a lower back strain. It's his fifth trip to the DL in the last four years, part of a laundry list of injuries that includes an oblique strain (2009), thumb surgery (2010), back tightness (2011), and a sports hernia (2011). Since the start of the 2010 season, Youkilis has played in just 240 of 352 possible games (68.2%).
Prior to being placed on the DL, Youkilis had a .219/.292/.344 batting line in 72 plate appearances. Dating back to last year's All-Star break, he's produced a .205/.307/.345 batting line in 231 plate appearances. His performance during his peak years – .308/.404/.560 from 2008-2010 – appears to be very much a thing of the past right now. A player with injury concerns and declining performance as he approaches his mid-30s usually isn't someone a team tries to keep around.
To make matters worse for Youkilis, the Red Sox have a ready-made third base replacement already in-house. Top prospect Will Middlebrooks has burst onto the scene with three homers and four doubles in his six games with Boston, continuing the hot streak that saw him hit nine homers in 24 games in Triple-A games before being recalled. Baseball America ranked Middlebrooks as the 51st best prospect in the game before the season, and the 23-year-old is doing his best to show the team he deserves to play the hot corner on the full-time basis.
The Red Sox owe Youkilis $12MM this season and hold a $13MM club option for his services next year ($1MM buyout). It's seems very unlikely that they'll exercise the option at this point, though the decision still isn't due for another seven months or so. A lot can change between now and then. Youkilis is in a difficult position as an injury-prone and declining player with a young hotshot rookie ready to take his job. If the Red Sox decline to bring him back in 2013, his stock as a free agent will be poor without a strong return from this latest back ailment.
Photo courtesy of US Presswire.