Adam LaRoche's first year in Washington featured unproductive play, shoulder surgery and a constant stream of Prince Fielder-related rumors and speculation. But the second season of his contract is going precisely according to plan, so it's time to wonder if he'll be back in D.C. for a third year.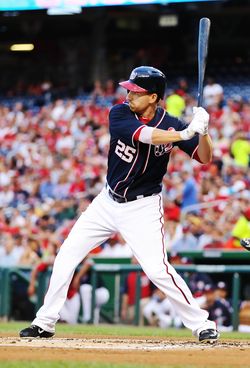 The Nationals have enjoyed a prototypical Adam LaRoche season so far in 2012. The first baseman has 23 home runs, 27 doubles and a .261/.334/.481 batting line in 506 plate appearances. His slash line closely resembles his career mark of .267/.337/.478. It's not too far off of the MLB average at first base — currently .262/.336/.442 — but there's value in securing league average offensive production at first (just ask the Mariners or Indians).
There are three ways Laroche could return to the Nationals in 2013. The sides could exercise a $10MM mutual option for 2013 ($1MM buyout). He could accept a one-year qualifying offer should the Nationals extend him one. Or they could agree to a contract independent of the mutual option and qualifying offer.
Let's start with the option. A net cost of $9MM isn't unreasonable for LaRoche, but it's no bargain. That said, this year's class of free agent first basemen is notably thin. There's James Loney, Carlos Pena, Carlos Lee, Casey Kotchman and, if he decides to continue playing, Lance Berkman. None of those first basemen are safer bets than LaRoche for 25 home runs and two wins above replacement in 2013.
Yet it's uncommon for both sides to exercise a mutual option, so LaRoche could land on the open market this offseason. If this occurs, the Nationals will have to determine whether to extend him a qualifying offer. It's the only way for Washington to obtain draft pick compensation for LaRoche, but I don't expect the team to make him such an offer. 
Qualifying offers will be worth $13MM-plus, and recent history indicates the industry doesn't view LaRoche as a $13MM player. The SFX client obtained $16MM for two years following the 2010 season. Before he signed with Washington, the Diamondbacks declined to pick up their side of a $7.5MM mutual option, another indication that teams view him as a player whose value sits somewhere south of $10MM per year. 
If the Nationals do make LaRoche a qualifying offer, it'd likely be advisable for him to accept. Teams probably wouldn't want to surrender a top draft pick to sign a solid but unspectacular first baseman who turns 33 the first week of November. As a result, it seems likely LaRoche would say 'yes' if the Nationals extend a $13MM qualifying offer. 
As mentioned before, there's a third way LaRoche could return to Washington. The team could decline its side of the mutual option, decline to make a qualifying offer and bid for LaRoche's services on the free agent market.
The Nationals' interest in keeping LaRoche will presumably depend on their center field situation. If they decide to rely on internal options in center, they won't need to move Michael Morse to first base. But if they intend to pursue a center fielder, their corner outfield spots will presumably go to Jayson Werth and Bryce Harper. This would shift Morse to first base and could reduce the Nationals' interest in LaRoche.
Perhaps LaRoche's mutual option will appeal to both sides. It would provide the Nationals with certainty at first base and ensure LaRoche of a $10MM salary. However, the Nationals could decide to move on without LaRoche this offseason and I'll be surprised if he obtains a qualifying offer.
Photo courtesy of US Presswire.