AUGUST 1: ESPN's Buster Olney has the salary breakdown (Twitter link). Hamels received a $6MM signing bonus and will earn $19.5MM in 2013. His annual salary from 2014-2018 will be $22.5MM. The option for 2019 can vest at $24MM, or the club can exercise it at $20MM with a $6MM buyout. All told, the contract could be worth up to $158MM across seven years.
JULY 25: The Phillies announced that they have signed Cole Hamels to a six-year contract extension worth at least $144MM. The contract, which includes limited no-trade protection for Hamels, includes an option for a seventh year.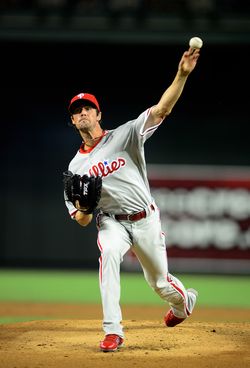 Hamels' extension will be the second-largest contract ever for a pitcher, trailing only C.C. Sabathia's seven-year, $161MM agreement with the Yankees. Hamels obtains the largest extension for any pitcher in history, surpassing Johan Santana's $137.5MM deal with the Mets. Hamels obtains the same average $24MM annual value as teammate Cliff Lee, who signed a five-year, $120MM contract with Philadelphia two offseason ago.
The 2019 option is either a club option at $20MM or a vesting option at $24MM, MLBTR's Tim Dierkes has learned. The option vests if three conditions are met: Hamels is not on the disabled list with a left shoulder or elbow injury at the end of the 2018 season, and he pitches 200 innings in 2018, and he pitches 400 innings in 2017-2018 combined. If the club exercises its option, Hamels will earn $158MM over seven years. If the option vests, he'll earn $162MM over seven years ($1MM more than Sabathia).
Hamels, 28, has a 3.23 ERA with 8.8 K/9 and 2.2 BB/9 in 133 2/3 innings for the Phillies this year. He averaged 31 starts and 206 innings per season from 2007-11, his five first seasons in Philadelphia's rotation. Agent John Boggs represents Hamels, the 2008 World Series MVP. The contract covers his age 29-34 seasons.
If Hamels had reached free agency, the California native would have drawn interest from many teams, including, perhaps, the Dodgers. Instead, teams looking to sign starting pitchers this coming offseason will set their sights on the likes of Zack Greinke, Anibal Sanchez and Edwin Jackson.
The Phillies now have three starters earning $20MM per season: Hamels, Lee and Roy Halladay. As ESPN.com's Jayson Stark reports, there had never been a team with two $20MM per season starters until the 2012 Phillies took the field (Twitter link).
Ken Rosenthal of FOX Sports first reported the sides were nearing an extension, ESPN.com's Buster Olney first reported the agreement, Jon Heyman of CBSSports.com first reported the terms of the deal and Tim Dierkes of MLBTR first reported the details of the 2019 option. Photo courtesy of US Presswire.