The Cardinals enter the offseason without the need for large-scale change.
Guaranteed Contracts
Arbitration Eligible Players (estimated salaries)
Free Agents
No general manager begins an offseason by declaring that his team could contend for a championship as-is. It'd be boastful and create unwanted attention. But if any team can contend in 2013 without making prominent offseason additions it's the Cardinals.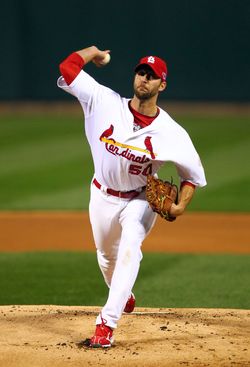 The Cardinals seem to be in tremendous position for the 2013 season. Their roster includes impact players in their prime such as Yadier Molina and Matt Holliday. It features an effective starting rotation with a combination of established veterans and powerful young arms. There's a collection of homegrown, pre-arbitration eligible position players who can really hit. And the roster doesn't include a single bad contract.
That said, John Mozeliak has a number of needs this offseason. The general manager will pursue left-handed relief, perhaps through free agency. Jeremy Affeldt, Sean Burnett and Randy Choate are among the free agent left-handers who could become targets in St. Louis. There's also the possibility of a trade, not that teams are generally keen on parting with reliable left-handed relief. It'd make sense for the Cardinals to offer Burnett or Affeldt a modest multiyear deal if that's what it takes.
The Cardinals could also consider upgrades at the middle infield positions. They have more internal options at second base than at shortstop, since Matt Carpenter will work out at second this offseason and prospect Kolten Wong could contribute at the MLB level by 2013. There's also trade candidate Skip Schumaker and Daniel Descalso, who spent most of the '12 season at second.
Pete Kozma's postseason performance aside, the Cardinals have legitimate questions at shortstop. Counting on Rafael Furcal to stay healthy all year probably isn't realistic at this point, leading Joe Strauss to suggest the Cardinals could add a shortstop for the short term. While this may not be an urgent need, it's worth keeping in mind.
Schumaker doesn't have a clear role on next year's Cardinals team, so he could be traded. He'd likely draw interest given his $1.5MM salary, the scarcity of free agent second basemen and his ability to hit right-handed pitching and reach base. The Royals, Orioles and Blue Jays should all consider Schumaker in my view. Matt Adams could be another trade chip, since he doesn't have a clear role on the St. Louis roster. The 24-year-old has shown lots of power at the minor league level and could appeal to teams such as the Rays and Indians. If those teams hesitate to surrender value in trades, the Cardinals can simply keep Adams as depth.
Kyle Lohse will hit free agency this offseason, and he won't be returning to St. Louis. Expect the Cardinals to extend the right-hander a qualifying offer to set themselves up for draft pick compensation in 2013. Lance Berkman will also leave as a free agent (assuming he doesn't retire). Instead, Jenifer Langosch has suggested the Cardinals could pursue a right-handed hitting power threat for the bench. Jonny Gomes and Casper Wells are among the right-handed hitting outfielders who could appeal to Mozeliak.
The GM will likely discuss a potential extension with Adam Wainwright's representatives in the coming months. At this point, Wainwright, Chris Carpenter and Jake Westbrook are all on track to hit free agency following the 2013 season. By extending Wainwright the Cardinals would lock up a reliable starter who can facilitate the transition to a younger group of arms. He pitched well in his return from Tommy John surgery, even if he fell short of the lofty personal standards he established in 2009-10. Wainwright's representatives at Aegis Sports Management could be positioned to demand four or five additional years now that Wainwright's this close to free agency.
The Cardinals' group of six arbitration eligible players includes one non-tender candidate: Kyle McClellan. It's also possible Mozeliak could trade McClellan to a team in need of pitching, though they probably wouldn't obtain much in return given his season-ending shoulder injury.
The group also includes a number of extension candidates. It might make sense to wait before extending David Freese given his difficulties staying on the field. The Cardinals could also look to cap costs by signing relievers such as Jason Motte and Mitchell Boggs to modest extensions. At this stage there's no urgency to complete deals, so unless the Cardinals are getting discounts or extending their period of team control, new contracts won't be necessary.
Even a well-built team such as this one has offseason needs. Mozeliak will attempt to add left-handed relief and sort out his team's middle infield in the coming months. Still, compared to last offseason — a winter that included a managerial search and high stakes negotiations with the organization's franchise player — this year will probably seem pretty quiet.
Photo courtesy of US Presswire.