The Dodgers won the negotiating rights to Korean left-hander Hyun-Jin Ryu with a $25,737,737.33 bid, MLB has announced. It's the largest bid ever for a South Korean player, and Jon Heyman of CBSSports.com says (on Twitter) that there was at least one more bid in the $20MM range. The numbers three and seven are considered lucky in Korea, hence the unusual winning amount. Ryu is a Scott Boras client and the two sides will now have 30 days to work out a contract since the Hanwha Eagles have already accepted the bid.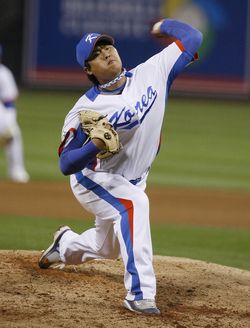 Ryu, 25, was posted earlier this month. He's been one of the Korea Baseball Organization's most dominant pitchers over the last five years or so, helping the country to Olympic gold in 2008 and a second place finish in the 2009 World Baseball Classic. ESPN's Keith Law said Ryu has an 88-91 mph fastball and a "plus changeup with good arm speed and a fringy curveball in the upper 70s, which is a better left-on-left option right now than his slider." He ranked the southpaw 37th on his Top 50 Free Agents list and said he could wind up in the bullpen given concerns about his durability and thick body. 
The Dodgers already have six starters, but Ted Lilly (shoulder), Chad Billingsley (elbow), and Clayton Kershaw (hip) are coming off injuries. Upgrades over Aaron Harang and Chris Capuano could be found as well. Los Angeles has reportedly kicked the tires on free agents like Zack Greinke, Anibal Sanchez, and Hiroki Kuroda this offseason, though it's unclear how winning Ryu's rights would impact their search for pitching. They still have to sign him first, of course.
Jon Heyman, Evan Grant of The Dallas Morning News, ESPN's Buster Olney, Ken Rosenthal and Jon Paul Morosi of FOX Sports, Dan Connolly of The Baltimore Sun, Mike DiGiovanna of The Los Angeles Times, and MLB.com's Jordan Bastian all reported on the story, mostly through Twitter. Dan Kurtz of MyKBO first reported the winning bid amount (on Twitter) while Mike Petriello of the blog Mike Scioscia's Tragic Illness first reported that the Dodgers had won the bidding (on Twitter).
Photo courtesy of US Presswire.