DECEMBER 13: Without mentioning Napoli by name, GM Ben Cherington provided an update on the deal, Scott Lauber of the Boston Herald reports. "We're working through some things in regards to another player," Cherington said.
DECEMBER 12: It'd be inaccurate to say the deal is in jeopardy, but there are some issues to work through, Rosenthal reports (on Twitter). Nick Cafardo of the Boston Globe confirms that the Red Sox are still working through some issues related to Napoli's deal (Twitter link).
DECEMBER 11: Ken Rosenthal of FOX Sports wonders if the deal may have hit a snag.  Major league sources say that Napoli was set to be introduced in a press conference today but did not go forward with the event.  It is not known what the holdup is, but the deal is still not official despite being agreed to early last week.  Meanwhile, none of the involved parties have responded to inquiries over the last two hours from Gordon Edes of ESPNBoston (via Twitter).
DECEMBER 3: The Red Sox have become the first team to make a major splash at the 2012 Winter Meetings, reaching an agreement on a three-year contract with Mike Napoli. The deal is for three years and $39MM, with the Red Sox choosing to pay the Brian Grieper client a higher annual salary rather than tacking on a fourth year.  Napoli's money is spread evenly at $13MM per year, notes Sean McAdam of CSNNE.com.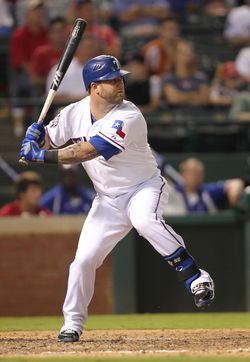 Napoli had a down year by his standards for the Rangers in 2012, hitting .227/.343/.469. However, he has a career .863 OPS, and is one season removed from a .320/.414/.631 line. While Boston likely doesn't expect him to produce at that level again, the team will make him its primary first base option, according to Bradford. Cafardo tweets that the 31-year-old will also catch occasionally for the Sox.
The Rangers will not receive a compensation pick for Napoli since the team decided not to make him a qualifying offer at season's end. That decision, which raised eyebrows at the time, looks even more curious now that Napoli has agreed to a deal for three times the term and salary of a one-year qualifying offer.
In MLBTR's list of the winter's top 50 free agents, Napoli ranked 14th overall. As our Free Agent contest leaderboard shows, five MLBTR writers correctly predicted that the ex-Ranger would sign with the Red Sox.
Nick Cafardo of the Boston Globe (via Twitter) reported the agreement, while WEEI.com's Rob Bradford was the first to report that the two sides were closing in on a deal. Jon Heyman of CBS Sports (via Twitter) reported the financial terms.
Photo courtesy of U.S. Presswire.