Not surprisingly, the Dodgers issued the biggest contract of the offseason and spent more than any other club.
Major League Signings
International Signings
Notable Minor League Signings
Trades and Claims
Notable Losses
Needs Addressed
It's tough to say that the Dodgers, who finished fourth in the Majors with a 3.35 ERA last season, really needed pitching this offseason. They added plenty of it anyway, and there's no denying that both their rotation and bullpen are better off for having done so. The Dodgers entered 2012 with a rotation consisting of Clayton Kershaw, Chad Billingsley, Ted Lilly, Chris Capuano and Aaron Harang. They're now set to run out Kershaw, international signee Hyun-Jin Ryu, Zack Greinke, Josh Beckett and Billingsley (once he's healthy, which should be mid-April).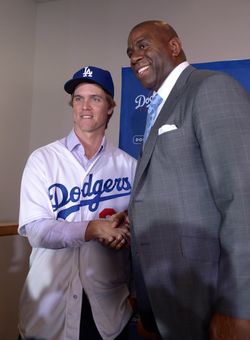 The additions of Greinke, Ryu and Beckett (acquired via trade last summer) push both Capuano and Harang to bullpen duty — something neither man figures to be happy about following successful seasons in 2012 (particularly for Capuano). Lilly, currently on the disabled list, appears headed for the same fate. MLB.com's Ken Gurnick recently wrote about the trio, noting that each still prefers to be in the rotation. Barring an injury, that seems highly unlikely.
Greinke's deal broke Matt Cain's record for the richest contract ever awarded to a right-handed pitcher at the time of the signing, and it's still the largest new-money guarantee for a righty. As was the case with CC Sabathia's record-setting deal, Greinke is able to opt out of his contract and test the market again following the contract's third season. 
On the bullpen front, the Dodgers dished out a three-year, $22.5MM contract to Brandon League in a surprising move early in the offseason. It's not that League is a bad pitcher, but does the ACES client really merit the second-largest contract for a reliever this offseason? Some would argue it's a fair deal, but given his struggles against left-handed pitching it seems like an unnecessary risk to me. GM Ned Colletti also signed J.P. Howell to a reasonable one-year contract to help combat opposing lefties.
Questions Remaining
The Dodgers' 25-man roster is loaded with star power, but they need to produce. Adrian Gonzalez homered just three times for the Dodgers following last summer's trade. Hanley Ramirez showed improvement after leaving Miami, but he still wasn't close to the 2007-10 version of himself. No one is sure what to expect from Carl Crawford at this point following a disastrous 18-month stint in Boston, during which he was essentially a replacement-level player before undergoing Tommy John surgery. Beckett posted a strong 2.93 ERA with the Dodgers, but did so with far and away the weakest fastball of his career (90.9 mph).
The pitching staff should be among the game's best, but it will be interesting to see how Ryu transitions to the Major Leagues. He was an elite star and strikeout king in Korea, but he lacks the typical velocity one would expect from such pitchers in Major League Baseball. League's deal, while questionable, is a mere drop in the bucket for the Dodgers' seemingly limitless payroll, and Kenley Jansen is one heck of a security net.
The Dodgers could find themselves in the market for a bench bat at some point this season, as manager Don Mattingly has little in the way of offensive threats late in games (apologies to Nick Punto, Skip Schumaker and Jerry Hairston). Perhaps that's one area Colletti will target if he looks to move Capuano, Harang or Lilly.
Deal of Note
In spite of shelling out loads of money to Greinke, Ryu and League, perhaps the most curious decision made by the Dodgers this offseason was not to trade any of their excess starting pitching. Capuano racked up 198 1/3 innings of 3.72 ERA ball (3.95 FIP, 3.97 xFIP, 3.93 SIERA) and posted a stellar 3.00 K/BB ratio. He's under contract for just $6MM this year (plus a $1MM buyout on his mutual option) and surely would be appealing to other teams.
Harang, while not as solid and more expensive ($7MM plus $2MM buyout on a mutual option), posted a respectable season — a 3.61 ERA in 179 2/3 innings. Advanced metrics didn't like him as much (4.14 FIP, 4.95 xFIP, 4.87 SIERA), but he makes for an expensive long reliever.
One can only assume that once Billingsley and/or Lilly are healthy and ready to come off the disabled list, Colletti will begin exploring trades. Still, it's curious that he chose not to do so earlier this offseason when more trading partners would have been available.
Overview
The Dodgers probably have more starting pitching depth than any team in the Majors, and they also have a deep, talented bullpen with League, Jansen, Howell and Ronald Belisario. When Hanley Ramirez returns from his injury, their lineup will be stacked with big names and big question marks. The sheer amount of talent on this roster makes them look like a playoff contender. And, if Gonzalez, Crawford and Ramirez rediscover their All-Star form, the Dodgers could make a run at the best record in baseball.
Photo courtesy of USA Today Sports Images.