I'm putting my fantasy baseball reputation on the line for the second week in a row. DraftStreet is offering $2000 in cash prizes for an exclusive "beat the expert" MLBTR/DraftStreet league using Friday night's MLB games. The entry fee is $11, but DraftStreet is raising the pressure on me (Tim Dierkes) by offering $5 back to anyone who beats my team, separate from the regular prize pool.  Last week's 200 slots filled quickly, so we brought back another.
Pick one player from each of eight tiers. You'll be competing based on the stats your eight players accumulate in Friday night's games. There are only 200 slots in this league, so sign up early.  Tier one starter Jose Fernandez was an easy call for me, as he's been quietly dominant.  One mistake I made last week was taking Jose Bautista over Jose Reyes; Reyes seems more of a multi-category contributor.  You can see a screenshot of my team in the making below.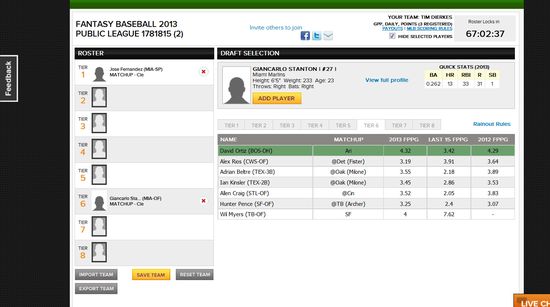 Be sure to sign up as soon as possible, before the 200 slots are all taken quickly again. DraftStreet has raised the stakes by challenging you to beat me; are you up to it?
This is a sponsored post from DraftStreet.