Early in the season, the Brewers reportedly offered shortstop Jean Segura an extension. As FOX Sports' Ken Rosenthal reported, though, Segura's agent, Joe Klein, had limited interest in an extension for his client, in part because Segura had so little big-league experience that it was hard to tell what he was worth. "[W]ith a guy this young, it's hard to figure out what the right numbers would be," said Klein. "It would be good, be nice if it was possible to do. But I don't know. It's way, way on the drawing board."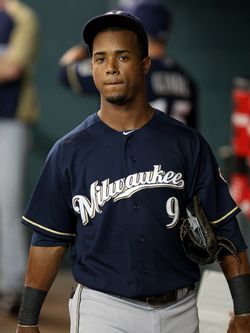 Segura is making close to the league minimum this season, and one would think he would be highly motivated to sign an extension. "God give me the opportunity to be professional baseball player and you know, this tough decision to make, but I just wanted to be successful to help my family be good. You know?" Segura told the Milwaukee Journal Sentinel in May. "And I think this is the only way that I can help them, quickly, you know?"
Still, an extension negotiation so early in the season would have put Klein in a tricky spot. Segura only had about 300 big-league plate appearances to that point, and an extension, even though it would have provided Segura and his family with financial security, would have had every chance of quickly turning into a bargain for the Brewers. In recent years, there have been only three long-term extensions for players with less than a year of service time: Evan Longoria's 2008 deal with the Rays, Matt Moore's deal with the Rays three years later, and Salvador Perez's five-year pact with the Royals. Longoria's contract was unquestionably a great deal for his team, and Moore's and Perez's look like they will be as well.
Now that the season is almost over, there's no indication that Segura and the Brewers have talked again, but Klein's worries about the lack of information about his client should be less of an issue. Klein also now has more leverage, since Segura is closer to arbitration eligibility. Segura now has more than twice as many big-league plate appearances as he did when the two sides reportedly talked early in the season. While Segura cooled down after a very hot start, his abilities to hit for average, steal bases and play shortstop make him an asset worthy of a long-term deal. At age 23, he has been one of the better shortstops in baseball this season.
Jose Altuve's recent four-year, $12.5MM contract with the Astros provides an obvious precedent for an extension for a middle infielder with between one and two years of service time, but Segura is a far better player. According to MLBTR's Extension Tracker, other recent examples of extensions for players with one to two years of service time include Paul Goldschmidt (five years, $32MM), Madison Bumgarner (five years, $35MM) and Carlos Santana (five years, $21MM). All four deals include at least one team option.
Segura is unlikely to produce the sort of power numbers that would have made Goldschmidt lots of money in arbirtation, but a deal weighted toward the low end of these three extensions might work. Currently, Segura is eligible for arbitration after the 2015 season and for free agency after 2018. A five-year deal, therefore, would buy out all of his remaining pre-free-agency service time. The Brewers would certainly want to include a team option or two in exchange for assuming greater risk. A five-year deal, plus an option, for around $20MM-23MM guaranteed might make sense.
Photo courtesy of USA Today Sports Images.