Over the next few months, I will be discussing some of the higher profile upcoming arbitration cases. I will rely partly on my arbitration model developed exclusively for MLB Trade Rumors, but will also break out some interesting comparables and determine where the model might be wrong.
Giancarlo Stanton has the types of skills that arbitration often rewards most, which is good news as he heads into his first year of eligibility. While players who get on base and play good defense contribute a lot of value to teams, and even get paid handsomely in free agency, they still do not get much recognition in arbitration. The rules of arbitration are not based on estimates of value, but rather on comparisons of salaries of previous players with similar performances (regardless of whether those salaries were fair or not). Stanton has the most important skill that the arbitration process values: power.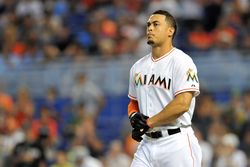 However, there is another way in which the arbitration process hurts Stanton. Although he contributes a lot of value while on the diamond, arbitration awards are based heavily on playing time, regardless of how much value was actually added above a hypothetical backup. Very good players who are often injured can get paid handsomely on the free agent market because of the value they do provide when on the field. However, arbitration panels are typically composed of labor lawyers, who see a lot of merit to the concept of "went to work every day," so playing time is treated very differently and often treated as more important than the standings treat it.
Stanton has only played in 123 and 116 games the previous two seasons, although he did manage 150 games in 2011. As a result, he has barely cleared 500 plate appearances in each of the past two seasons. This makes predicting his salary somewhat challenging. Our arbitration salary model here at MLBTR pegs Stanton for a $4.8MM salary in 2014, but I could really see that missing in either direction because of how few comparable players there have been in recent years. Although gifted sluggers often get injured more as they age, it is not very common for players like Stanton to miss significant time early in their careers.
So, some of the more classic sluggers to go to arbitration in recent years have had considerably more plate appearances (and the counting stats that go with that). Stanton enters arbitration with 504 PA in his platform season, along with a .249 average, 24 home runs and 62 runs batted in. Prior to his platform season, he had 1498 PA and hit .270 with 93 HR and 232 RBI. Despite the 117 career home runs that Stanton has hit, he is probably going to fall short of the earnings of the three other most recent players to enter their first year of arbitration who can claim triple-digits in career home runs. These include Ryan Howard who had 129 career HR and earned $10MM, Prince Fielder who had 114 career HR and earned $7.5MM, and Miguel Cabrera who had 104 career HR and earned $7.4MM. Although Stanton's very high service time (just missing Super-2 status last year) has led to similar cumulative career PA, he had far fewer platform-year PA (which are more important) than any of these three, who had 648, 694, and 676 PA respectively, compared with Stanton's 504. As a result, I don't expect that any of these three will make for good comparables in negotiations.
Instead, it might make sense to look at players who meet more Stanton-like criteria in terms of PA and HR. There have been a couple players who have fit the mold of having fewer than 600 PA, but at least 20 home runs in their platform season, as well as at least 50 home runs prior to then. One of these was Nelson Cruz in 2011, who had 445 PA, but hit 22 home runs to supplement his 55 home runs before his platform year. He earned $3.65MM, which could be a floor for Stanton, even though Cruz did hit .318, far better than Stanton's .249.
Another possible comparable might be Carlos Quentin in 2010, who earned $3.2MM and hit only .236, while amassing 21 HR in 399 PA. Quentin only had 50 career home runs before his platform season, making him a more obvious floor than Cruz on all fronts.
Josh Hamilton could be considered a floor as well at $3.25MM, since he only had 11 home runs in his platform season, but had hit 51 leading into that year.
Another possibility is that the case may focus on pre-platform statistics. I looked for players who had hit between 10-29 home runs their platform year, but had hit 60 before their platform year. This produced only one player, Jeff Francoeur in 2009, who earned $3.375MM after struggling through a 2008 season in which he hit just .239 with 11 HR and 71 RBI. Francoeur did have 62 pre-platform HR though, which is still a far cry from Stanton's 93. That would make a salary of $3.375MM look extremely low as well.
Between Cruz, Francoeur, Quentin, and Hamilton, we have four guys that all earned between $3.2-3.65MM and Stanton seems to have a leg up on each one of them. If nothing else, this should be able to convince all involved to see $3.65MM as a floor for Stanton, while Cabrera's $7.4MM can serve as a ceiling. The problem is how few players seem to fit in that large window.
Few power hitters have fallen in that range. One exception is Dan Uggla, who is a second baseman, so he wouldn't usually be used as a comparable but his low-average high-power history might make him a useful comparable. He earned $5.35MM after hitting .260 with 32 HR and 92 RBI in 2008, which followed up on a career .263 average, with 58 HR and 178 RBI prior to his platform-season. Given his 619 PA in his platform season, along with clearing 30 home runs, he might be seen as a ceiling for Stanton as well, but the fact that the projection is now five years old calls into question how useful it is or whether it would be taken seriously in negotiations.
Otherwise, it is very challenging to find good comparables for Stanton and that is why I think that he has such a tough case to guess. I do think that any offer under $4MM by the Marlins will probably be seen as too low, and any request of $7MM or more by Stanton's team at Wasserman Media Group would be seen as overvalued. I also think that even inching up towards $6MM might be too much of a gamble as well. In the end, the model's $4.8MM projected value doesn't seem entirely out of whack, but if he came in closer to $4MM or $6MM, I also would not be surprised. As an added wrinkle, if Stanton does end up getting traded this offseason, and he gets traded before reaching an agreement, his future team may decide that breaking rapport with an ugly negotiation or a hearing is too risky and may offer him more money to avoid such a scenario. This may not end up happening anyway, but it shows how much of challenge it will be to guess Stanton's 2014 salary.
Photo courtesy of USA Today Sports Images.