Frozen out of your fantasy football playoffs?  No problem!  You can still be one of 135 people who will earn a piece of the $5,000 prize pool in our Week 15 league at DraftStreet.
DraftStreet is adding an extra $1,000 to the prize pool to help line your pockets this holiday season. It costs just $11 to join, but it's only open to the first 400 people who sign up. So get in early and win some money!
You have until Sunday at 1:00pm eastern time to create your team.  You're given a $100K salary cap, and each player is assigned a price by DraftStreet.  Your roster will cover these positions: 2 QBs, 2 RBs, 2 WRs, 1 TE, 2 FLEX, and 1 Defense.  You get points based on how your team performs through Monday night's game.  The teams with the most points get the prize money.  It's extremely easy to put together a team.  Below is a screenshot of my roster: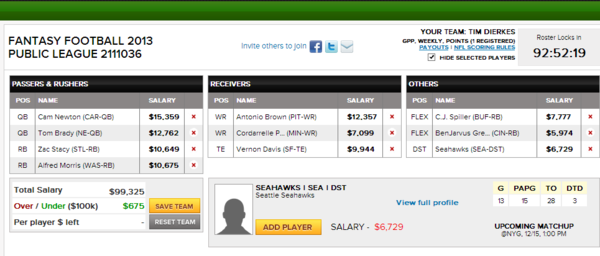 If you're interested, sign up and create a roster prior to Sunday's games (1:00pm eastern time).  It's quick, easy, fun.  If you enjoy the competition you can try other leagues for free and earn credits, or deposit real money. 
This post is sponsored by DraftStreet.