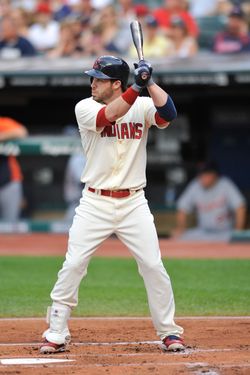 Second baseman Jason Kipnis and the Indians discussed the possibility of an extension last spring, but put those talks on hold when the 2013 season began. This year, Kipnis is again open to discussing an extension, as Paul Hoynes of the Plain Dealer reports. "Absolutely," Kipnis said when asked whether he would consider a multiyear deal. "We haven't talked about it yet. My guess is if we started it would probably start in spring training when everyone reports. I think they have their hands full with arbitration cases right now."
Kipnis is the Indians' best player, and there are few holes in his offensive game. He hits for excellent power for a middle infielder, draws plenty of walks, and adds value on the bases. There's every reason to expect him to continue to be productive for the next few seasons. Those are seasons the Indians already control, however, which might make it tricky to negotiate a long-term deal with his representatives at Beverly Hills Sports Council.
Kipnis has 2.069 years of service time and will become arbitration-eligible next winter. He's eligible for free agency after 2017, which is his age-30 season. According to MLBTR's Extension Tracker, no second baseman with between two and three years of service time has signed an extension since Ben Zobrist in 2010. Expanding the field to include shortstops and third basemen doesn't yield many particularly revealing comparables, either, although Alexei Ramirez's four-year, $32.5MM contract, signed prior to the 2011 season, comes close. The deal did not kick in until 2012, however, which would have been Ramirez's second year of arbitration eligibility. Kipnis won't hit arbitration for the second time until two years from now.
To fashion a possible extension for Kipnis, let's look at recent arbitration cases to see what Kipnis might make in the 2015 through 2017 seasons. Via MLBTR's 2013 Arbitration Tracker, here are last year's arbitration results for players with between three and four years of service time. One that stands out is Ian Desmond, a shortstop who had been less consistent than Kipnis through that point in his career, but who had a similarly broad package of hitting and baserunning skills. Desmond made $3.8MM in his first year of arbitration eligibility. Neil Walker, another broadly-similar player, made $3.3MM, although that was as a Super Two.
Our starting point for Kipnis' 2015 season probably ought to be somewhat higher than Desmond's $3.8MM for 2013, compensating for Kipnis' greater consistency. If we guess that Kipnis might make $4.4MM in his first year of arbitration eligibility next winter, then he might make a total of about $20MM in his three arbitration seasons. Add in the $500K or so Kipnis is set to make this season, and we have a basic framework for an extension. The Indians might want to add in another guaranteed year, perhaps including an option. That might bring the total to something like five years and around $30MM-$35MM.
The main reason teams like pre-free agency extensions, however, is because they can control players beyond when they would have previously been eligible for free agency. How valuable Kipnis' free agent seasons will be, though, remains to be seen. Kipnis didn't debut until he was 24, and isn't eligible for free agency until he's about to turn 31.
Baseball history is filled with examples of good second basemen who faded quickly and/or at relatively young ages, including Edgardo Alfonzo, Brian Roberts, Jose Vidro, Chuck Knoblauch and former Indians great Carlos Baerga. Second basemen have to deal with hard slides around the bag, and because many of them (including Kipnis, who played shortstop in high school) are converted shortstops, they often don't represent the best athletes to begin with. Those concerns probably don't apply quite as readily to truly elite second basemen, as Dave Cameron of Fangraphs points out. That's one reason the Mariners and Red Sox have been willing to pay big bucks for Robinson Cano and Dustin Pedroia's thirty-something seasons. But Kipnis isn't in that category.
There is no reason for Kipnis to agree to an extension at a steep discount, either — he's only one season away from arbitration eligibility, and if he continues to produce, hitting free agency at age 30 rather than age 31 or 32 could make a significant difference in his first contract on the open market. Even though Kipnis is a star, then, the Indians could simply decide to take him year-to-year for now. They already control what are likely to be his prime years, and have limited leverage to get him to sign away seasons beyond 2017.
Photo courtesy of USA Today Sports Images.