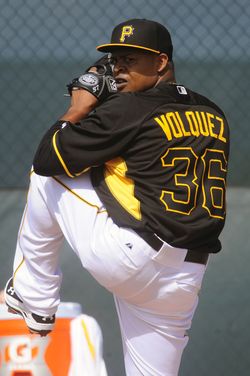 After an inspiring playoff run in 2013, the Pirates accomplished little this winter, either on the trade market or through free agency, and instead will depend on their 2013 core to contend again in 2014.
Major League Signings
Notable Minor League Signings
Trades and Claims
Extensions
Notable Losses
Needs Addressed
It's hard to address many needs with a $7MM offseason. The Pirates replaced Burnett in their rotation with Volquez, who has struggled since a strong season with the Reds all the way back in 2008. Volquez has good stuff and his recent peripherals have been better than his ERAs, however, and the Pirates have recently done well with previous reclamation projects like Francisco Liriano and Mark Melancon, so they may feel they can catch lightning in a bottle again with Volquez. The possibility that Volquez could become another Liriano likely made Volquez more attractive to the Pirates than a more reliable but lower-upside pitcher like Chris Capuano. The Pirates also re-signed Barmes, a poor hitter but a stellar defensive player, to back up Jordy Mercer at shortstop.
The Pirates also made a seemingly minor deal for Chris Stewart, a good defensive catcher with a solid pitch-framing track record. Stewart will back up Russell Martin at catcher, with the Pirates likely hoping that 2012-Yankees tandem will put their pitchers in the best possible postion to succeed. The Bucs also struck even-more-minor deals for depth pieces and semi-prospects like outfielder Jaff Decker and first baseman Chris McGuiness.
Beyond that, the Pirates will likely hope that their current core is strong enough to make another run, and that the potential midseason additions of top outfield prospect Gregory Polanco and pitcher Jameson Taillon can help augment it. Taillon (and Jeff Locke, who's currently suffering from an oblique injury and who could begin the season in the minors if both he and Wandy Rodriguez are ready by Opening Day) should provide the Pirates with other options if Volquez falters.
Questions Remaining
The Pirates have not yet found a left-handed platoon partner for Gaby Sanchez at first base. McGuiness and Travis Ishikawa probably aren't answers there. Going into the 2014 season with rookie Andrew Lambo, who hit for great power in the minors last year but had a sketchy track record before that, might not be the right move either, at least not without a better backup plan. It still wouldn't be surprising if the Pirates added another first baseman via trade, perhaps Ike Davis of the Mets or Mike Carp of the Red Sox.
Deal of Note
The Pirates signed Charlie Morton to an extension that bought out the ground-ball specialist's last year of arbitration and his first two years of free-agency eligibility. The Pirates also received a reasonable option on Morton for 2017 ($9.5MM, or a $1MM buyout). The deal creates a bridge between the Pirates' recent veteran-led rotations and a 2017 rotation that will likely feature Gerrit Cole and Jameson Taillon, perhaps along with fellow youngsters like Tyler Glasnow and Nick Kingham.
Overview
The Pirates' remarkably quiet offseason following their first winning season since 1992 raises significant questions about the Bucs' willingness, or perhaps their ability, to spend. The Bucs did not extend A.J. Burnett a $14.1MM qualifying offer in the fall, even though Fangraphs pegs Burnett's 2013 value at around $20MM and a one-year deal for a pitcher of his caliber could potentially have been a boon for the Pirates. Burnett had previously said that he intended to play for the Bucs or retire, so if the Pirates took him at his word, there would have been no point in extending a qualifying offer anyway, particularly if they thought they could sign him more cheaply than the qualifying offer price. Then, however, GM Neal Huntington straightforwardly said that the Pirates were unwilling to pay market value for Burnett.
After declining to extend the qualifying offer and while waiting several months for Burnett to decide whether or not to retire, the Pirates tried a variety of other moves, most of which didn't work out. Travis Sawchik of the Pittsburgh Tribune-Review describes the timeline. The Bucs tried to sign Josh Johnson to replace Burnett, but Johnson ended up heading to San Diego for one year and $8MM instead. They also tried to sign James Loney to platoon with Sanchez at first base, but Loney instead re-signed with the Rays at $7MM per year.
The Pirates reportedly made competitive bids for both players. Sawchik suggests that if the Pirates were willing to commit around $8MM for Johnson and $7MM for Loney, plus $2MM for Barmes, their offseason budget may have been around $17MM-$19MM. Within this context, the logic for not extending the qualifying offer to Burnett becomes clear: $14.1MM for Burnett would have been too great a percentage of the Pirates' offseason budget, given that they also needed to address the first base and utility infielder positions.
"From a value you standpoint you can argue that $14 million should have been a no-brainer and we understand that," Huntington said. "But the reality is in ten to fifteen markets a qualifying offer, if accepted, becomes a large chunk of payroll and something – right or wrong -we were not comfortable in doing at that time."
The Bucs' plan of saving money on Burnett to upgrade at first base may have been a difficult one to pull off. The first-base market was thin, especially if the Pirates weren't willing to sign a big-ticket player like Jose Dariel Abreu or Mike Napoli (who are, of course, both righties, but project well enough offensively that the Pirates could have non-tendered Sanchez). The Bucs were also never seriously connected to Corey Hart, who ended up with the Mariners. When Loney re-signed with Tampa, the Pirates were left without serious first-base options to pursue. And so it looks like the Bucs' plan at first base may have amounted to Loney or a trade, which, of course, hasn't happened yet.
Homegrown players like Andrew McCutchen, Starling Marte, Neil Walker, Pedro Alvarez and Cole did, of course, play key roles in the Pirates' surprising 94-win season in 2013. But Huntington's excellent acquisitions of veteran players were also crucial. Those acquisitions began in February 2012, when Huntington acquired Burnett from the Yankees for pennies on the dollar. The following offseason, Huntington got Francisco Liriano on a bargain contract and Russell Martin on another modest deal, then acquired one of their best 2013 bullpen arms, Mark Melancon, for Joel Hanrahan.
Faced with the task of building a team on a tiny budget, Huntington pulled a rabbit out of a hat. This offseason, his task was the same, only the magic trick didn't work. The plan may have depended too heavily on signing Loney, whose incentive to remain in Tampa, where he could play every day, likely was fairly strong.
After the Bucs missed on Johnson, they signed Volquez as a backup plan while they waited for Burnett to decide whether or not to retire, then reportedly increased their offer to Burnett to $12MM once it became clear that he was willing to sign elsewhere. ($12MM for Burnett plus $5MM for Volquez plus $2MM for Barmes is consistent with Sawchik's suggestion that the Bucs had about $17-19MM available to spend this offseason.) When Burnett signed with the Phillies, the Pirates were left mostly empty-handed. Signing a free agent who had declined a qualifying offer, like Kendrys Morales or Ervin Santana, to fill one of their first base or starting pitching vacancies didn't make much sense for them, either, since the Pirates surely preferred to keep the No. 24 overall pick in the draft this year.
The Pirates' future remains bright, and with a good big-league core and a very strong farm system, they likely will have more chances to augment a contending core in later seasons. They could also attempt to add in-season if the first few months of 2014 go well. The key question, though, is why Huntington only had $17-19MM to work with, despite Burnett, Barmes and Garrett Jones' contracts coming off the books.
The Pirates are finally a contending team. They've enjoyed healthy bumps in attendance in all of the last three seasons. They should have money from MLB's national TV contract coming to them. And they still chose not to spend, even on a one-year deal for Burnett that would in no way have reduced their long-term chances of contending. Burnett was one of the best pitchers in the National League last season, leading the senior circuit in K/9 and ground-ball percentage. $14.1MM for a one-year deal would have been a very reasonable price to pay.
The Pirates will likely remain one of baseball's lower-payroll teams this year, despite advantages that some other low-payroll teams like the Rays don't have, such as a beautiful stadium and a passionate fan base. If any offseason would have provided an opportunity for them to break the cycle and move into a payroll range more comparable to fellow NL Central small-market teams in Milwaukee and Cincinnati, this would have been it. But so far, they haven't taken it.
 Photo courtesy of USA Today Sports Images.