Top outfield prospect George Springer will join the Astros tomorrow, reports Mark Berman of FOX 26 Houston. The 24-year-old entered the season as a consensus top-25 prospect.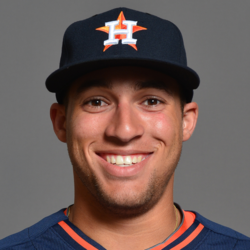 As I recently discussed, Springer is among the game's near-MLB-ready prospects who has yet to see any MLB time. If he sticks on the big club for the remainder of the year, Springer would accrue 166 days of service — short of a full season, but more than enough to set himself up to qualify for Super Two status. That means that the Astros will still stand to control him through the 2020 season.
Springer climbed up prospect rating boards after a monster 2013 campaign in which he hit a combined .303/.411/.600, and posted 37 home runs and 45 stolen bases, in 589 plate appearances split between Double-A and Triple-A. Entering the 2014 season, analysts rated Springer between 18th (Baseball America) to 21st (MLB.com) among all MLB prospects. The 2011 first-round pick looked well on his way to a repeat of that performance in the season's early going.
Looking ahead, Baseball America says that Springer possesses outstanding bat speed but can be beaten with offspeed offerings given his aggressive approach. With plus or better arm, speed, power, and defense tools, BA says that Springer should be a productive big leaguer even if he struggles somewhat (as many expect he will) to make contact at the MLB level.
Though he is a tall and powerful ballplayer, Springer profiles as a center fielder. But with that position occupied in Houston by offseason acquisition Dexter Fowler, Springer will presumably take over in left field for the optioned Robbie Grossman.