The Athletics have signed left-handed reliever Sean Doolittle to a five-year contract extension with a pair of options, the club announced (via Twitter). The deal covers the current season and runs through 2018, after which time Oakland will have a pair of options for the 2019 and 2020 campaigns. Doolittle is represented by Jason Cook.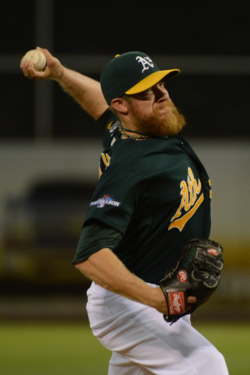 Doolittle's contract is complicated, to say the least, as it is heavily dependent on whether or not Doolittle, who entered the season with one year, 122 days of Major League service time, qualifies as a Super Two player after the season (last year's cutoff was exactly 1.122). Should he miss Super Two status, Doolittle is guaranteed a total of $10.5MM with club options valued at $6MM in 2019 and $6.5MM in 2020 — both with a $500K buyout. Under that scenario, Doolittle will receive $750K in 2015, $1.55MM in 2016, $2.6MM in 2017 and $4.35MM in 2018.
Should he qualify as a Super Two player, Doolittle will earn $1.4MM in 2015, $2.45MM in 2016, $3.65MM in 2017 and $5MM in 2018. In addition to the Super Two conditions, Doolittle's contract also contains incentives based on games finished that could boost the deal's value to $30MM. Should he finish 100 games between 2018-19, his 2020 option will become a mutual option. Additionally, Doolittle also received a $150K signing bonus and a $600K salary for 2014 — neither of which is impacted by his Super Two status.
Doolittle, 27, is entering his third year of MLB action and came into the year with 1.122 years of MLB service. Take with the 41st-overall pick out of the University of Virginia (where he was a two-way player) back in 2007, Doolittle started his professional career as a first baseman. He switched to the hill after knee problems, and wasted little time in getting to the bigs.
Since cracking the A's pen in 2012, Doolittle has thrown 125 innings of 3.10 ERA ball. The fireballing southpaw has racked up 9.3 K/9 against 1.7 BB/9 over that stretch, though he has averaged only a 32.7% ground-ball rate. (Advanced metrics have pegged his big league time at 2.56 FIP, 3.41 xFIP, and 2.76 SIERA.) Primarily a fastball pitcher, Doolittle has gone to his curve more frequently this year. Given his late turn back to pitching, it could be that the A's see more room for him to grow; Doolittle was a starter in college.
While it is hard to pass any judgment on the extension without knowing its financial terms, it is obviously a surprisingly lengthy pact for a reliever. Obviously, the possibility of Doolittle driving up his arbitration cost by accumulating saves could be a consideration here. It would be surprising if Oakland did not achieve a significant discount in return for guaranteeing future salary for a reliever with such little service time.
Regardless how much it is worth, this contract lands in relatively uncharted territory. MLBTR's Extension Tracker reveals only three reliever extensions of four-year durations, and none that have gone to five. Of course, given that the 2014 season is already underway, it is probably best to view Doolittle's new deal as a four-year pact. Of those prior deals, two were for established closers (Craig Kimbrel and Joe Nathan) with significantly more service time and very different situations. The other — the four-year, $8.025MM deal (plus two options) signed by Manny Corpas and the Rockies when he had 1.076 years of service — appears to be the only clear comparable. (Corpas was coming off of a 19-save, 2.08 ERA campaign in his age-24 season.)
Susan Slusser of the San Francisco Chronicle first reported the general contract parameters and conditional increases, and the Associated Press chipped in the year-to-year specifics.
Photo courtesy of USA Today Sports Images. Steve Adams contributed to this post.