The Rays have announced that they've signed shortstop Yunel Escobar to a two-year extension that guarantees him $13MM. The deal pays Escobar $5MM in 2015 and $7MM in 2016, and includes a $7MM club option with a $1MM buyout for 2017. Escobar is represented by Miami Sports Management.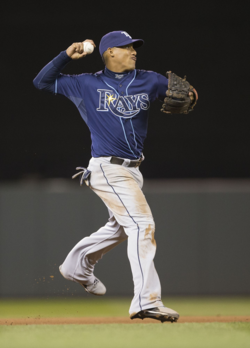 Escobar will make $5MM in 2014 in the first option year of a two-year deal for 2012 and 2013 that included two options. His new contract will replace the $5MM team option for 2015 on his old one, so this new deal essentially locks the Rays in for that $5MM in 2015 while giving the Rays the rights to 2016 and potentially 2017 as well.
Escobar, 31, hit .256/.332/.366 for the Rays in 2013, but provided excellent value defensively — he posted a 10.7 UZR in 2013 and has been a consistently above-average defensive shortstop throughout his career. He typically provides little power but good on-base ability, with a .350 career on-base percentage to go with his strong defense. 2013 was Escobar's first season with the Rays, as the Blue Jays traded him to Miami in the Jose Reyes / Josh Johnson / Mark Buehrle blockbuster and the Marlins shipped him to Tampa for Derek Dietrich in December 2012.
The shortstop will enter the free agent market after his age-34 season if the Rays pick up the option. This is the second extension Tampa Bay has completed so far in 2014, having announced a six-year deal for pitcher Chris Archer this week.
Robbie Knopf of the Rays Colored Classes blog originally reported the deal. Roger Mooney of The Tampa Tribune was the first to report the value of the option and buyout (via Twitter).
Aaron Steen contributed to this post.