JULY 5: The Cubs have officially announced (via Twitter) the trade confirming the team will receive a player to be named later as part of the deal. The A's meanwhile tweeted the final piece will either be the PTBNL or cash.
JULY 4: The Athletics have agreed to acquire pitchers Jeff Samardzija and Jason Hammel from the Cubs, Ken Rosenthal of FOX Sports reports on Twitter. Top prospect Addison Russell is heading to Chicago in the deal. Fellow prospect Billy McKinney and pitcher Dan Straily will also go to the Cubs, reports ESPN.com's Keith Law (via Twitter).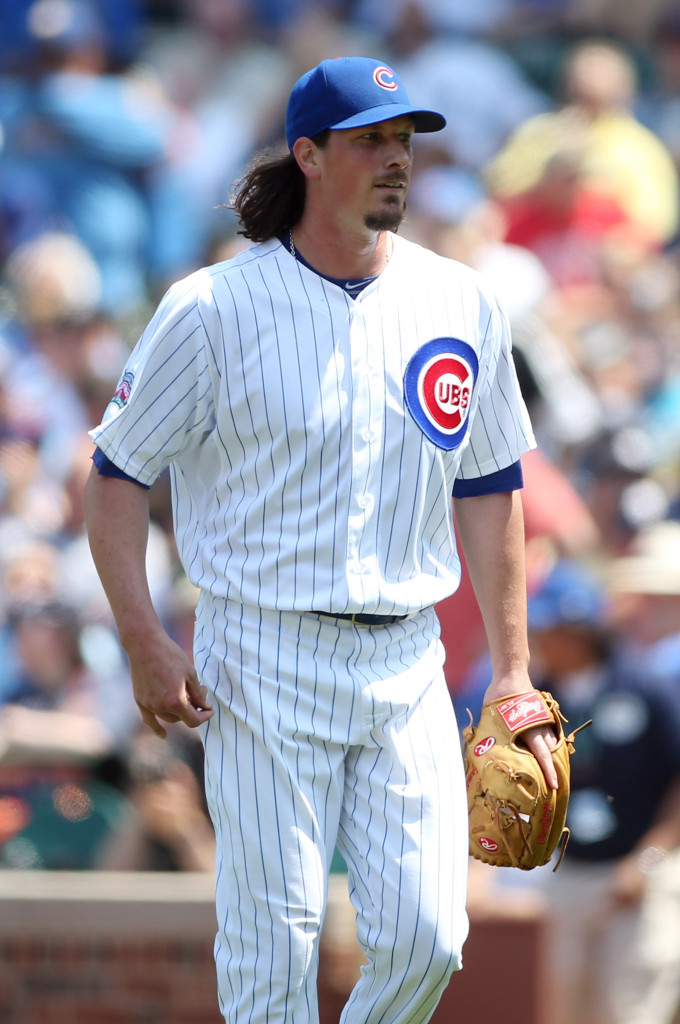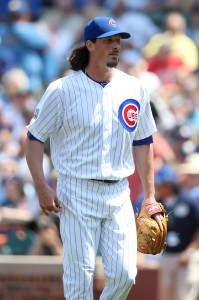 Though initial reports indicated that another team could be involved, the final deal is a two-way swap, tweets Jon Morosi of FOX Sports. Talks were said to be serious earlier tonight, per reports from Rosenthal and Morosi. There are conflicting reports as to the final piece of the deal (if any): Law (Twitter link), Susan Slusser of the San Francisco Chronicle (via Twitter), and Jeff Passan of Yahoo Sports (via Twitter) have reported that a PTBNL or cash will go to the Cubs, while Morosi tweets that no additional piece is involved.
The swap represents an aggressive move from an Oakland team that has paced the rest of the league all year long, but which had questions in its rotation and has often been stymied in the postseason. While the club has cruised to a league-best .616 winning percentage, backed by a +129 run differential that is far and away the best in baseball, it is being chased by two clubs (the Angels and Mariners) that rank 2nd and 3rd in the game in run differential. In Samardzija and Hammel, GM Billy Beane filled two rotation needs in one stroke. The former promises to add another top-of-the-rotation arm to the staff, both this year and next, while the latter will provide depth and solid innings as a reasonably-priced rental. Even better for the small-budget A's, neither player will break the bank. And the team with the best record in the game arguably now firmly stands as the favorite to prevail in the American League.
Samardzija will add to the top of a rotation that has delivered a stellar 3.34 ERA, but which owns peripherals (3.90 FIP, 3.84 xFIP) that paint a somewhat different picture. More importantly, perhaps, are the question marks that accompany the team's top three hurlers: staff ace Sonny Gray is up to 111 innings but has never thrown more than 182 1/3 in a season as a pro; the emergent Jesse Chavez (103 innings) is about to pass his career high in innings pitched; and Scott Kazmir has a well-documented injury history. Samardzija is earning a modest $5.35MM in his second (and second-to-last) season of arbitration eligibility. Though his excellent 2.83 ERA (8.6 K/9, 2.6 BB/9, and 52.5% groundball rate) through 108 frames will warrant a significant raise next year, he surely projects to deliver significant excess value over his contract. While a run at an extension seems unlikely from Oakland, the team could always flip him next year if circumstances warrant or ultimately make him a qualifying offer.
Hammel, meanwhile, is a sturdy option to bolster the Oakland staff down the stretch. Looking further down the line at the club's prior options, Tommy Milone has a relatively low ceiling and has outperformed his peripherals this year, Dan Straily's minor league numbers largely match the ones that got him demoted (and ultimately dealt), Drew Pomeranz is injured, and Josh Lindblom has just six big league starts to his credit at age 27. Signed to a one-year, $6MM contract entering the season, Hammel owns a solid 2.98 ERA in 102 2/3 frames. Since joining the Cubs, he has returned to striking out better than eight batters per nine, as he did in his excellent 2012 campaign. Unlike that season, however, when Hammel registered a 53.2% groundball rate while walking 3.2 per nine, his success in 2014 has come from limiting the walk (1.84 BB/9) even as his percentage of grounders has dropped to 40.5%. He was probably the most attractive, mid-level, pure rental arm available.
On the other side of the equation, by combining their two top trade chips, the Cubs managed to pick up one of the game's truly elite prospects in Russell. Many will question the "need" for another shortstop for a club that already has Starlin Castro (and his long-term extension) at the major league level with two top-100 prospects (Javier Baez and Arismendy Alcantara) in the upper minors. But president Theo Epstein and GM Jed Hoyer will gladly add the top-end prospect piece now and figure out any logjams in the future. (If all of those players work out, of course, top-100 middle infielders make for useful trade chips — as this very deal demonstrates.)
The other two pieces in the deal also hold value for Chicago. McKinney, 19, was taken 24th overall in last year's amateur draft. He owns a .241/.330/.400 line in 333 plate appearances this year at High-A. Of course, while he was widely considered the club's second-best prospect, he is a ways from the big leagues and does not appear on any league-wide top-100 lists.
Straily, 25, is a bounceback candidate who could provide innings for the Cubs rotation in the near future, though he is headed to Triple-A to start. After logging 152 1/3 innings of 3.96 ERA ball last year (with 7.3 K/9 against 3.4 BB/9 and a 36.4% groundball rate), Straily struggled to a 4.93 mark in his first 38 1/3 frames in 2014. In spite of largely equivalent peripherals, a tendency to the long ball sidetracked the righty. Since being demoted, he has posted good strikeout numbers at Triple-A (as he has in the past), but has nevertheless scuffled to a 4.71 earned run average through 63 frames to date.
From a broader perspective, this deal takes two prime starting pitching targets out of play for the rest of the market. And it delivers them to a club that might not ultimately have made such significant additions. The many clubs angling for rotation pieces will now have less readily available stock to pursue, which could raise the price for the top remaining arms.
Photo courtesy of USA Today Sports Images.