In the midst of a second straight exceptional year, Cubs starter Jake Arrieta appears likely to sign a big contract at some point, whether that's an extension with the Cubs or a free-agent deal following the 2017 season. The Cubs, however, have not begun extension discussions with Arrieta (as Gordon Wittenmyer of the Chicago Sun-Times recently reported) and it's not clear whether they'll do so. Arrieta is already under team control for two more seasons, and the Cubs might feel that adding additional pitching talent this offseason is a higher priority than signing a pitcher they already have.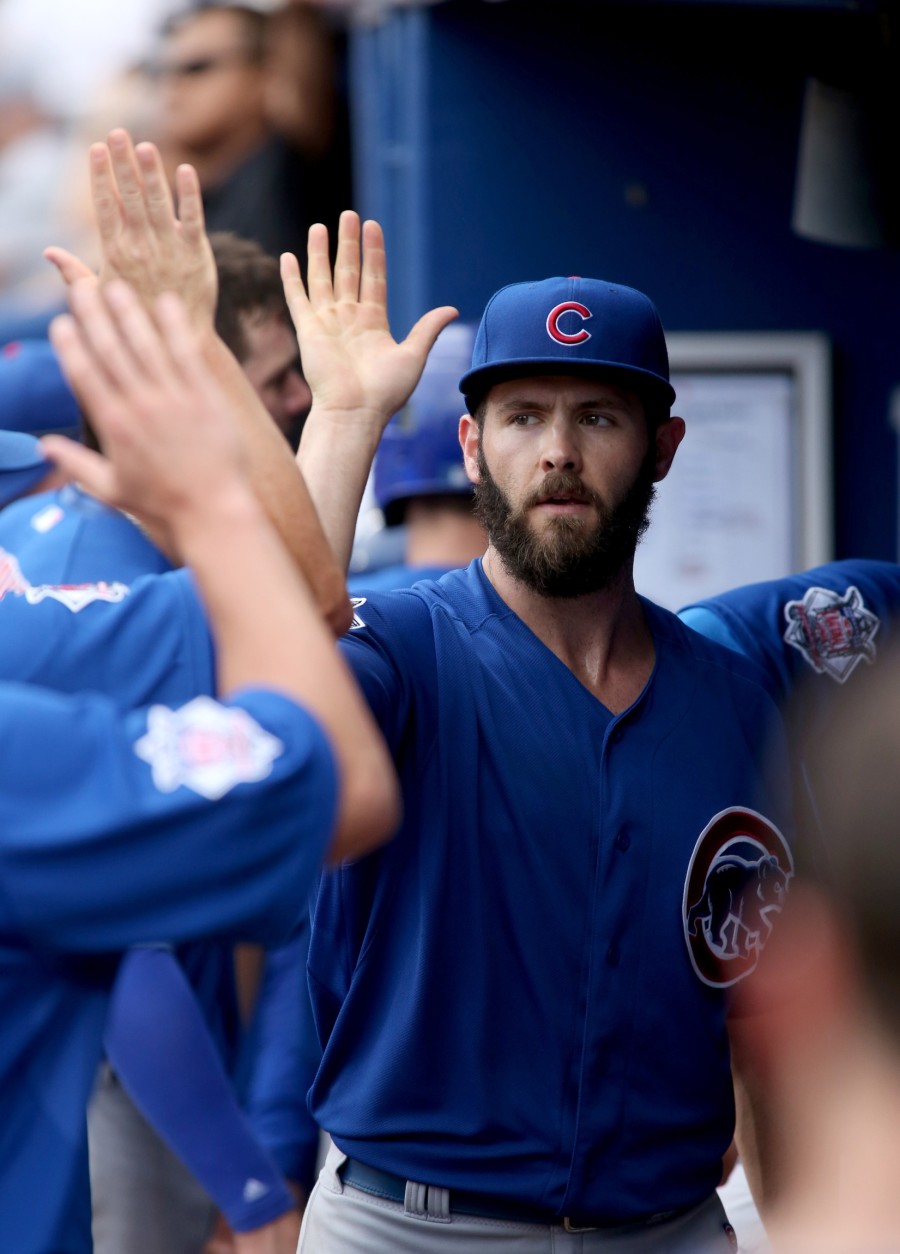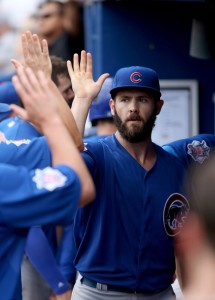 If the Cubs did want to sign Arrieta, they would have a tough task ahead of them, though perhaps not an impossible one. Via CSNChicago.com's Patrick Mooney, agent Scott Boras strongly suggests Arrieta won't be cheap, comparing him to Max Scherzer and arguing that Arrieta's relatively low innings totals (he's pitched 740 1/3 in his career) make him a good bet to age well. Arrieta's arm is "kind of ideal for the free-agent dynamic," Boras says. But Arrieta himself said last season that he would be interested in staying in Chicago and that he wouldn't ask for an "astronomical amount of money."
Of course, if Arrieta were to ask for an astronomical amount of money, he'd be more likely to get it now than he was then. He finished ninth in NL Cy Young voting in 2014 and has followed up that breakout season with an even better one, pitching more innings per start and posting a career-high ground-ball rate (53.9%) while maintaining his strong peripherals (9.2 K/9, 2.2 BB/9). He currently ranks first in the league in wins (16), second in ERA (2.22) and fourth in strikeouts (178), setting him up for a huge raise on his $3.63MM salary through the arbitration process this winter.
Finding precedents for an Arrieta extension is difficult. Extensions for pitchers who are already arbitration eligible frequently only buy out arbitration seasons and do not delay free agency, as with recent extensions for Lance Lynn, Jordan Zimmermann and Mat Latos. (It's certainly possible that the Cubs could sign Arrieta to a two-year deal in a similar mold, but that wouldn't change much about his future with the organization.) Wade Miley gave up a year of free agency eligibility in his recent deal with the Red Sox, although Arrieta is obviously a much better pitcher. Matt Harrison's $55MM deal with the Rangers is probably the clearest comparable for Arrieta, particularly given that Harrison was coming off his first arbitration season and made a salary similar to Arrieta's ($2.95MM). Arrieta is also better than Harrison was, though, and Harrison's deal is almost three years old.
Using Harrison's deal as a potential precedent is tricky for another reason, too. Harrison was only 27 at the time of his deal and figured to have another shot at a significant payday even after it was over. Arrieta is older, and if he were to agree to a long-term deal now, it would likely be the only significant multi-year contract of his career.
Then you have to factor in the escalation in salaries of starting pitchers since Harrison's extension. Homer Bailey received a nine-figure deal from the Reds, and his best seasons prior to the deal were nowhere near as good as Arrieta's last two. Bailey was a year closer to free agency than Arrieta is, but given the raise Arrieta is likely to receive this offseason, he could easily make $20MM-$25MM total in his last two years before free agency eligibility anyway. Beyond that, he could credibly ask for $20MM per season, and that might even be slightly undershooting it. Rick Porcello's four-year, $82.5MM deal with the Red Sox strongly suggests Arrieta ought to be worth more than $20MM a year, even though Arrieta doesn't have youth on his side as Porcello did.
A five-year deal for Arrieta, then, could get close to the $100MM mark, and a six-year deal could push past the nine-figure mark. It seems unlikely that Boras would settle for anything less than five years, and probably even six, given that signing an extension that delays free agency by only a year or two likely wouldn't provide Arrieta with enough of a financial incentive to put off seeking a big free-agent contract.
There's also the problem of how a five- or six-year deal would work for the Cubs. A five-year deal would still be on the books in 2020, by which point the Cubs look somewhat likely to be dealing with significant arbitration raises for key younger players like Kris Bryant, Addison Russell, Kyle Schwarber, and others. They will probably also wish to extend at least some of those players. They'll also likely still be dealing with the contracts of Jon Lester, Anthony Rizzo and any pitcher they sign this offseason.
That isn't to say that a deal for Arrieta would be impossible. It seems likely that the Cubs' budget will be significantly larger in 2020, with more money coming in from a new TV deal. If it is, the fuss over whether they can afford Arrieta might end up being mostly irrelevant. But, given that they already control Arrieta through his age-31 season, could be in line for a draft pick if he signs elsewhere, and that Boras is surely highly curious about the free-agent market, perhaps it isn't surprising that the two sides haven't struck a deal.
Photo courtesy of USA Today Sports Images.