After a 68-94 season, new Brewers GM David Stearns and newly minted assistant GM Matt Arnold (formerly of the Rays) will be tasked with continuing the team's rebuild.
Guaranteed Contracts
Arbitration Eligible Players (service time in parentheses; projections by MLB Trade Rumors)
Contract Options
Free Agents
Stearns, who the Brewers hired last month, is 30, has an Ivy League background and was previously an assistant GM with the analytically-savvy Astros, so it certainly seems like he'll be a new-school GM. And if he were to trade most of the rest of his veterans and go with a young, inexpensive roster, just as Jeff Luhnow did in Houston, that wouldn't be surprising.
In fact, if he did, he would only be continuing what the Brewers have already started. Many of their key in-season moves in 2015 (in which they dealt free-agents-to-be Gerardo Parra, Aramis Ramirez and Jonathan Broxton to new teams) merely acknowledged that they weren't contenders that year, but the trade of Carlos Gomez (who was signed through 2016) and Mike Fiers (controllable through 2019) to the Astros before Stearns' hire strongly suggested they were already rebuilding. Which, of course, made sense. The Brewers' season had gone horribly to that point, their competition in the NL Central was fierce, and there wasn't reason to think things would get much better in the short term.
If Stearns were to pursue a full-scale rebuild, then, it would simply continue a process that began last summer, as he suggested last week. "The Brewers' organization really began that transitional period in the middle of this year," said Stearns. "When [owner] Jim Crane bought the Astros and Jeff Luhnow took over … [t]hey were starting from scratch. I don't see us as starting from scratch."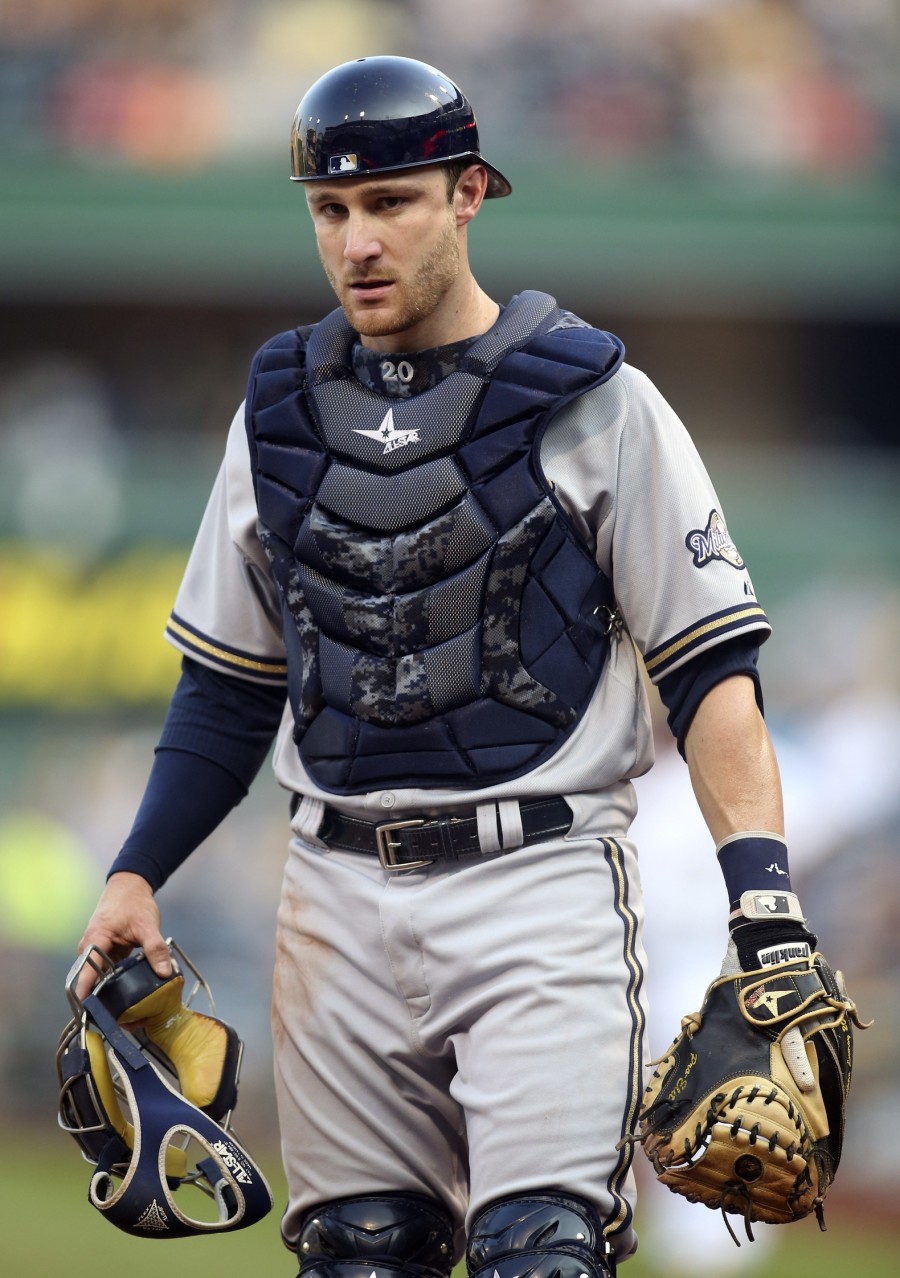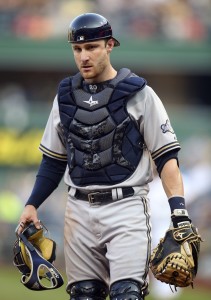 Stearns' biggest deals to continue to rebuild the team don't need to happen this offseason, but if they do, his top trade chip will be catcher Jonathan Lucroy. The 29-year-old is coming off a down season marked by a broken toe and concussion issues, but he was a viable MVP candidate in 2014 thanks to not only his offense but his work with the Brewers' pitchers. Additionally, he's signed to a very team-friendly contract that will pay him just $9.25MM in the next two seasons combined. Last year, Lucroy wanted to discuss another extension with the Brewers, but the team said no, presumably wanting to take advantage of his very favorable existing contract and avoid signing him further into his thirties.
While the Brewers have also previously sounded reluctant to deal Lucroy, and Stearns himself recently described Lucroy as a reason to expect the Brewers to improve in 2016, Stearns seems likely to try to get something for his asset at some point. The question is whether Stearns wants to gamble on Lucroy restoring his trade value by staying healthy for the first few months of the season. Keeping Lucroy around for a few months would also allow the Brewers to play much of the 2016 season with one of their most marketable players still in tow. If they do elect to deal him this winter, though, the Nationals, Angels, Twins and perhaps Braves (who reportedly would have interest in Lucroy if he were available) could be potential trade partners.
There are a few additional veterans the Brewers could deal. First baseman Adam Lind, whose $8MM option the Brewers will likely exercise, remains a plus hitter signed to a reasonable contract; he should be able to bring back a decent prospect or two. The Pirates would be a good fit if the two teams can agree to a trade within the NL Central, and the Mariners might also be a possibility. The Brewers could also get good value for relievers Francisco Rodriguez and Will Smith. K-Rod is still just 33 and was quietly terrific last season, and Smith was one of baseball's best lefty relievers, dominating batters on both sides of the plate and posting a ridiculous 12.9 strikeouts per nine innings. If the Brewers don't get offers they like, they could also wait and trade either pitcher in July.
The only two other Brewers signed to significant contracts are Ryan Braun and Matt Garza. Braun did hit .285/.356/.498 in a resurgent 2015 season, but his contract (which was signed all the way back in 2011 but hasn't even technically kicked in yet) is arguably already a problem due to the length of the commitment, his age (32 in November) and lack of defensive value. Since he's still productive, the Brewers could conceivably trade him, but they might have to pay a significant portion of his contract or take on another big contract to do so. That's probably an option worth pursuing, given the possibility that Braun could decline in the next couple years and become even trickier to trade.
Garza, meanwhile, is coming off a miserable 5.63 ERA season in which he left the team early after being removed from the rotation, and his peripheral numbers suggest only a modest rebound is in store. As MLB.com's Adam McCalvy pointed out in a recent edition of the MLBTR Podcast, the Brewers still owe Garza $25MM, which means he'll likely be back with the team in 2016. And besides Smith, the Brewers don't have any arbitration-eligible players with much value, either — Wily Peralta and Jean Segura are both coming off mediocre seasons.
Many key players from the Brewers' last winning team — Gomez, Fiers, Ramirez, Yovani Gallardo, Kyle Lohse, Zach Duke — are now gone, and others have torpedoed their trade value with disappointing performances. For Stearns, the Brewers' relative lack of trade assets might actually be a blessing, at least in some respects. Perhaps the most important thing a GM can do in his first few months on the job is evaluate the organization he's inherited, and right now, Stearns needs make sure he has the right coaches, scouts and front office personnel, and that he's deploying them effectively. That process has already begun; the Brewers announced last week that they're only keeping manager Craig Counsell, hitting coach Darnell Coles and third base coach Ed Sedar from their 2015 coaching staff, and earlier today the hiring of Arnold as AGM was announced.
With that in mind, then, Stearns' offseason might not be that tumultuous, at least not from a player-acquisition standpoint. The Brewers already have young, or at least controllable, players at many positions, and they can use 2016 to find out which are likely to be helpful in the long term. A few, like left fielder Khris Davis and starting pitchers Jimmy Nelson and Taylor Jungmann, have already proven their value to the club. Davis quietly hit 27 homers in 440 plate appearances last year, and Nelson and Jungmann were among the Brewers' best starting pitchers. Jungmann's emergence was a pleasant surprise, given his sometimes underwhelming performances in the minors.
Elsewhere, Domingo Santana, one of the key acquisitions in the Gomez trade, will receive chances in the outfield, alongside Davis. Braun will occupy the other spot if the Brewers aren't able to trade him. Eating some of his contract, dealing him in a Matt Kemp-style trade, and acquiring someone like Austin Jackson or Rajai Davis to play center field on a short-term basis might be a neat trick, though. Santana isn't really a center fielder, so clearing space for him in a corner and getting a better defender to play in center would help the Brewers' pitching staff. Dealing Braun would be franchise-changing from a branding perspective, of course, but it seems likely to happen at some point.
If the Brewers do deal Lind, their infield could feature some combination of Jason Rogers, Scooter Gennett, Segura, Luis Sardinas and Elian Herrera. The 27-year-old Rogers performed well as a rookie in 2015, while Gennett, Segura and Sardinas all struggled to varying degrees. Top prospect Orlando Arcia could make an impact at some point in 2016, however, potentially solidifying the shortstop position. In the meantime, the addition of a veteran could help stabilize the Brewers' infield — Kelly Johnson, who bats left-handed and can play first, second and third, might be a good fit at a reasonable price. Assuming Lind is dealt, the Brewers could also acquire someone like Justin Morneau to platoon with Rogers.
Nelson, Jungmann and Garza will likely be back in the rotation, along with some combination of Ariel Pena, recent trade acquisition Zach Davies and Peralta. Several other young pitchers, including Jorge Lopez, Josh Hader and Adrian Houser, could also find playing time. That might be enough arms to get Milwaukee through the season, but but perhaps it wouldn't hurt to acquire an innings eater to fill out the rotation anyway. Perhaps they could also sign a pitcher with the aim of trading him for extra talent at the deadline and replacing him with Lopez, Hader or Houser.
In the bullpen, even if the Brewers do trade Rodriguez and/or Smith, there will still be a fair number of interesting arms in Jeremy Jeffress, Corey Knebel, Michael Blazek, Tyler Thornburg and Yhonathan Barrios. It's possible that the Brewers could add to that group, particularly if Smith is traded. Smith's departure would leave the Brewers bullpen very heavily right-handed, and the team could look to the outside for lefty relief help or consider retaining the left-handed Cesar Jimenez.
The keys with any of these additions ought to be to supplement existing talent rather than blocking it. Players like Davis and Johnson would help the Brewers keep costs down, but they would also be helpful because of their versatility. Davis, for example, could easily move into a fourth-outfielder role if, say, top prospect Brett Phillips were to get off to a hot start at Triple-A and earn big-league playing time. (Davis or Jackson might also have trade value in July if that scenario were to unfold.) And Johnson could move to one of any number of positions, switching positions if one of the Brewers' younger infielders proved he deserved regular playing time.
Of course, we've assumed here that it's obvious what course Stearns will follow. Maybe it isn't. Padres GM A.J. Preller, for example, had a scouting and player-development background and inherited an organization that, like the Brewers today, was a losing team with an improving farm system. Rather than building around that farm system, he dealt many of his top prospects in a surprising (and ultimately ill-advised) attempt to contend. Perhaps, then, Stearns has something unexpected up his sleeve, despite the Brewers' situation and his own background in Houston. That would be a shock, however — it makes little sense to stop trading now that the Gomez/Fiers deal is done, and the Brewers finished a full 29 games behind the third-place finisher in the NL Central last year. The Padres' attempt at contention sort of made sense in the right light, but for the Brewers, a radical deviation from their presumed plans would just seem crazy. There's little left for Stearns to do, then, but to continue what the team started before he arrived.
Photo courtesy of USA Today Sports Images.