Major League Baseball has released the bonus pools that will apply to the 2016-17 international market, as Baseball America's Ben Badler provides and as are reflected in the table below (mobile link). We had a post on the draft slots for the coming year earlier this morning; both spending allocations represent increases that were reported back in February by BA's Hudson Belinsky (which we covered here, including year-over-year changes by clubs as things stood at the time).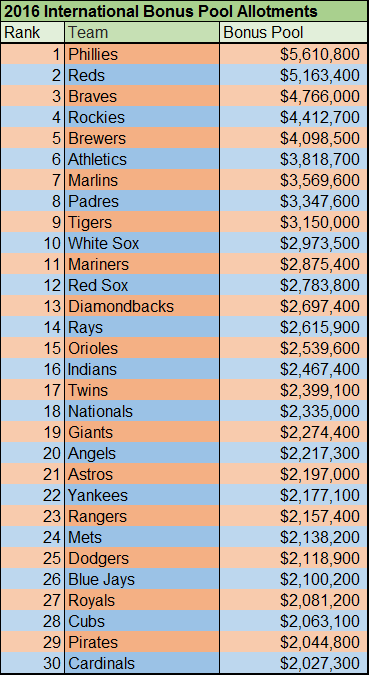 Teams have proven much more willing to blow past these international signing caps than those applicable to the amateur draft. But there are still significant penalties for doing so. As MLBTR's Steve Adams has explained, these are the rules that come with the pools:
Penalties for the international bonus pool are as follows (international bonus pools only apply to players who are under the age of 23 and have fewer than three years of professional experience):
All overages are taxed at 100 percent.
Exceed bonus pool by 5 to 10 percent: Team is not allowed to sign a player for more than $500K in the following international signing period.
Exceed by 10 to 15 percent: Team is not allowed to sign a player for more than $300K in the following international signing period.
Exceed by more than 15 percent: Team is not allowed to sign a player for more than $300K in the following two international signing periods.
Of course, many organizations will not be in position to utilize their full allotments and will be looking to trade slots after incurring those penalties in prior years. As Badler has previously explained, the Dodgers, Giants, Cubs, and Royals are serving two-year $300K+ signing bans beginning in 2016-17. The Blue Jays will face a one-year limitation period for the coming market. Meanwhile, the Diamondbacks, Angels, Rays, Red Sox and Yankees are set to finish out their own pair of signing seasons on the sidelines, but will be able to re-enter the market fully for 2017-18.
Those and other organizations could look to achieve value from their allocations by trade, rather than by utilizing them for signings. Rival clubs will be looking to offset taxes or avoid penalties by padding their totals. Acquiring more spending money can only be accomplished by trading for specific signing slots — which are all provided at Badler's above-linked post. Of course, teams can't just take on as much as they wish; instead, they can only increase their original allotment by half its initial value.
By virtue of finishing with the worst record in the game last year, the Phillies not only pick up the top overall pick in the coming draft but also receive the largest international spending allocation. The Reds have the second most cash to spend, but their situation is still dependent upon whether and when the team formalizes a reported deal with infielder Alfredo Rodriguez. It seems likely that his $6MM bonus won't hit the books until the new period starts on July 2nd, thus avoiding a broader spending ban for a coming year in which the club has significant capacity to add international talent.
With rules governing Cuban amateurs set to undergo significant change, there could be an interesting crop of new talent to accompany the typical July 2 wave from other parts of the world. That has also led to some timing issues in reaching agreements, as is the case with Rodriguez and also interesting Cuban youngster Lazaro Armenteros, who reportedly could be headed to the Padres — but only after the new signing period opens. Along with San Diego, the Braves and Nationals are among the clubs expected to blow past their pools and take on maximum penalties. Likewise, the Brewers, Cardinals, Phillies, and Rangers are also believed to be lining up big international outlays, and the Twins have also been mentioned as a possible big spender. These are among the teams that could be looking at summer swaps to add to the spending allocations listed in the table.