Many have shared their appreciation of legendary Dodgers broadcaster Vin Scully as he steps away from the microphone after 67 magical seasons. MLBTR joins them in honoring one of the most uniquely compelling figures in sports history.
Chances are, you didn't first fall in love with baseball by reading about it on the internet. More than likely, it happened as you sat amidst the peanut shells at a ballpark; smelled the leather of a new mitt; stumbled onto a Wrigley day game on WGN while flipping through the channels one summer; heard your dad grumbling about a blown call in last night's contest; picked up the glorious tones of a golden-voiced announcer through an intermittently-fading radio signal.
However it happened, what led you here was likely something quite different from the statistics, money, and rules that we discuss on a daily basis. Probably, the reason you care about the player transactions that shape Major League Baseball is that you first found yourself intoxicated by the intricate details of the game itself, while absorbing it as a fan and amateur participant.
Baseball is cherished by those who have found it because it is exponentially rewarding in its repetitive, utterly simple details. Look closer and you're drawn further in. The punctuating moments have such meaning only because they emerge from a layered canvas, with all its patina.
And that is why Vin Scully, the now-former Dodgers broadcaster, is so important and so meaningful — and not just because he calls a good game. For all his great calls, which we've enjoyably relived in recent weeks, his singular excellence resided in the mundane.
Just how is that batter digging in? Where's the happiest kid in the stands and what is it about this pleasant good evening that he's enjoying so much? Who, really, is this mop-up pitcher who'll handle the eighth inning of a meaningless, late-season blowout? What is the count, and the score, and how does that relate to the standings and the [insert memory/history lesson/interesting fact] and oh look! just what are those brawling players shouting at each other (give or take)?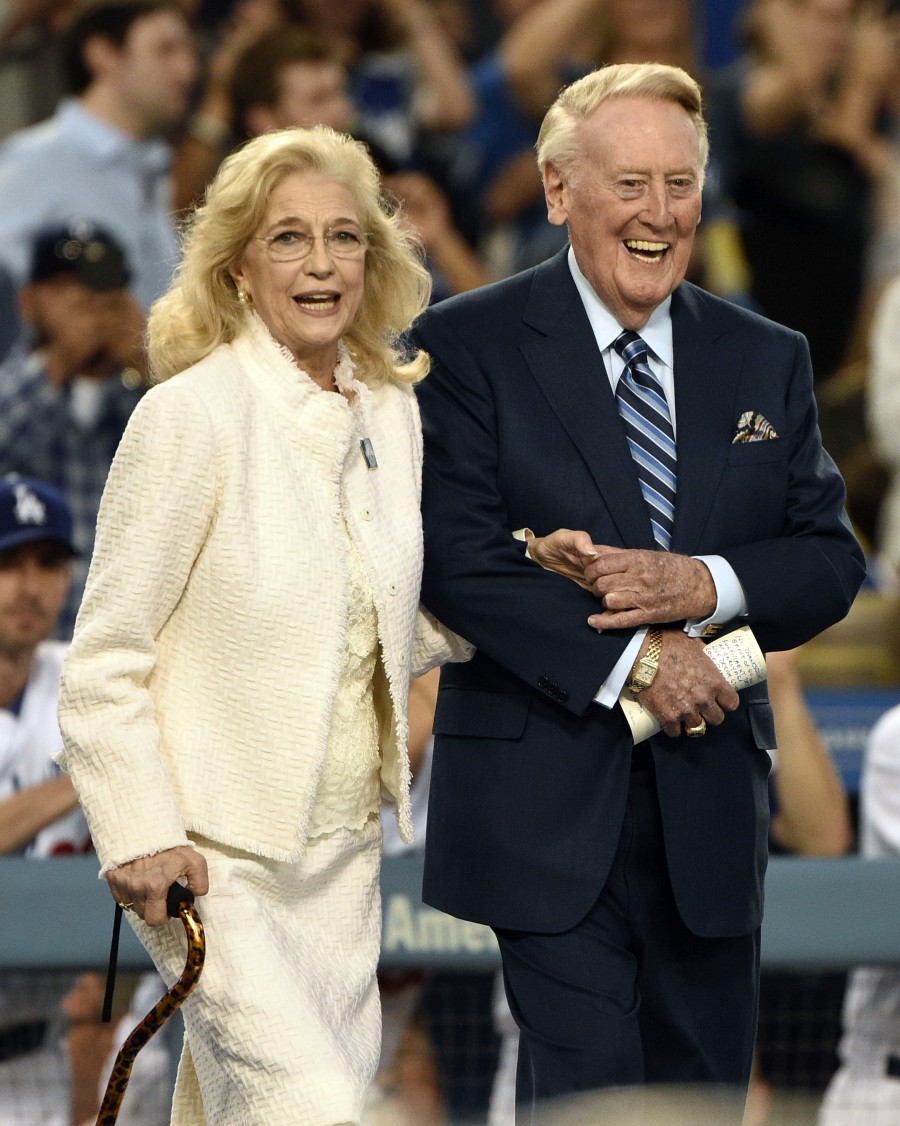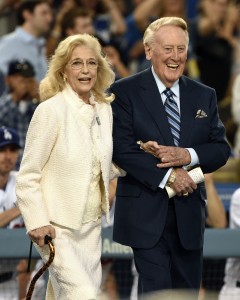 Baseball by Vin is sharing memories, imparting and receiving wisdom, experiencing an event with the like-minded while seeking out and valuing different perspectives, exhibiting vigorous curiosity, accumulating and disseminating knowledge, building standing in a community with (and through) humility and gratitude, deriving meaning from the commonplace — whether times or moments are good or bad.
He didn't just provide us with the best way to take in a ballgame. Broader lessons reside in the countless hours that Scully spoke into a microphone — often from the words themselves, but also from the steady cheer of the man who delivered them and the sheer fact that he did it for so long and with such obvious care. In a way, if we listened closely, he showed us how to navigate our lives, with all their ups and downs but also their sometimes-monotonous routines and easily-overlooked opportunities for appreciation.
It is bittersweet to think these thoughts now, and not just because we'll no longer hear Scully's perfect narration of yet another 9 innings — never again listen to his gentle cadence guide us through the game — but because baseball and life intersected more jarringly last Sunday.
The loss of Jose Fernandez was an unthinkable tragedy, a gut punch not only to his loved ones, but also — in a different but still-meaningful way — to most anyone who follows the game of baseball. That devastating blow reinforces Scully's essential meaning, because Fernandez — whose immigrant journey was every bit as quintessentially American as Scully's New York-to-Los Angeles epic — possessed an infectious joi de vivre different in form, but not in kind, from Scully's.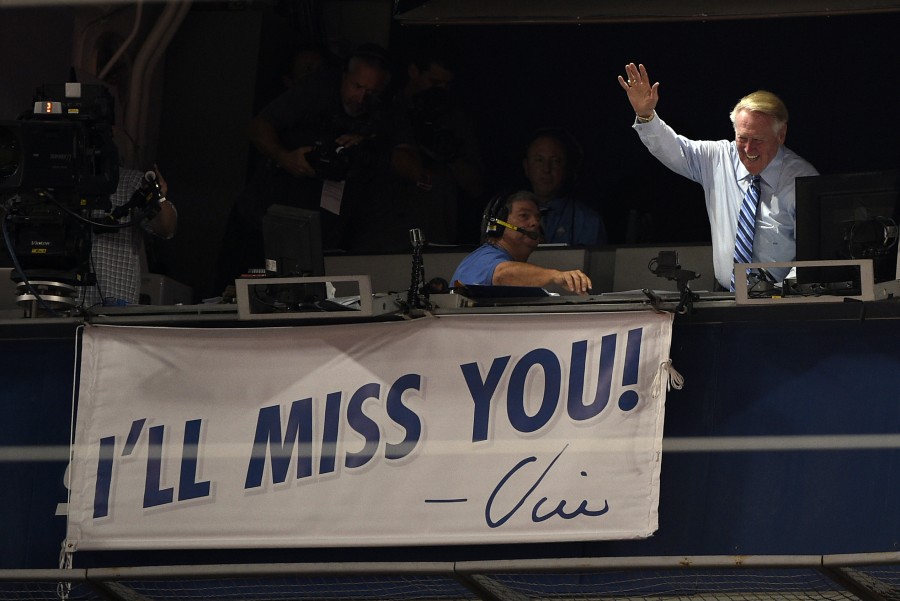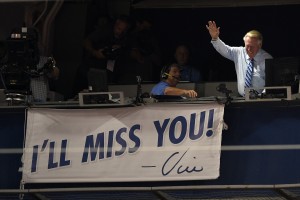 Scully's dependability and longevity, and Fernandez's fleeting brilliance and flair, speak to the same fundamental messages: Life is best lived buoyantly. Its many splendors, great and meager, ought to be treasured daily. Celebrating our differences as well as our commonalities is our bond. There's zen to be found in a ballgame, and just about anywhere else, with observation and appreciation. And the way to cope with the stultifying or the unfortunate things that life throws at us is not to despair or retreat, but to double down on joy.
Thanks, Vin, for letting us listen in. If we truly heard you, we might just end our days with only two regrets: that we didn't absorb your life's wisdom sooner, and that we didn't catch enough ballgames with you at the mic.
Photos courtesy of USA Today Sports Images.