To introduce the new Arcade Mode Fantasy Baseball contests, DraftKings is inviting MLBTR readers to a free fantasy baseball contest with prizes!
Arcade Mode is the new easy-to-draft and fast-scoring fantasy baseball contest. To play, simply select a team of five hitters and one pitcher playing on Monday night. With more scoring and higher bonuses, Arcade Mode makes baseball even more exciting to watch.
Entry into the contest is free. Plus, 150 users will win a prize — guaranteed.
Picking a lineup is simple. Here is a sample lineup from last week: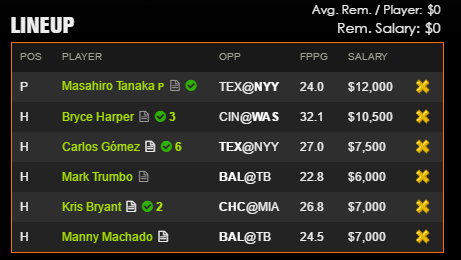 Arcade Mode Fantasy Baseball is the easiest way to add excitement to the baseball season.
How to Enter:
 Enter the contest for free
 Follow your players live as your team moves up the leaderboard and collect any winnings on Monday night
This is a sponsored post from DraftKings.