5:34pm: Ken Rosenthal of The Athletic tweets that the Pirates are covering $2.5MM of McCutchen's $14.75MM salary.
5:25pm: It became all the more clear on Monday that Pirates fans are looking at the end of an era, as the team announced that face of the franchise Andrew McCutchen has been traded to the Giants (along with cash considerations) in exchange for young right-hander Kyle Crick, outfield prospect Bryan Reynolds and $500K worth of international bonus pool space.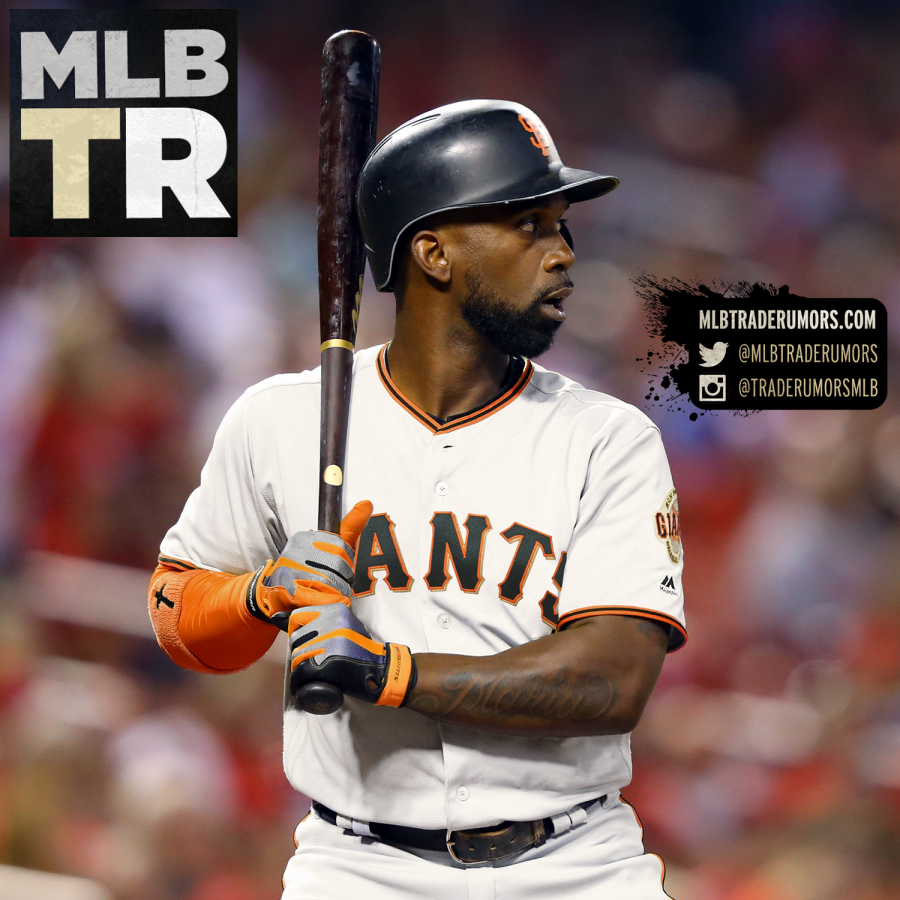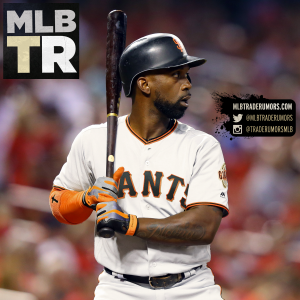 Outfield help has been a priority for the Giants all offseason after last year's collective unit combined to bat .253/.311/.374 in more than 2000 plate appearances. Inserting McCutchen into that mix should provide a significant boost on the offensive side of the equation, as the 31-year-old turned in a very strong rebound campaign at the plate in 2017, hitting .279/.363/.486 with 28 homers (his highest total since hitting 31 back in 2012).
Of course, questions about McCutchen's glovework persisted in 2017 — and it should be noted that the Giants' outfield defense was the worst in baseball last year. San Francisco outfielders combined to post an MLB-worst -45 mark in Defensive Runs Saved, and they ranked just 28th with a -11.4 Ultimate Zone Rating. The since-traded Denard Span played no small role in those shortcomings, but McCutchen's marks of -14 and -4.5 in those respective stats  don't exactly stand out as an indicator that an extensive amount of help is on the defensive horizon.
If the Giants were to play McCutchen in an outfield corner, perhaps he could post more meaningful contributions in that regard. At present, he figures to line up in center field, though the Giants could yet play McCutchen in left field and acquire a cost-effective center field option with a stronger defensive reputation (someone in the mold of Jarrod Dyson, speaking from a speculative standpoint).
However, it's important to note that there may not be room for the Giants to make much of an addition. San Francisco will add more than $9MM to its luxury tax ledger by picking up the final year of McCutchen's deal, which should place them roughly $7MM from the threshold. San Francisco has reportedly been aiming to remain under the tax cap in order to reset its penalty level.
[Related: Updated San Francisco Giants depth chart & San Francisco Giants payroll]
For the Giants, McCutchen is the second notable veteran bat the team has landed via trade this offseason. San Francisco also picked up Evan Longoria in a trade that sent Christian Arroyo, Span (plus the remaining year of his contract) and a pair of minor league pitchers to the Rays. Depending on their willingness to either shed additional payroll or pivot and exceed the luxury tax for a fifth consecutive season, those two big-name acquisitions could prove to be the Giants' primary offseason acquisitions.
The McCutchen agreement comes just days after the Pirates shipped right-hander Gerrit Cole to the reigning World Champion Astros, further signaling a transitional period in Pittsburgh, though the pair of trades does not necessarily indicate that a full-scale tear-down is on the horizon for the Bucs. Both Cole (controlled through 2019) and McCutchen (a free agent next winter) were short-term and relatively high-priced assets — especially for a Pirates team that operates on a notoriously thin budget.
McCutchen is slated to earn $14.75MM in the final season of his contract, whereas Cole had settled at $6.75MM in order to avoid arbitration. The Pirates, then, will be saving a combined $21.5MM with this pair of swaps — money that could, in theory, be reinvested into the 2018 roster. The Pirates have, after all, opened each of the past three season with payrolls in excess of $90MM but now project for a payroll of roughly $82MM in 2018. The Bucs could further reduce that 2018 commitment if the team ultimately finds a trade partner for infielder/outfielder Josh Harrison; the versatile veteran is slated to earn $10MM this season and, like Cole and McCutchen before him, has been an oft-mentioned trade candidate this offseason.
[Related: Updated Pittsburgh Pirates depth chart & Pittsburgh Pirates payroll]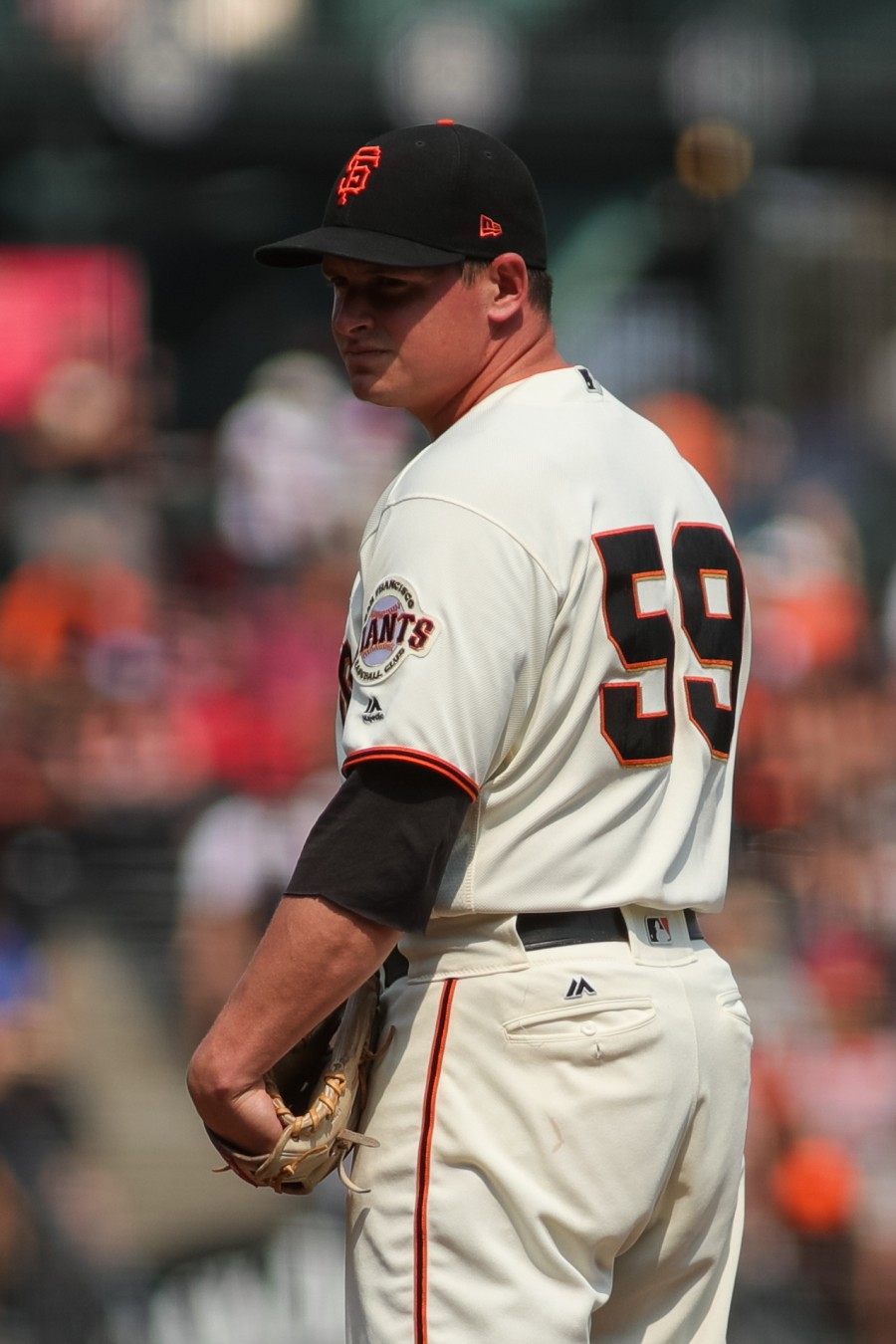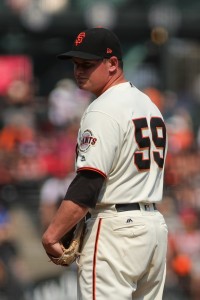 The 25-year-old Crick was the 49th overall pick in the 2011 draft and ranked among baseball's top 100 prospects from 2013-15, per various reports. While his rise through the minors was slowed by control issues, he had a strong year in 2017 after converting to the bullpen on a full-time basis.
In 29 1/3 innings of relief in Triple-A, he posted a 2.76 ERA with 12.0 K/9, 4.0 BB/9 and a 44.3 percent ground-ball rate. That strong run led to Crick's big league debut with the Giants; in 32 1/3 innings in the Majors, he logged a 3.06 ERA with 7.8 K/9, 4.7 BB/9 and a 37.9 percent ground-ball rate. Crick's 95.5 mph average fastball velocity and 11 percent swinging-strike rate both pointed to the potential for his big league strikeout rate to catch up to the more impressive level he flashed in Triple-A.
Crick is controllable through the 2023 season, so he'll join a lengthy list of controllable assets the Bucs received in the Cole trade as a potential long-term piece that can step directly onto the roster.
"Kyle Crick is a physical, Major League-ready right-handed reliever who brings a high-velocity, live fastball complimented by a quality slider to potentially pitch in a late inning role for the Pirates," said Pirates GM Neal Huntington. "Kyle's power arsenal has resulted in a high strikeout rate complimented by inducing a lot of weak contact. After his first exposure to the Major League level last season, Kyle appears ready to take the next steps in what should be a productive career as a high leverage Major League relief pitcher."
Reynolds, 23 later this month, was the Giants' second-round pick in 2016 and just wrapped up a strong season in Class-A Advanced, where he hit .312/.364/.462 with 10 homers, 26 doubles and nine triples in 540 trips to the plate. Jim Callis and Jonathan Mayo of MLB.com had him fourth among Giants prospects, while Baseball America ranked him fifth among San Francisco farmhands just a few weeks ago (before the Arroyo trade, meaning he'd now rank fourth on their list as well).
"Bryan is an effective offensive player that also plays quality defense," said Huntington. "We look forward to working with Bryan to maximize his tools and help him become a quality well-rounded Major League player who can impact a game in many ways beyond his quality bat."
As for the Pirates' immediate future in the outfield, it's not yet entirely clear how they'll fill the void. Starling Marte seems likely to slide over from the corner outfield to center field, which should be a defensive upgrade over the life of a full season. Top prospect Austin Meadows showed in 2017 that he's likely not yet ready for the Majors — Meadows hit just .250/.311/.359 in Triple-A — so the Bucs could turn to a platoon of 26-year-old Adam Frazier and veteran utility man Sean Rodriguez in left field for the time being.
Alternatively, Pittsburgh could wait out the free agent market and see if any veterans become available on bargain deals. The corner outfield market has no shortage of experienced options (MLBTR Free Agent Tracker link), and some of those names will undoubtedly have to settle for one-year deals later this winter.
Robert Murray and Jon Heyman of FanRag Sports first reported that talks between the two sides were picking up (Twitter link). Ken Rosenthal of The Athletic reported that the two sides had reached an agreement (Twitter link). Alex Pavlovic of NBC Sports Bay Area tweeted that Crick was in the deal. Yahoo's Jeff Passan tweeted that Reynolds was likely to be a part of the deal, and The Athletic's Andrew Baggarly confirmed as much. MLB.com's Jon Morosi reported that the Pirates would pay some of McCutchen's salary.
Photos courtesy of USA Today Sports Images.